The Good, the Bad, and the Black Cat
Processing archivist Sarah Mundy explores myths and superstitions about the black cat.
As the exhibition Before Internet Cats: Feline Finds from the Archives of American Art comes to a close this last weekend of October, it is the perfect time to examine the popularity of black cats among artists and their enduring cultural appeal.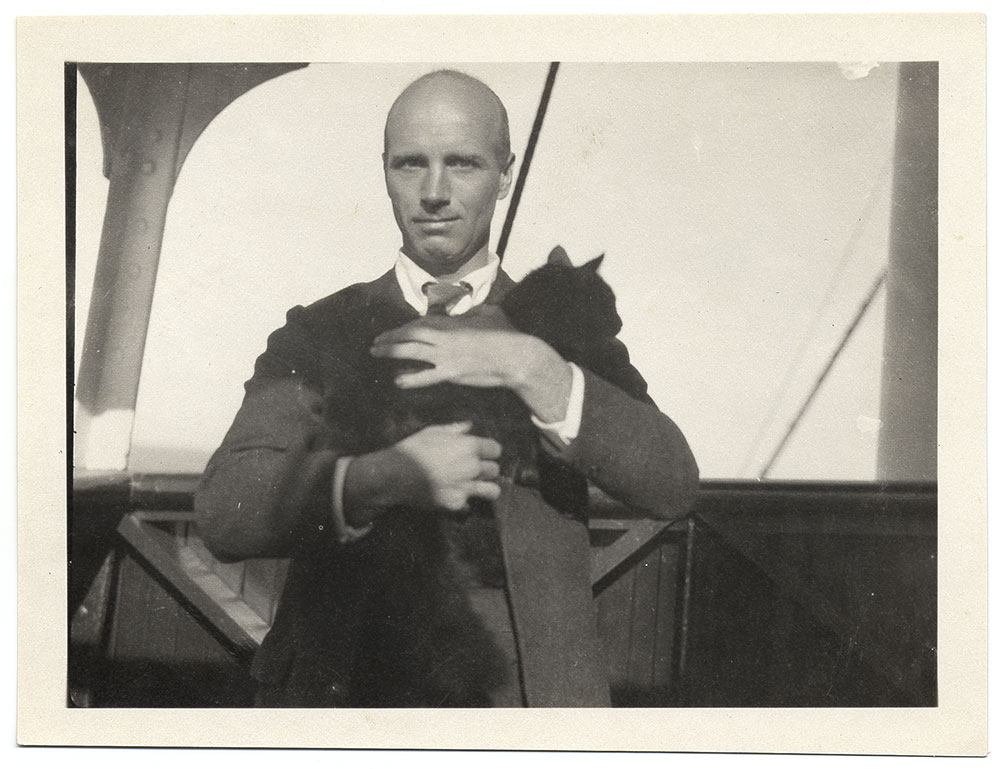 Historically, black cats are negatively associated with witches, demons, wickedness, and just general bad luck. Édouard Manet's 1863 painting, Olympia, of a reclining nude woman, shocked audiences at the 1865 Paris Salon. In part because of the black cat perched at the end of her bed, which symbolized prostitution. The Industrial Workers of the World, a labor union associated with anarchism, began using a drawing by Ralph Chaplin of a black cat in an attack stance as their emblem in the early twentieth century. The organization used it as a symbol to assert to their employers that if they mistreated their workers—crossing their path—they would find bad luck or sabotage
It's not all bad for the black cat though. Black cats aboard ships at sea are a longstanding tradition associated with good luck. From pirate ships to naval vessels, cats have been welcomed on board because they keep the rodents away from the ship's food supply and provide companionship for an isolated crew. Unlike in the United States, where they typically have negative connotations, other nations—like the United Kingdom and Japan—believe that black cats can bring prosperity, bless a marriage, ensure good harvests, and even help bring success to a theater production.
Because black cats can elicit extreme beliefs that are antithetical to each other, it's no wonder many artists feel a kinship to them. Artists often push boundaries, producing artwork meant to evoke strong emotional reactions, whether they are joyful, distressed, peaceful, or disgusted. In fact, some artists seem to admire the black cat's ability to bring out such intense feelings. Visual artist Cyrilla Mozenter affectionately wrote that her black cat Jasper has a "demonic air" that gives her a "vicarious thrill." Mozenter certainly enjoys Jasper's ability to live up to the stereotypical nature of a black cat.
The next time you see a black cat, think twice before expecting the worst. Any artist can tell you that it's all a matter of perspective. Come to the exhibition before it closes, and take a peek at our felines before they vanish. We promise no harm will come to you if one crosses your path!

Explore More:
Before Internet Cats: Feline Finds from the Archives of American Art is on view at the Lawrence A. Fleischman Gallery in Washington, D.C. April 28–October 29, 2017

Sarah Mundy is a processing archivist at the Archives of American Art.
Tags