Gertrude Abercrombie's Hot Jazz and Cool Cats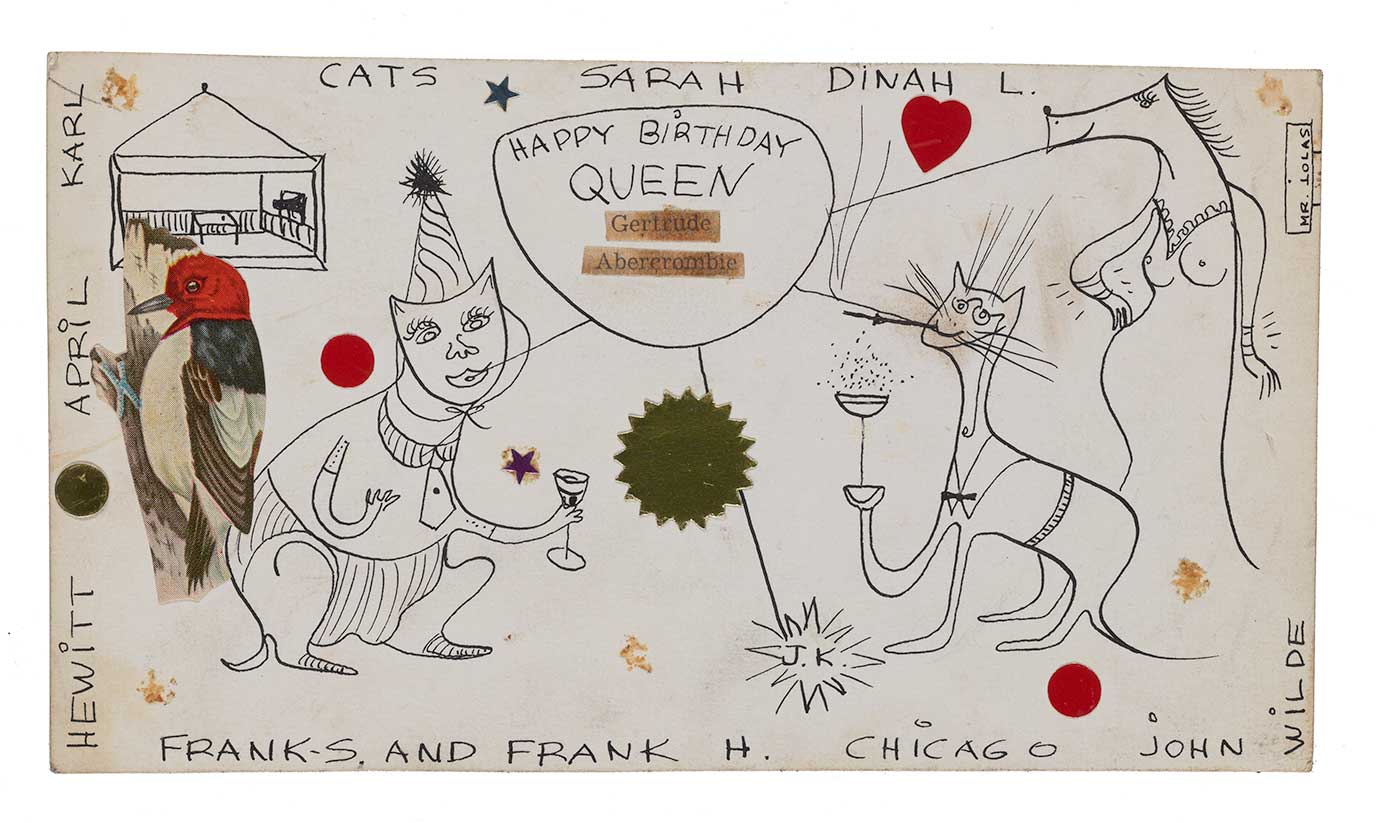 Reference specialist Elizabeth Botten explores the papers of Gertrude Abercrombie to find out what's in a name.
An item of note in the Archive's current exhibition, Before Internet Cats: Feline Finds from the Archives of American Art, is a small book measuring just over six inches tall and five inches wide, which belonged to painter Gertrude Abercrombie. Its cover announces itself as a "Personal Directory" of addresses and telephone numbers but it also contains an interesting list, "Cats I've had (big main ones)," with the names of Abercrombie's many Maine Coons she kept as pets. Another document in these papers that caught my attention is list of jazz musicians—or as she called them "adorable musicians"—who visited her home she compiled around 1963. If you spend any time with this collection, it quickly becomes evident that two of Abercrombie's great loves were cats and jazz; I thought there had to be a connection between these two lists.
Abercrombie's list of visitors is a who's who of jazz: Dizzie Gillespie, Charlie Parker, Sarah Vaughn, Max Roach, Miles Davis, Billie Holiday, Art Tatum, Sonny Rollins, and Elvin Jones all stopped by. (The outlier was classical pianist Artur Schnabel, famous for playing Beethoven not Bop.) Cross-referencing with the list of cat names, I found a Monk—I have not found any direct proof, but it's not improbable that Thelonious is this feline's namesake—and a Jimmy, for whom there are several jazz player possibilities, as well as a Merry, Curly, and Possum. So far, my theory was not panning out.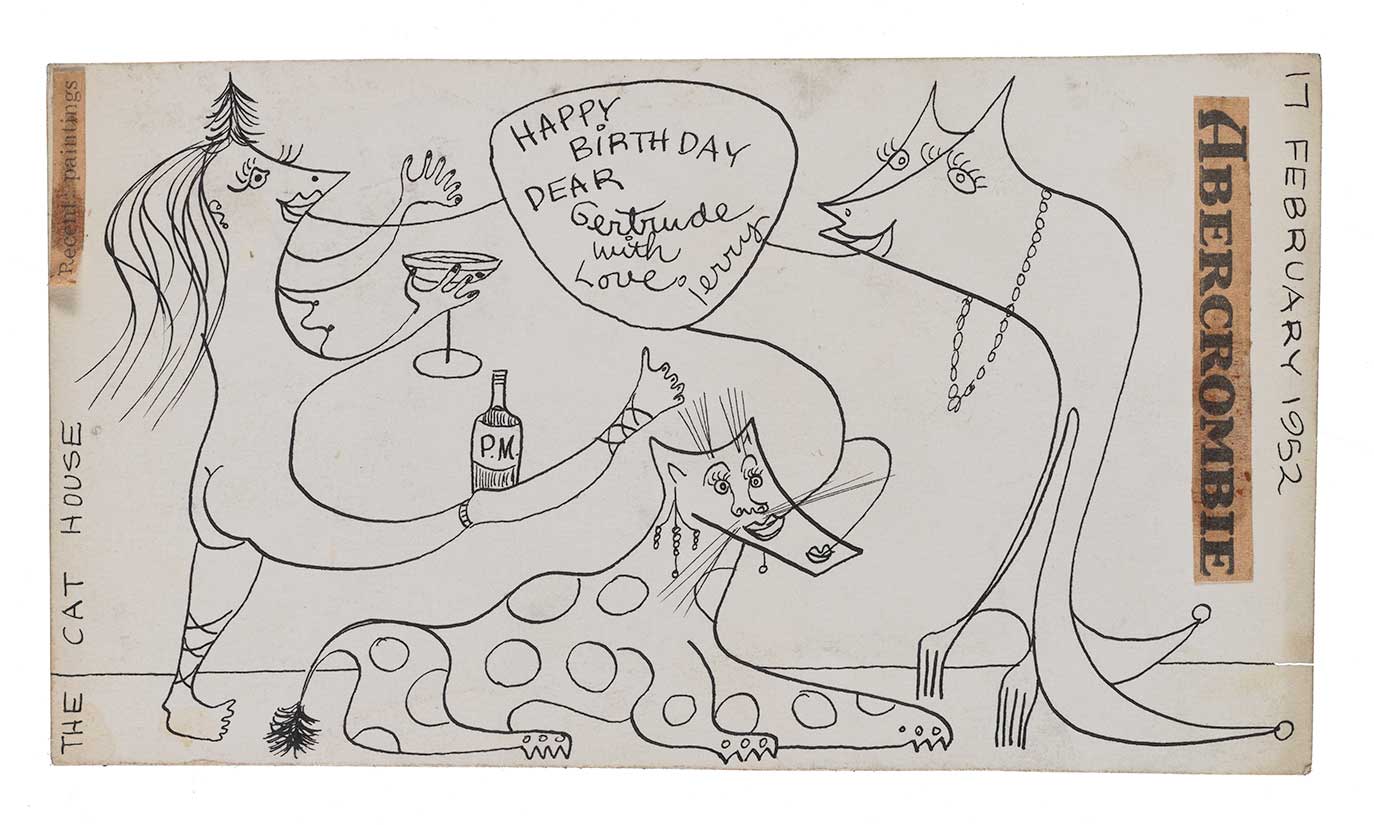 I turned next to her correspondence. Sonny Rollins was a personal friend and in his letters he often inquired about her cats. Her close friend, painter Karl Priebe, frequently sent postcards illustrated with birds. He, too, asked about her cats, but more often sent "Greetings from…" Billie, Sarah, or whichever musician he was listening to as he wrote. A personal favorite from Abercrombie's correspondence is a birthday card from another artist in her close circle, Jerome Karidis. He illustrated a card with line drawings of cats indulging in bubbly and other libations, on one side identifying the party as taking place at "The Cat House." Still, I found nothing about how the cats got their names.
Next I began reading Abercrombie's files of diaries and notes, where there were many references to cats. To wit: "to kiss a kitten is one of the sweetest experiences in the world." And, she included a recollection that gave some insight into what it was like to live with her and her cats:
The main thing wrong with what happened when I dropped 2 pounds of coffee on the floor and which Frank so sweetly sweeped up is that there are a few cat hairs in our coffee each morn. But who cares. . . .
Finally, I came across a page of notes written in pencil on the back of a page from a thin, pink notepad. After an accounting of "the cats in my life"—Jimmy, Monk, Fancy, and Toddy among others—Abercrombie wrote, "These names are too cute but mostly my kid Dinah named them." And, just like that, I found the answer.
The exhibition Before Internet Cats: Feline Finds from the Archives of American Art is on view through October 29, 2017 in the Lawrence A. Fleischman Gallery at the Donald W. Reynolds Center for American Art and Portraiture (8th and F Streets NW, Washington, D.C.). Admission is free.
Elizabeth Botten is a reference specialist at the Archives of American Art.