Interlibrary Loan
How to request microfilm from the Archives of American Art.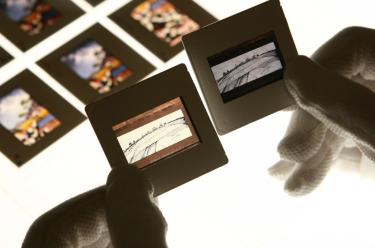 Please Note: On December 2, 2021, the Archives of American Art will discontinue interlibrary lending of microfilm. In place of ILL, researchers will be able to directly request digitization of microfilm reels through our Digitization on Demand service. Requests placed prior to December 1 will be filled at the discretion of the Archives' reference staff, either physically or via digitization.
If you are a researcher interested in requesting a new microfilm loan or oral history transcript, you must work with your librarian to make the request through the Archives of American Art research request system.
For ILL librarians:
All requests are subject to the following conditions:
Requests must be submitted by a librarian, who has registered for an account at https://aeon.aaa.si.edu (link opens in new window).
Materials are for in-library use only.
Microfilm requests are limited to eight reels per patron.
Each distinct collection or interview requires a separate form.
Access Restricted materials are not eligible for interlibrary loan.
Microfilm and transcripts are sent via U.S. Postal Service and are due back to the Archives' one month from the shipping date. International requests are due back six weeks from the shipping date.
A two week renewal may be granted if the Archives receives your renewal request before the due date. To request renewal, please send an email to aaaemref@si.edu with the subject line "ILL Renewal."
There is no charge for this service.
Copyright laws apply to all requests.
Make an Interlibrary Loan Request
Click one of the following links and create or log into your Aeon account: