Archives specialist Mary Savig shares some favorite four-legged holiday cards made by artists.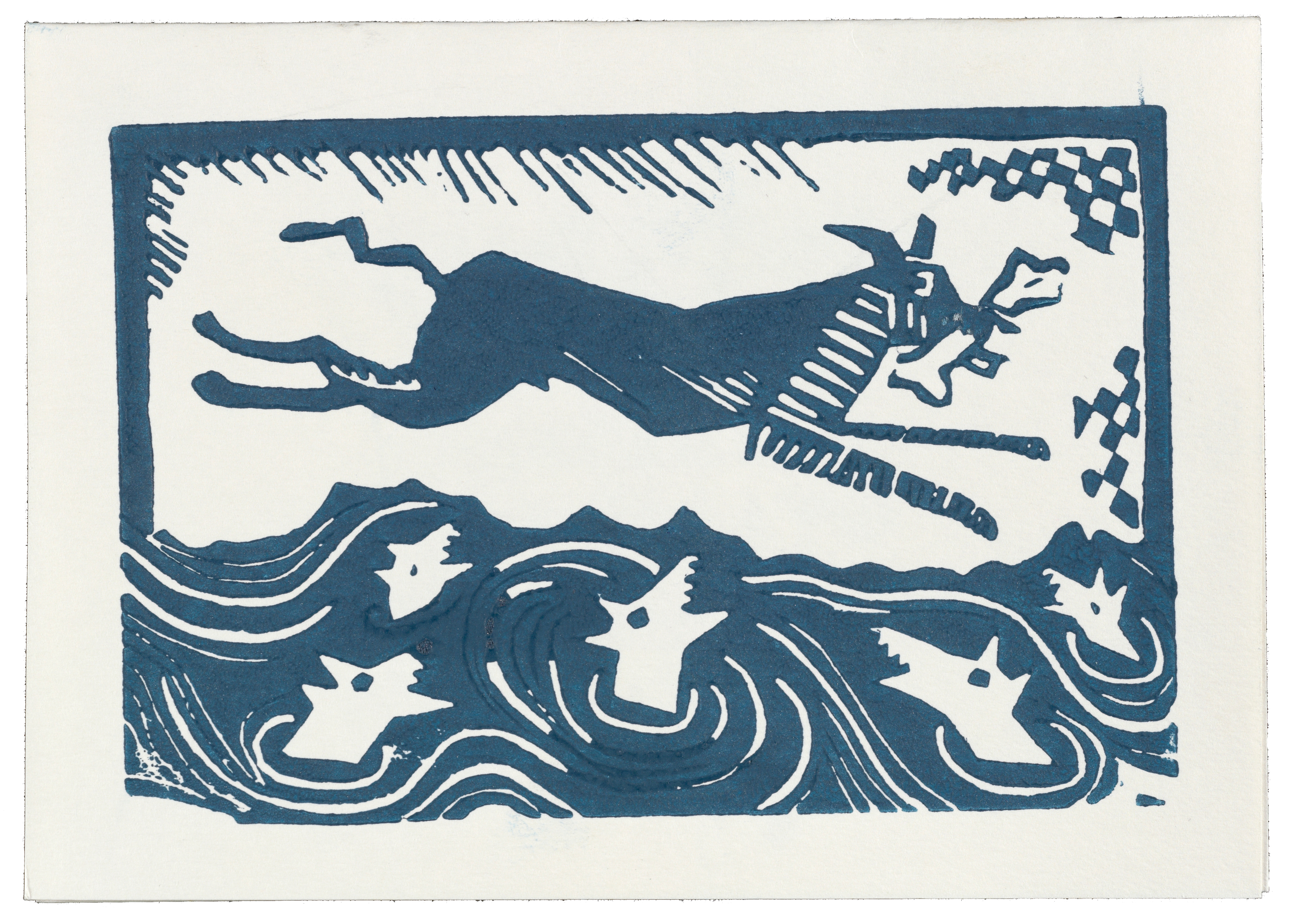 I recently wrote a book about handmade holiday cards in the collections of the Archives of American Art. Oddly enough, I wrote the book during the dog days of summer, a time of year in Washington DC when it is made abundantly clear that the city was built on a swamp. In ancient times, "the dog days of summer" referred to the sweltering summer months when only dogs were mad enough to venture outdoors. Indeed, the constellation, Canis Major (Big Dog), shines brightest in July and August. Consequently, I frequently pulled down my shades, cranked up my air conditioning, and sipped hot cocoa in order to imagine myself in a winter wonderland as I wrote about handmade holiday cards. Dogs were never far from my mind, or the minds of many artists who made their own holiday greetings. In celebration of the "dog days of December" here are a few of my favorite canine cards.

Terrier Tidings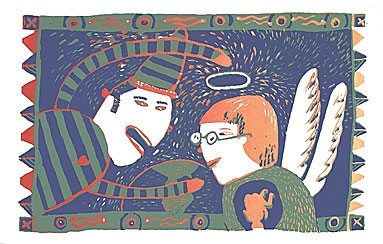 Ed Bisese (b. 1956) has made silk-screened Christmas cards annually since 1988. Each year they feature a new and timely whimsical family vignette. 1992 was an eventful year in the Bisese household. Bisese, in a striped shirt and cone-shaped hat, and his pregnant wife, with angelic wings and a halo, smile inside a decorative border of sperm and eggs, heralding the arrival of their daughter the following year. The back of Ed Bisese's holiday cards also chronicled the growing fame of his beloved Jack Russell terrier, Mr. Harris. In 1992, Mr. Harris, who occasionally was commercially photographed, starred on the cover of the Christmas issue of Baltimore magazine, and hence, he was more famous than the year before.

Chow Chows under the Mistletoe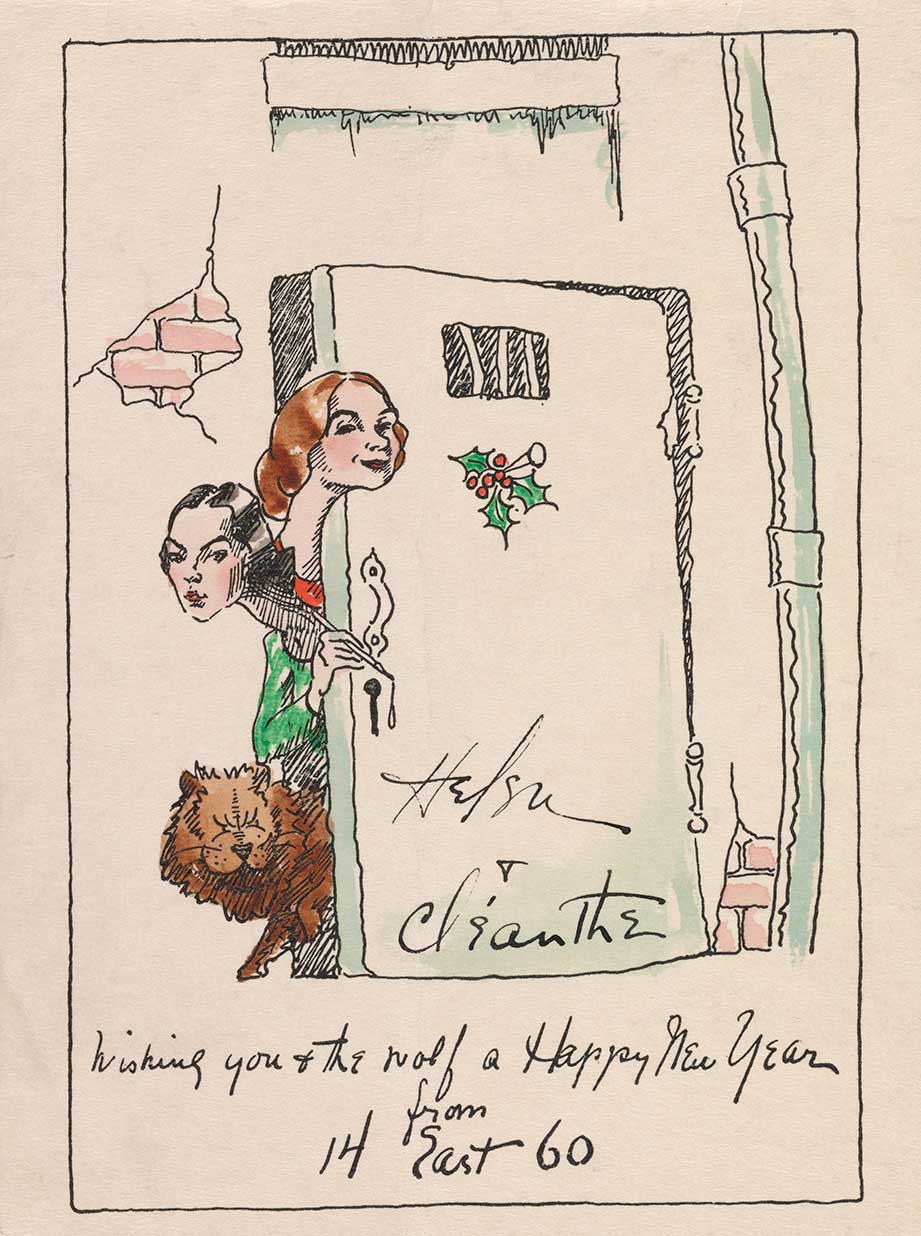 Peering out from behind the door of their New York City dwelling, Helen Carr, her stepdaughter Cléanthe, and one of their Chow dogs wish Guiliette Fancuilli and her husband, "the wolf," Alfred Frueh a Happy New Year. The card's creator, Cléanthe, inherited a love of drawing from her father, a longtime newspaper and magazine illustrator, Gene Carr. Another of her pursuits was Chow Chow Breeding. In 1927, Cléanthe made headlines for staging a wedding between her pedigree Chows, Kublah Khan and Li Helen. She married her two passions by frequently making detailed portraits of Chows.

Martha and the Menorah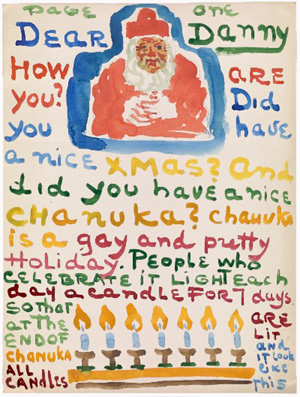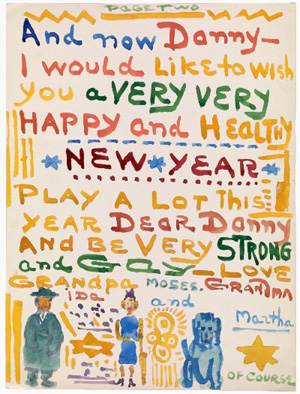 In the early 1970s, painter Moses Soyer sent an illustrated letter to his grandson Daniel about Hanukkah. The little boy likely recognized the watercolor of Santa Claus, but Moses took time to explain the menorah: "People who celebrate [Hanukkah] light each day a candle for 7 days so that at the end of Chanuka all candles are lit and it looks like this" Soyer signed this charming letter with little portraits of himself and his wife, Ida, and "of course" their dog, Martha.

A Christmas Chien
In 1937, Boston-born Loïs Mailou Jones took her first of many trips to Paris. As an African American woman, Jones relished her time in the more racially tolerant Paris, where she was judged more for the qualities of her art rather than her race or gender. Jones's holiday greeting to an American colleague in Paris, art dealer Martin Birnbaum, unites her two worlds: her Boston roots—and her love of Boston terriers—and her second home in the City of Lights.
Happy Holidays to our two- and four-legged friends from the Archives of American Art!
Mary Savig is an Archives Specialist in the curatorial department. She will be signing books (which can be inscribed to pets or their humans) at the following events: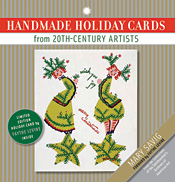 Book signing by the Smithsonian Holiday Tree!
Saturday, November 24, 2012, 1 to 3:00 pm
Where: Smithsonian Castle, near the Museum Store. Books will be available for sale in the Museum Store.
Holiday Happy Hour and book signing!
Wednesday, December 12, 2012, 5:30 to 8:30 pm
Where:Café Saint-Ex, 1847 14th Street NW, Washington, DC 20009. Books will be available for sale by Politics and Prose.
Details: Open to the general public, free admission. Music provided by DJ Neville C. Cash bar.
Comments
Posted by

November 28, 2012
on
A virtual repository of a substantial cross-section of the Archives' most significant collections.