I was just interested in doing caricatures and making compositions and drawings and sketching in black and white. I didn't do much ratiocination, I guess. I just went around "doing my thing," as they say now.

–Peggy Bacon
As interns at the Archives of American Art this summer, we were immersed in the world of Peggy Bacon and her "six degrees." Bacon was noteworthy as an illustrator and art world doyenne, but she was also a talented caricaturist. Through her work we learned caricatures are more than just simple sketches, they are artworks in their own right. We took this inspiration to find some other notable examples of this charming art form in the collections of the Archives of American Art.
John Singer Sargent
This lively caricature from the Francis Davis Millet and Millet family papers features an artist fervently painting his subject, just in the background. Most likely it is John Singer Sargent at work on his painting Carnation, Lily, Lily, Rose. His posture and the expression on his face suggest an exuberance that matches the action of the paint dripping and splashing as it prepares to meet the canvas with energetic strokes.
Abril Lamarque
Though an exaggerated caricature might not be a natural choice for announcing yourself to the world, Abril Lamarque embraces it whole-heartedly by incorporating it into his calling card. The shape of his calling card even emphasizes the elongated face of his caricature, with his stylized signature under his chin. We are't sure if a twinkle lies just beneath his closed eyes, though this item begs the question: Why the long face, Abril?
Antonio Sotomayor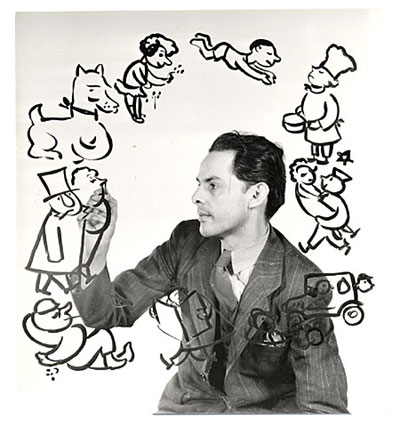 As well as being a caricaturist, Antonio Sotomayor was active in San Francisco as a painter, muralist, and illustrator. Here he is pictured sketching on a rather unusual medium—a glass panel—everything from cars to kids. Though the lines of his characters may seem simple, Sotomayor distills them down to their essence. Their cartoonish qualities and circular actions bring them to life.
Alfred J. Frueh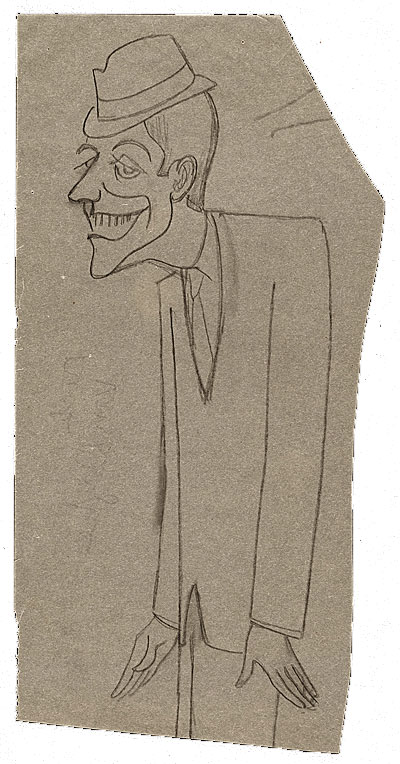 Alfred J. Frueh's caricature portrays a goofy Dick Van Dyke with a large grin and extended neck. Frueh, a cartoonist and illustrator, was best known for depicting strong personalities within his caricatures. Here, he expertly draws Van Dyke with an oversized chin, droopy eyelids, and outwardly flexed hands to provide a humorous impression and a cartoonish facade. Freuh emphasizes Van Dyke's expressiveness and ability for physical comedy that, through his many acting roles, have made him a beloved American icon.
John White Alexander

This charming copper plate with the attached journal was a party favor for the fifty guests at Mark Twain's sixty-seventh birthday party in 1902. Twain's self portrait is amusingly inscribed, "I cannot make a good mouth, therefore leave it out." His blunt sense of humor in this sketch "done with the best ink" comes through in this wispy haired, mouth-less version of himself.
John White Alexander was a painter and muralist who also counted Robert Louis Stevenson and Henry James among his literary correspondents. As an attendee at Twain's birthday party he received this caricature with a personal note stating, "I remember you well, sir." Forget handfuls of candy and a plastic whistles, this is our kind of party favor!
From drawings to etchings, and calling cards to party favors, these five caricatures illustrate the dynamic range of gems located within the Archives of American Art's collections.
Explore more:

In conjunction with the exhibition, Six Degrees of Peggy Bacon, visitors to the Archives of American Art's Lawrence A. Fleischman Gallery on Saturday, September 1, from 1:00 to 4:00 p.m., will receive a free caricature of themselves. The Lawrence A. Fleischman Gallery is on the first floor of the Donald W. Reynolds Center for American Art and Portraiture at 8th and F Streets, NW.

Emma Bird is an undergraduate at Vassar College and Anais Ortiz is an undergraduate at the University of Pennsylvania. Both were curatorial interns for the Archives of American Art.