One of the most memorable collections that I've processed at the Archives of American Art is the Mary Fanton Roberts papers. The papers were donated and microfilmed in 1957, not long after Roberts' death at the age of ninety-two. My job, fifty years later, was to make sure the collection was properly preserved by today's archival standards and write a detailed finding aid in preparation for the digitization of the microfilm.
As I began to work through the material, I asked myself, who was Mary Fanton Roberts? To my surprise, her papers were a rich collection of letters, photographs, and invitations from notable artists, performers, and writers working in New York in the early twentieth century.
Google provided very little information on Roberts besides a lovely portrait by Robert Henri. Luckily her papers include an unfinished autobiography, "Point of View," in which she tells of her experiences living as a child in the town of Deadwood, being hired as a journalist on newspaper row in Manhattan, and becoming editor of The Craftsman magazine. She also describes frequently dining with John Butler Yeats, John Sloan, Robert Henri, William Glackens, their wives and others at Petitpas restaurant.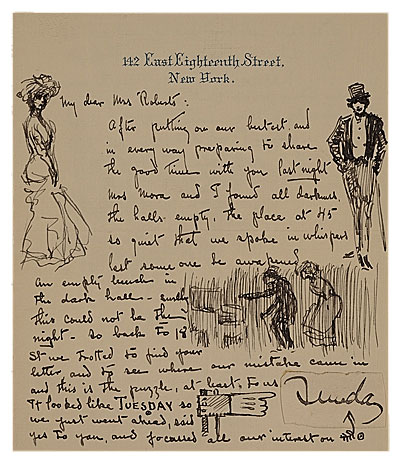 Unfortunately, her papers have very little documentation on her career as the founding editor for The Touchstone and Decorative Arts magazines and as a writer of art criticism under the name Giles Edgerton. However, they do reveal her participation in numerous social events and art openings and her efforts to sponsor the American debuts of many performers. As a friend of Isadora Duncan and the Duncan Dancers, Roberts had within her papers two files regarding the Committee to Further Isadora Duncan's Work in America. The committee included such members as John W. Alexander, Robert Henri, George Grey Barnard, and Karl Bitter.
I completed this project satisfied that such an interesting collection of documents would be available to researchers online. I only wish Mrs. Roberts had finished her autobiography and shared with us what must have been an amazing insider view of New York society.
Erin Kinhart is a processing archivist at the Archives of American Art.