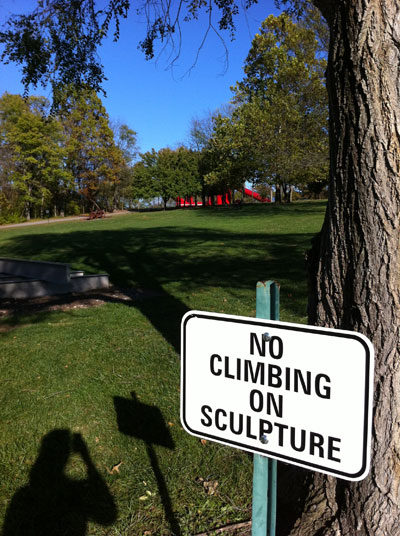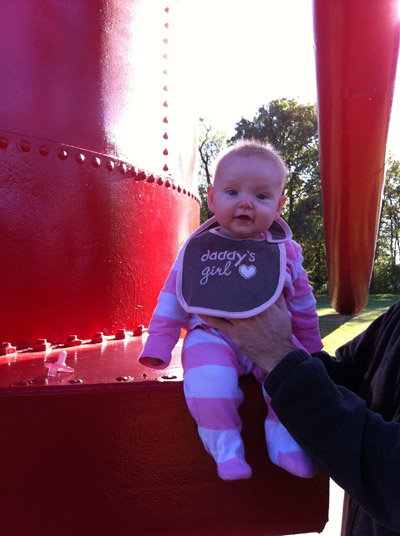 Growing up in St. Louis, my favorite sculpture to visit at Laumeier Sculpture Park was Alexander Liberman's The Way. Its monumental size and color thrilled me. When I was little, I must have thought the oil drums looked like giant toys, or else I was reminded of a jungle gym, because I was always trying to climb the sculpture despite clearly posted instructions not to. In high school, my friends and I would sometimes picnic near the sculpture, both because we liked it and because it was the most easily identifiable rendezvous point: "We'll be at the giant red one. See you there." (Also because we still liked to try to climb it.)
After moving away from St. Louis, I hadn't given the sculpture park much thought until I started processing the André Emmerich Gallery records here at the Archives—I am currently in the final year of a three year project to fully process the collection. André Emmerich represented Alexander Liberman in the United States, exhibited his paintings in the gallery, and installed some of his sculptures in Emmerich's private sculpture park in upstate New York.
While sorting through photographs in the gallery's records, I stumbled across two snapshots of Liberman's The Way, which made me nostalgic for home. The gallery's inventory card for the sculpture is not very informative, but a couple of clippings from 1980 describe how the now iconic work was initially considered by critics to be a piece of junk in a junkyard. The critics were only partly right. The sculpture is composed of eighteen salvaged steel oil tanks painted cadmium red. It took Liberman's crew eight trips to move the tanks to St. Louis from his studio in Connecticut, and it took four weeks to install the artwork in an area of the park now called "Way Field." The Way measures 65 feet tall, 102 feet wide, and 100 feet deep, and it weighs an impressive 55 tons.
During a recent trip to St. Louis, I took my family to visit The Way and can affirm that it looks nothing like junk at all. It is still towering and beautiful, and it has just benefited from conservation efforts that included a power wash, prime, and fresh coat of red paint, just in time for the St. Louis Cardinals' eleventh World Series win! Unfortunately the shiny red sculpture still poses a temptation for young would-be climbers.
Julie Schweitzer is a processing archivist at the Archives of American Art. The André Emmerich Gallery Records are currently closed to the public during processing. The Archives of American Art expects to open the André Emmerich Gallery Records to researchers in the summer of 2012.