By Christina Weyl, PhD candidate in art history, Rutgers University
Between the fall of 1951 and spring of 1952, Alice Trumbull Mason (1904–1971) independently coordinated a traveling show of abstract etchings she produced in the mid-1940s at Atelier 17, the avant-garde printmaking workshop located in New York City between 1940 and 1955 (fig. 1). Mason sent unsolicited letters to university galleries and regional art centers describing her show, comprised of nineteen etchings featuring biomorphic shapes, soft-ground textures, and embossed surfaces, such as Interference of Closed Forms (fig. 2).1 To justify her credentials to these unknown correspondents, Mason cited awards from annuals at the Philadelphia Print Club (1946) and the Society of American Graphic Artists (1948) and listed major institutions which owned her prints like the Brooklyn Museum of Art (BKM), Museum of Modern Art (MoMA), Library of Congress (LOC), and New York Public Library (NYPL). Ultimately, Mason's plan worked. After confirming the first venue at the University of Wyoming, then a major hub for modernist art education, she booked five other locations for the show (fig. 3).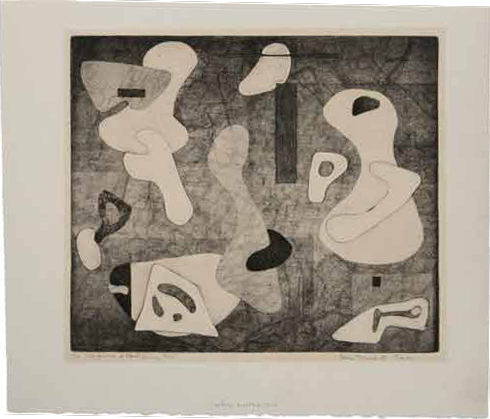 Engaging with recent interest in how American art traveled internationally, this essay will consider the movement of women's Atelier 17 prints and the positive impact of these exhibitions on women's career success.6 Drawing on analysis of primary material visualized in charts and on interactive maps produced with Viewshare, an online platform developed by the Library of Congress, this article establishes who and where the major hubs of activity were within this network and what facilitated connections among these nodes.7 Following the travels of six artists—Minna Citron (1896–1991), Worden Day (1912–1986), Sue Fuller (1914–2006), Jan Gelb (1906–1978), Alice Trumbull Mason, and Anne Ryan (1889–1954)—the discussion will center on several aspects of prints' circulation: peer-to-peer relationships, printmaking annuals, traveling exhibitions, museum collecting, and artists' groups that supported avant-garde printmaking.
This analysis will suggest that two factors primarily contribute to why making prints at Atelier 17 served as a breakthrough for women artists' careers. First, prints are highly mobile—nothing more than lightweight, thin sheets of paper. Multiple impressions of the same edition could be sent to venues across America and the world, allowing women's prints to be shown in several places simultaneously. Second, women were highly motivated to develop a dynamic artistic network through their activities as printmakers. Mason's experiences as a painter were not isolated; there was little market or critical support for women artists' paintings and sculptures. Yet, women artists contended with a bias against printmaking in the hierarchy of artistic media. Citron encapsulated challenges posed by being an artist who enjoyed printmaking: "Crossing the line back and forth between printmaking and painting is hard. You are so easily labeled a printmaker."8
In spite of these challenges, women artists boldly pursued connections within the postwar printmaking network, fighting for chances to secure public exposure for their prints and to build relationships with key professional contacts. This article ultimately constructs a powerful narrative about this active but peripheral subgroup of the New York School.9 In doing so, it demonstrates the intrepidness and bravery of these women printmakers to share their graphic art with a global audience. It also reveals the significance of their prints in shaping postwar abstraction. These understudied women artists, whose prints traversed the globe evangelizing for unfettered modernist expression and American democracy, were at the vanguard of feminist activity within the art world that exploded two decades later.
The Explosion of Postwar Printmaking: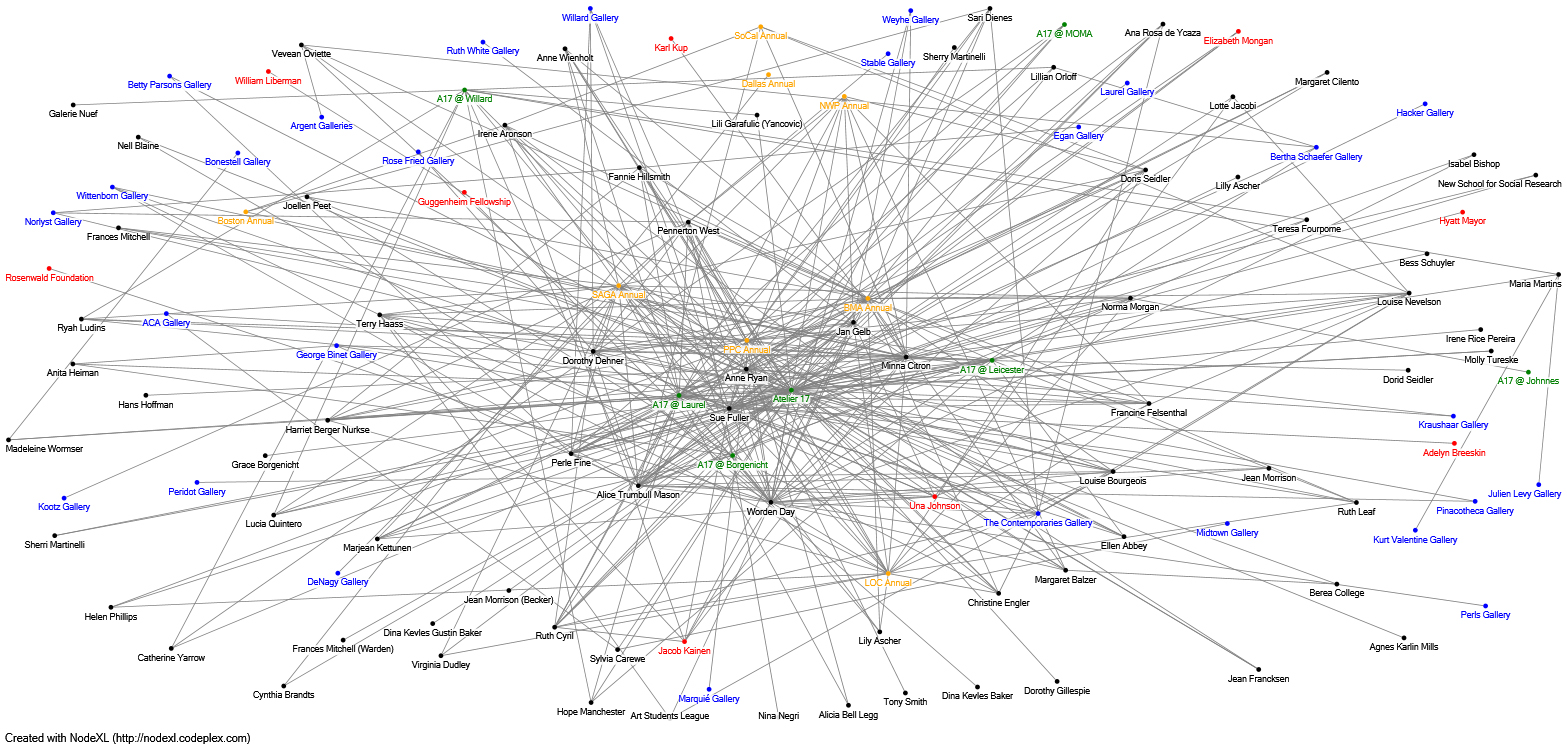 Although printmaking had a strong history in America coming into the twentieth century, several events combined around the mid-1940s to initiate a groundswell of support for modern printmaking. 1947–48 mark watershed years, after which avant-garde printmakers found widespread acceptance for their graphic work in America and internationally. The decision of Stanley William Hayter (1901–1988), Atelier 17's founder, to relocate the studio to New York City in 1940 from its first home in Paris certainly paved the way for modern printmaking's growth in America. More importantly, MoMA's 1944 exhibition New Directions in Gravure: Hayter and Studio 17 confirmed the workshop's status as a central hub of abstract printmaking. Atelier 17 became known as the foremostplace worldwide to learn experimental printmaking, and the number of artists training there increased substantially.
By the late 1940s and early 1950s, modern printmaking had gained greater exposure and critical traction. Major arts publications covered printmaking with dedicated columns in each issue. Art News featured Irvin Haas's "The Print Collector" from roughly 1946 to 1957, and Art Digest had many columns appearing intermittently from the late-1940s into the 1950s.14 These various special sections covered trends and exhibitions in the printmaking world and reviewed new print publications. Even though these magazines sometimes covered print news within the 57th Street gallery reviews, the print sections effectively segregated avant-garde graphic arts from mainstream modernism.
Seizing on the opportunities that this explosion of postwar printmaking offered, women artists capitalized on prints' portability by sending their graphic work throughout the United States. Although the scale of prints definitely increased from standard sizes seen in the early-twentieth century, artists realized that prints were still far more transportable compared to the large paintings and sculptures of the New York School.15 Gelb's husband Boris Margo (1902–1995) confirmed the belief that printmaking was a better instrument for spreading postwar abstraction, writing, "costing less, framed less formidably, more easily transported by rootless moderns, the print can serve as a most persuasive introduction to modern art."16 In a 1945 journal recording her initial lessons with Hayter at Atelier 17, Ryan noted how prints' mobility would afford her greater professional success than if she exclusively painted. She wrote, "it is easier to succeed in prints than painting for the simple reason that prints can be mailed."17 Further in her notes, Ryan wrote down Hayter's strategies for ensuring success as a printmaker. He prioritized publicizing instead of production, suggesting "about one third of time is given to making of the prints and two thirds to marketing and mailing, seeing dealers, etc." Ryan noted a final suggestion about the importance of making a substantial body of prints in order to solidify a foundation for commercial success: "Reach the goal of 50 good prints then you will begin to sell." Clearly, printmaking served as a way for Ryan, formerly a housewife, mother and poet, to gain a toehold in the art world, earn a livelihood, and build a critical reputation that eventually led to her success as a collagist (fig. 5).18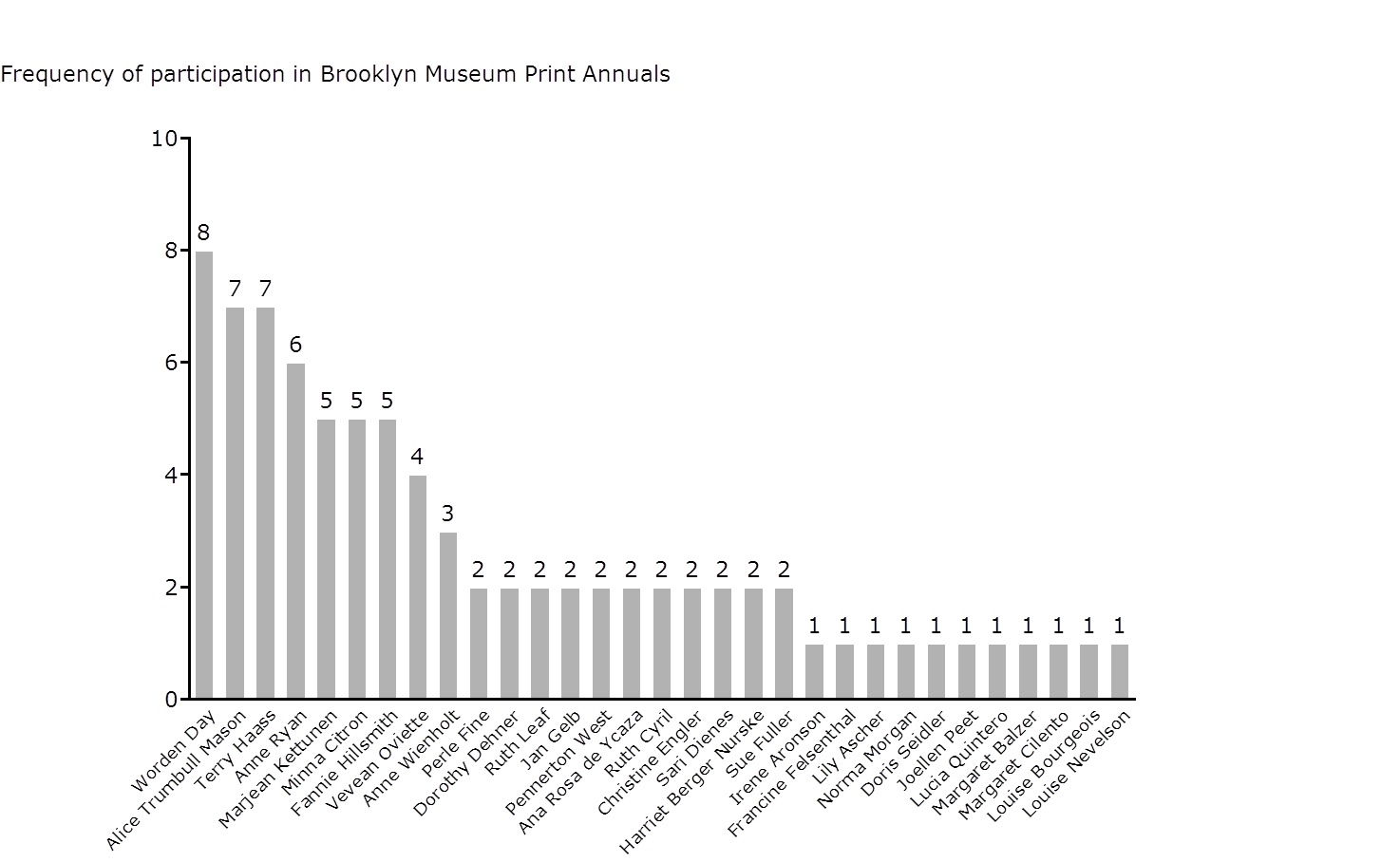 There was precedent in American history for using printmaking as a vehicle for disseminating art to the general public. In the period immediately before Atelier 17's establishment in New York, two mail-order companies sold Regionalist-style prints directly to middle-class American consumers. Reeves Lewenthal started Associated American Artists in 1934, which marketed signed and numbered prints for $5 each. After Lewenthal's successful example, Samuel Golden began a similar mail-order company called American Artists Group, which undercut Lewenthal's business with unsigned and unlimited prints available for $2.50. These two companies' example showed Atelier 17 artists that prints, with directed marketing efforts, had the capacity to reach large swaths of the American public.19
The Collegiality and Reciprocity of Peer-to-Peer Networking:
Women artists actively facilitated geographical exchange of their prints in their effort to self-promote and form relationships with others. Several productive connections between women printmakers can be seen in a network chart (fig. 4). Radiating out from Atelier 17, artists connect with one another either directly through peer-to-peer exchange or indirectly via important nodes. Artists like Ryan, Day, Fuller, Mason, Citron, and Gelb are clearly hubs and facilitated the flow of creativity within this system. Hayter served as a chief exemplar for women artists of how to enlarge their sphere of influence. According to Helen Phillips (1913–1995), Hayter's second wife and an active printmaker at Atelier 17, Hayter made himself available for lectures and demonstrations—which often had accompanying exhibitions of his prints—and these activities, "spread his reputation throughout the U.S. as a teacher."20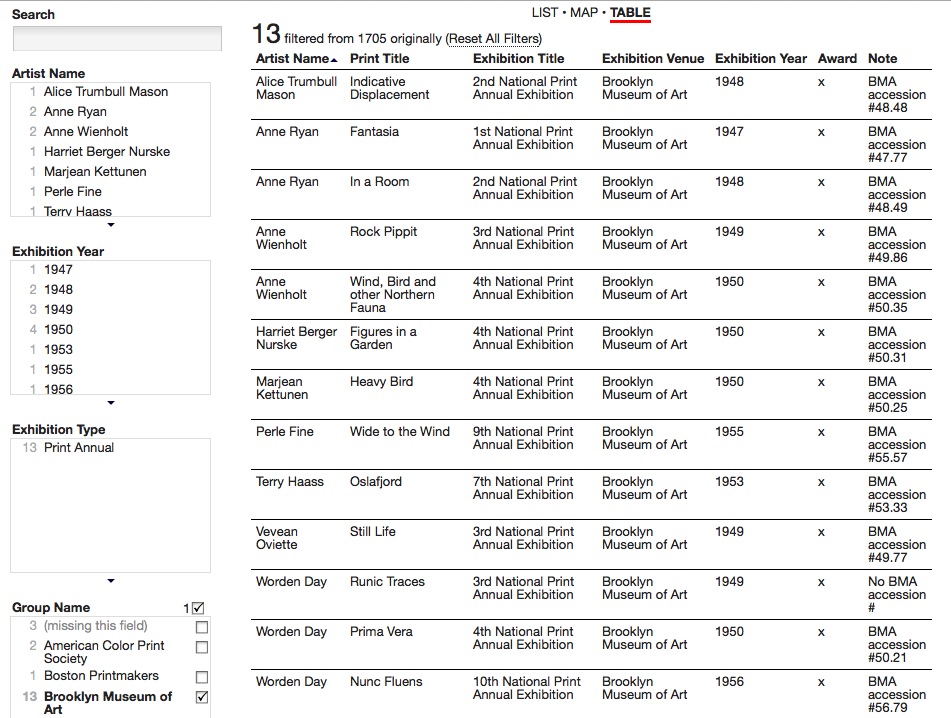 Beyond these two women, several artists developed intimate relationships at Atelier 17 with other female printmakers that led to important professional achievements. Louise Nevelson (1899–1988) and Dorothy Dehner (1901–1994) began a lifelong friendship after Dehner admired proofs of Nevelson's large and expressively inked etchings hanging on the walls of Atelier 17.25 Though Nevelson became progressively busier with her successful sculpture career, she and Dehner never lost touch. While working as a fellow at the Los Angeles-based Tamarind Lithography Workshop in 1963, Nevelson wrote Dehner a postcard suggesting she also make prints there and likely suggested her name to Tamarind's founder, June Wayne.26 Dehner also maintained a strong friendship with Doris Seidler (1912–2010), a British expatriate who worked at Atelier 17 after the conclusion of World War II. Many years after their time at Atelier 17, Seidler suggested that she and Dehner share a two-person exhibition at the Print Centre in London and said she would sponsor Dehner's membership to SAGA.27
Through Berea College in Kentucky, Day and Ryan both connect with Margaret Balzer Cantieni (1914–2002), who taught art at the school from 1937–45.28 At some point during her travels, Day met Balzer Cantieni at Berea and likely influenced her to study at Atelier 17, which she did in 1946.29 Ryan showed woodcuts at Berea in October–November 1947 because Balzer Cantieni brought Dorothy Tredennick, member of the school's Art Department, to see Ryan's work at her apartment on Greenwich Street.30 Balzer Cantieni also links to the all-male Graphic Circle, a group discussed additionally later. In March 1949, Jacques Seligmann gallery lent an exhibition of the Graphic Circle to the art gallery of Lehigh University library; as a local artist—she and her husband had moved by this point to the Lehigh Valley to teach art at various institutions—Balzer Cantieni showed one of her abstract prints alongside members of this esteemed vanguard group.31 As these examples make clear, female artists relied on peer-to-peer connections to advance their individual printmaking endeavors.
The Transformative Effect and Geographic Circulation of Print Annuals and Museum Shows:
Print annuals are one of the clearest examples of how women artists energetically networked and harnessed prints' transportable properties. Showing at these venues—and many others when the annuals traveled—enabled them to gain exposure and a base of critical support at a time when women did not have equal access to exhibition opportunities for their painting or sculpture. Louise Bourgeois (1911–2010), who began working at Atelier 17 in 1946, underscored the catalyzing importance of participating in these annual print shows: "I was able to enter the art field through the prints, because the Brooklyn Museum organized this show of prints every year. So it was an easy beginning, to have your name printed...I did it for exposure."32 The selection process could be quite competitive, and women had every reason to be quite proud of gaining entry.33 Through participation in the print annuals, women not only had their names printed in the exhibition catalogues, as Bourgeois noted, but also their names and illustrations of their artwork often appeared in the art press, especially as winners of awards and purchase prizes.
As the artist-run SAGA developed a more modern identity in the 1940s, women artists from Atelier 17 increasingly showed in its annual exhibitions. Few women exhibited in the early 1940s, since "modern" printmaking did not make inroads into this "academic" institution until about mid-decade.36 Hayter first showed with SAGA in 1942—"[overtipping] the aesthetic apple cart," as Fuller recalled—which opened the door for modern printmakers.37 Shortly thereafter, women artists from Atelier 17 began submitting their abstract and stylistically progressive prints to SAGA's annual shows in greater numbers, with participation peaking in the years 1946, 1947, and 1948 (fig. 10). In Fuller's first years showing in SAGA annuals, she entered more conservative, semi-representational prints of animals and human figures such as Cock (fig. 11). In this profile view of a rooster in motion, Fuller contrasts pieces of lace, inherited from her mother and impressed onto an etching plate prepared with soft ground, with bold calligraphic lines that emphasize the head, neck, beak, legs, and tail of the bird (fig 12). By 1948, Fuller showed The Sorceress (fig. 13), one of her fully abstract "string compositions." Frustrated by the limitations of stretching prefabricated lace and materials to her desired specifications, Fuller cut up lace and stripped fabric to its lowest component—thread—to make abstract compositions like The Sorceress.
Even though SAGA had a more traditional reputation, Atelier 17 artists recognized the annual's importance for increasing their professional visibility. Fuller urged Hayter to join SAGA because of the networking potential: "I felt that if he would establish a rapport with the opposition that he would enlarge his field of circulation."38 Like the BKM annuals, exhibiting with SAGA came with the possibility of recognition in the art press and interaction with curators and gallerists. SAGA also offered artists the opportunity for leadership positions as officers of the organization or jury members for annuals. The latter proved quite influential, as Hayter, Fuller, and Citron sat on the 1946 jury that initiated several years of strong showings by Atelier 17 members.39 Karl Kup, curator of prints at the NYPL, recalled that at the 1946 SAGA annual, "an astonishing array of contemporary work adorned the wall, with almost every 'school of thought' represented. [Citron, Fuller and Hayter] had been on the jury of admission, with results that may have shocked some of the more academic members."40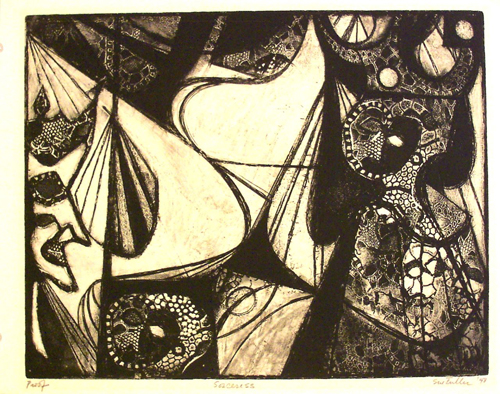 The Philadelphia Print Club (PPC) was also a significant venue for women artists from Atelier 17. Founded in 1914, the PPC's Board had conservative tastes in its early years but opened to modern printmaking when Berthe Von Moschzisker (1915–2002) became the Director in 1944 and decided "to show contemporary things."41 After Hayter won the club's prestigious Charles M. Lea prize in 1944, Von Moschzisker invited him to have a solo show at the PPC and teach a once-a-month class for local artists nicknamed the "Hayter Workshop."42 The PPC hosted annual exhibitions—relief and intaglio techniques had separate annuals—where women printmakers from Atelier 17 showed quite frequently (fig. 10).43 The etching annual's highest honor, the Charles M. Lea prize, was a particularly valuable award not only because the art press featured the winners but also because the PPC donated the award prints to the Philadelphia Museum of Art (PMA).44 In addition to annual prizes, the PPC began a member-supported fund in 1942 to purchase prints from PPC annuals for the PMA's permanent collection.45 When Mason's Interference of Closed Forms (fig. 2) won the Charles M. Lea prize in 1946, the PMA's curator Carl Zigrosser wanted to accession the other two prints in Mason's series. Lacking museum acquisition funds, Zigrosser asked the PPC to sponsor the purchase of Labyrinth of Closed Forms and Orientation of Closed Forms (both 1945).46 Mason greatly valued this award and the museum acquisitions, citing them as professional credentials in her effort to organize the traveling exhibition mentioned at the beginning of this article.
Citron actively participated in annuals with the Boston Printmakers (BP), winning honorable mention for Whatever (1945), her first, very small foray into abstraction (fig. 14 and 15). Working at Atelier 17's avant-garde studio was a major inspiration for Citron, encouraging her to switch from her witty social realist style to abstraction. The BP award had immediate ramifications for Citron's career and style, in that it gave her the confidence to move beyond the cautious, black-and-white miniature of Whatever toward larger toward full-color abstractions.47 Citron's Flight to Tomorrow (fig. 16), which became the BP's Presentation Print for 1950, showcases an inventive abstract composition and her technical masterwork. Her superb handling of the engraver's burin, shown in the composition's curved and straight lines, is complemented by her printing virtuosity, seen in the three colors—purple, light and dark blue—she stenciled on the plate's planar surface.
Several museums coordinated special exhibitions that traveled quite widely, allowing women to promote their reputations nationally and internationally as modern printmakers. After its run at MoMA, Hayter and Studio 17—which included prints by Fuller, Ryan, Perle Fine (1908–1988), Helen Phillips, and Catherine Yarrow (1904–1990)—traveled for two years to venues throughout the United States.50 Concurrently, MoMA shipped a version of the show to the Inter-American Office of the National Gallery of Art, which circulated to cities in Latin America between 1944 and 1946.51 In 1953–54, Day, Fuller, and Ryan had prints sent to the Municipal Museum of the Hague (Gemeentemuseum Den Haag) and the Kunsthaus in Zurich as part of the BKM's exhibition, New Expressions in Printmaking (1952), a state of the field for midcentury American printmaking.52 Several women artists from Atelier 17 participated in a traveling exhibition coordinated by the Boston Public Library (BPL) that first went to the Petit Palais in Paris in 1949, then the American Embassy in Paris, and many cities in France, Germany, and Italy over several years (fig. 18).53 The artists involved in the BPL show later donated their prints to museums in Israel.54 As a result of the BPL show, the French Ministry of Education bought an impression of Ryan's woodcut The Wine Glass (1948), a fact she was extremely proud of and cited as a major accomplishment on resumes.55 Exhibition possibilities clearly blossomed in the wake of World War II, greatly enhancing the network for global printmaking exchange and raising women's international profiles as avant-garde printmakers.
While promoting these women's reputations, the circulation of prints worldwide also carried a Cold War message of spreading democratic ideals. Several governmental agencies were involved in promoting networks of democratic exchange through printmaking. In addition to the Inter-American Office, the United States Information Agency (USIA), established in 1953 with the goal of fostering dialogue between the United States and the world, built a huge collection of more than 1,600 prints to circulate within American embassies, a precursor to the current Art in the Embassies program.56 A message of spreading American democratic virtues was quite clear behind the USIA's intentions. In the words of the USIA's director Leonard Marks, "through this program we are attempting to make known abroad the creative vigor and originality of contemporary American graphic art. In many locations where the prints are hung there is no other way by which the public could learn about this aspect of our culture."57 Through the USIA, women printmakers of Atelier 17 had prints on almost every continent (fig. 19).58 One of Mason's etchings, Deep Sound (fig. 20), in which sinuously arranged lace contrasts with two strongly bitten horizontal lines, was on view at the American embassy in Kuala Lumpur, Malaysia.59
Printmaking Groups:
Joining artists' groups centered on modern printmaking was another important avenue for women artists to publicize their Atelier 17 prints. First and foremost, these printmaking groups provided women with the chance to exhibit their prints publicly in major galleries and museum spaces. Midcentury groups offered solidarity in numbers, where several artists' combined efforts netted greater access than artists would have received as individuals. The initial entrée through printmaking groups sometimes marked the beginning of long-term relations between women and prestigious galleries. As with print annuals and governmental organizations, exhibitions of these midcentury printmaking groups made the rounds of venues in the United States and abroad. Another major benefit of these artists' groups was their networking potential, creating vibrant forums for artists to socialize and exchange ideas about printmaking. Lastly, by either founding or helping with the management of these printmaking groups, women artists were able to express leadership skills outside of the domestic realm, which went against the period's conservative gender norms. Female printmakers realized that, if they did not take charge and organize their own groups, they would not have many options for exhibiting their avant-garde prints.
Atelier 17's Decisive Impact on Women's Careers:
The decision to work at Atelier 17 represents women artists' primary affiliation with a collegial group of printmakers. Besides the obvious benefits of learning from Hayter and other artists in the informal workshop environment, Atelier 17 artists exhibited together annually at major galleries.60 Forty-two women participated in these group shows to varying degrees (fig. 21). While the artists at the center of this article had some of the highest participation levels, just under half exhibited only once with Atelier 17, sometimes marking one of the only remaining records of the artist's careers.
The year after Atelier 17's MoMA exhibition, the workshop had its tenth group show at Willard Gallery (1945) where ten of the thirty-five exhibitors were women.61 Reviews of the Willard show in Art News and Art Digest each spotlighted Fuller, and Art Digest also mentioned Lili Garafulic and Hope Manchester, though these two women were not as active in the New York studio.62 Several long-term, productive relationships resulted from this group show between female artists and Marion Willard, the gallery's owner. Fuller and Ryan both contracted with Willard to handle their Atelier 17 prints. Ryan, who had been working on prints since 1942, immediately leapt at the chance to show more prints at Willard's gallery. Atelier 17's show was in late spring 1945, and Willard requested that Ryan send additional prints by the following October.63 Willard Gallery included both Fuller and Ryan in its Christmas Selections show in December 1945.64 Fuller, who was perpetually seeking to expand her network, remembered that Willard even employed an assistant to travel around the country selling Fuller's and other artists' prints.65
Atelier 17's twelfth group exhibition took place in London at the Leicester Galleries in March 1947. Hayter wrote an extensive intro text, in which he singled out the efforts of Pennerton West (1913–1965) and Sheri Martinelli (1918–1996) for their biting out technique.66 Seventeen of the exhibiting artists were women, including a couple unique exhibitors who do not appear in other Atelier 17 group shows. In addition to expanding Atelier 17's network to London, the show also circulated throughout England with the Arts Council.67
Two years later in 1949, an exhibition at the Laurel Gallery in New York City was the most significant opportunity for women printmakers to show with Atelier 17. The show was the studio's biggest, both in terms of number of artists exhibiting and the quality of the published material. Twenty-eight artists from the show were women, representing the largest simultaneous showing of female printmakers from the studio and reflecting the crest of activity in postwar printmaking. The Laurel exhibition generated buzz in the art press for these women, with Art News and Art Digest mentioning a more diverse group of participating Atelier 17 members.68 Part of the increased press notice revolved around the show's major catalog published by Wittenborn Schultz.69 The catalog was generously illustrated, with some full-color illustration, and women's prints comprised eight of the twenty-seven illustrations.70 The publisher's involvement secured greater distribution in the nation's art bookstores and institutional libraries and meant that, for the first time, Atelier 17's group exhibition reached a broader audience. Today, the catalogue is an important resource because it has detailed biographical information for participating artists. In short, the Laurel catalog made it a very important time for women artists to be members of Atelier 17. The studio had additional shows in New York City, but none ever reached the magnitude of the Laurel Gallery exhibition.71
14 Painter-Printmakers and Other Printmaking Groups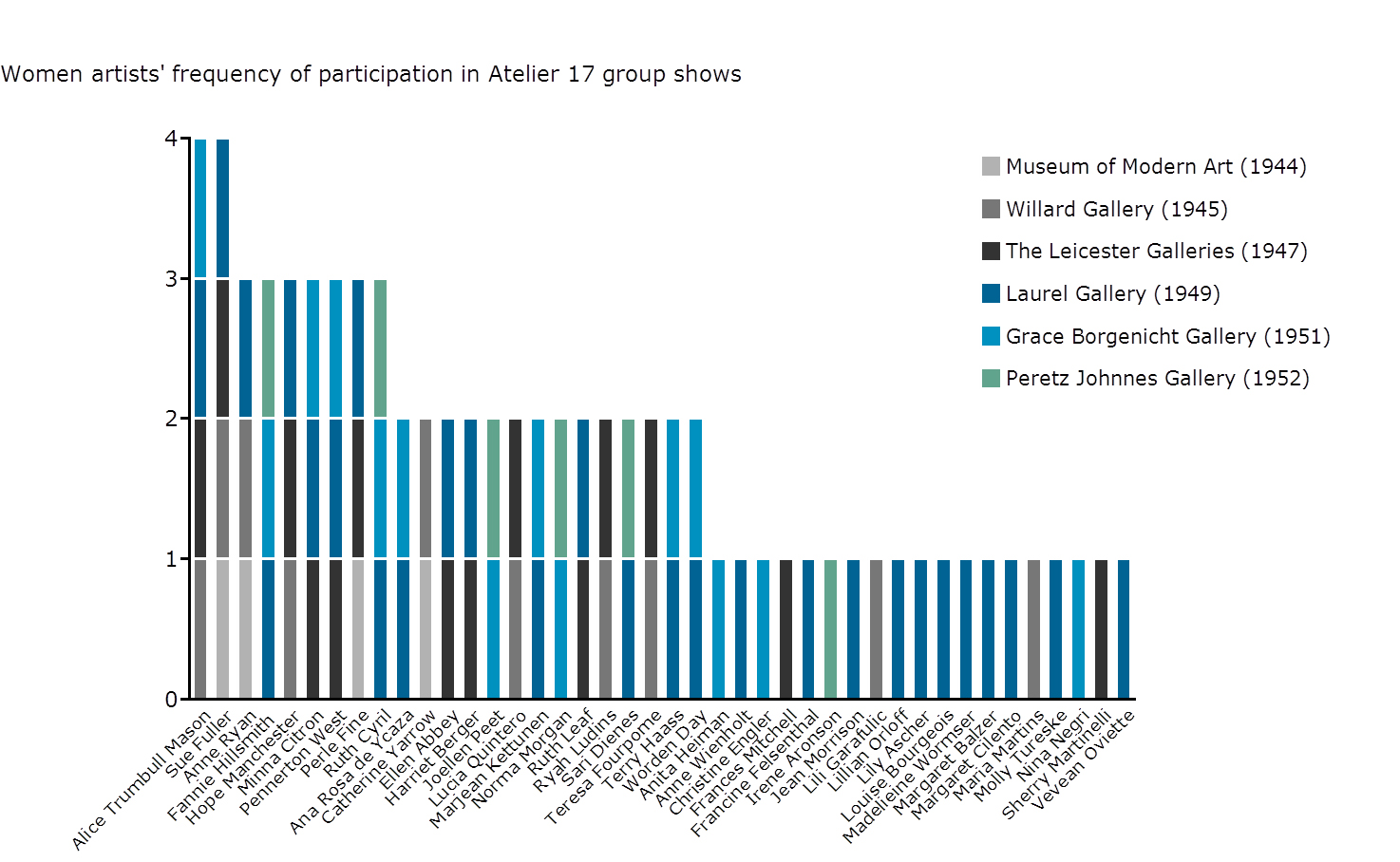 As the postwar printmaking revival gained steam in the late 1940s, women sought group affiliations outside of their Atelier 17 membership. Groups dedicated exclusively to avant-garde printmakers existed as early as 1945, but women did not play as dominant roles in them as they would by the 1950s. Vanguard, founded in 1945 by modernist architect Robert Vale Faro (1902–1988), counted Atelier 17 artists Hayter, Fuller, and Ryan as New York members and Francine Felsenthal (1922–2000) in Chicago.72 The BKM gave Vanguard a show in 1946, which subsequently toured to several other institutions in the United States.73 Jacques Seligmann Gallery supported several artists' groups in the late 1940s which followed the "so called 'modern' idiom"—in the words of Theresa Parker, director of the gallery's Contemporary American Department—but scarcely any women were members. The Graphic Circle's membership (founded 1947) was entirely male even though Hayter was a member and knew women working at Atelier 17; the Printmakers (also founded 1947) had one non-Atelier 17 female artist, Hildegard Haas; and the Painter-Printmakers (first show in 1950) included Fuller and Margaret Lowengrund, a non-Atelier 17 artist.74
The collective potential of this group for networking and circulating exhibitions became clear immediately. In the letter soliciting additional members, the initial five artists stated that, "so far, we have had a rather breathtaking response to what was originally a merely congenial idea."79 14 Painter-Printmakers got off to a strong start with two major gallery exhibitions in New York City, first with Stable Gallery in 1953 and second with Kraushaar Galleries in 1954.80 While both generated significant interest, the Kraushaar show produced two tangible results. First, the AFA circulated an exhibition of the 14 Painter-Printmakers within the United States (fig. 23).81 Second, the Metropolitan Museum of Art (MMA) accessioned a group of prints from the Kraushaar show.82 This purchase included Gelb's chromatic color print, Hyaline Pavane, one of her first abstractions after spending many years working in a surrealist and social realist style (fig. 24). Here, Gelb explored relief printing, seen in five spots of bright colored ink, which she probably achieved using cellocut, a technique her husband Boris Margo pioneered in the 1930s.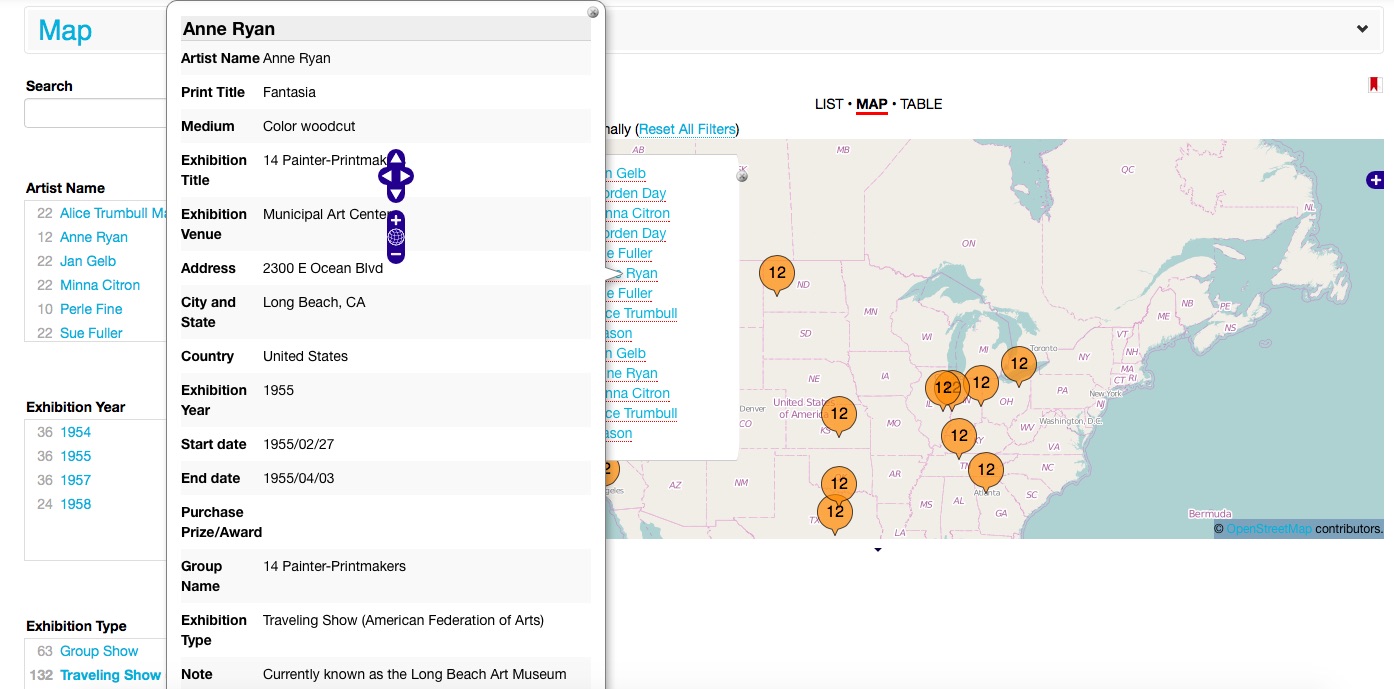 Because of both gallery shows, members of the 14 Painter-Printmakers became friendly with several important professional contacts. In late-November 1954, the group hosted a small party at Margo's studio—a photograph documents the convivial soiree (fig. 25)—to socialize with this professional network: John B. Turner, art patron who funded the MMA purchase, Hyatt Mayor (MMA), Una Johnson (BKM), Karl Kup (NYPL), Bill Lieberman (MoMA), AFA staff members Tom Kesser and Virginia Fields, and gallery directors Antoinette Kraushaar and Eleanor Ward of Stable Gallery.83 Citron, for one, made an important connection with Mayor, who credited her with changing the course of the MMA's collection priorities: "I would like to have been able to tell you...how much the MMA is beholden to you for all that you have done for us. Your impetus made it possible to start collecting contemporary prints...You are, I think, the only outstanding print-maker who profoundly shaped museum collecting."84 Citron must have been delighted to receive this glowing compliment from such an esteemed figure in the museum community.
This group continued to have great success in disseminating members' graphic work throughout the late 1950s and early 1960s. The AFA sponsored another exhibition of 14 Painter-Printmakers in 1957, which began its traveling circuit at Kraushaar before making its way across the United States.88 Gelb reached out to the American Embassy in Paris regarding having an exhibition of the group's work at its cultural center in 1959, which would later travel to the French provinces.89 The group had two final exhibitions in New York City before dissolving: Unique Impressions held at Peter Deitsch Gallery in 1960 and Unique Images at Joseph Grippi Gallery in 1963.90 Through its ten-year history, 14 Painter-Printmakers served as an important channel for championing the cause of avant-garde printmaking and making the names of its members better known within the broader postwar art world.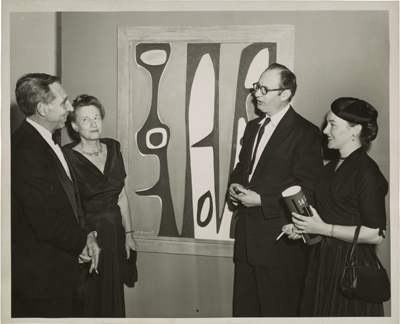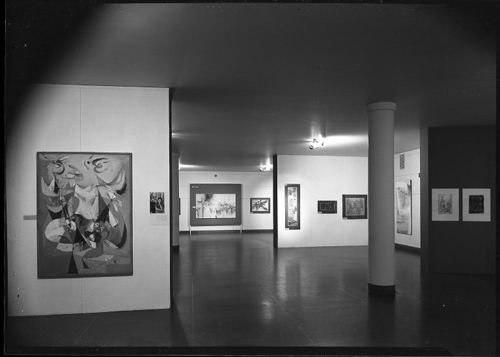 Notes: