By Katherine Jentleson, PhD candidate in art history, Duke University
During the interwar years, "folk art fever" swept the Northeastern United States.1 Early transmitters included Robert Laurent, Charles Sheeler and other artists who contracted the fever in rural outposts like Ogunquit, Maine or the Pennsylvania German enclave of Bucks County and brought it back to New York City, where the Whitney Studio Club put objects from their collections on display in 1924. Six years later, Holger Cahill, the Icelandic-American curator who was later named the director of the Federal Art Project (FAP), launched a series of folk art exhibitions—two at the Newark Museum followed by one at the Museum of Modern Art (MoMA). His 1932 MoMA show did not come from artists' troves but rather drew almost exclusively from the collection of Abby Aldrich Rockefeller who employed Cahill as her "folk art tracker."2 By 1935, however, the supplies of weathervanes, needlework, decoys and other handcrafted objects that had long laid dormant in Northern and Mid-Atlantic antique shops were picked over. So Rockefeller sent Cahill into the uncharted territory of the American South.
Many scholars have identified Cahill's Southern collecting trip as an early attempt to diversify the then emergent folk art canon, which was dominated by works from states north of the Mason Dixon line.3 Until now, however, his trip has not been comprehensively chronicled. This is in part due to an assumption that Cahill's records of the trip had been lost—a mishap that Cahill refers to during a 1957 interview with Joan Pring that is in the Archives of American Art. Cahill told Pring: "I had a sort of accident happen to me in Williamsburg. I gave them scads of notes that I had taken on these trips of mine—gave them to a stenographer—and they disappeared. Nobody knows where they are."4 Elizabeth Stillinger includes this quote in her recent encyclopedic chronicle of folk art collecting in the United States, A Kind of Archeology, whose title is inspired by Cahill.5 Stillinger adds that in fact there are several surviving pages of notes in the papers of Dorothy Miller, the pioneering curator who was also Cahill's second wife, which are "possibly the only remaining description of that momentous journey."6 This essay relies another existing account of the trip in the Archives of American Art: an eight-page report that Cahill wrote to Abby Aldrich Rockefeller chronicling his journey between February 21st and March 5th, 1935 (see frames 824-833).7 From the new information revealed by this Rockefeller report, I reconstructed Cahill's route using the latest version of Neatline, a tool for building interactive timelines and maps developed by the Scholar's Lab at the University of Virginia. Thanks to the generous cooperation of Jan Gilliam at Abby Aldrich Rockefeller Folk Art Center (AARFAC), who helped me cross-reference works in Cahill's Rockefeller report against the current Colonial Williamsburg collection, I have been able to layer my digital map with many images of the material Cahill found during his collecting trip.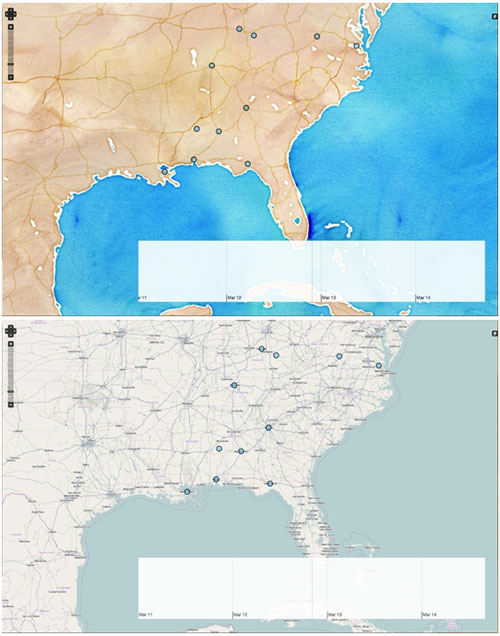 Holger Cahill and the Folk Art Movement
The chronicle of Cahill's early years as an Icelandic immigrant established by Wendy Jeffers and further explored in the recent dissertations of Jillian Eliot and G. Carl Rutberg reads like a classic rags to riches parable of Gilded Age America. Born Sveinn Kristjan Bjarnarson near the Arctic Circle in Iceland in 1887, Cahill immigrated with his parents to Western Canada and eventually North Dakota by the early 1890s. Cahill's youth was comprised of a series of undesirable episodes that began when Cahill's parents separated and he was eventually forced to work on a farm 50 miles away from his mother and sister. Things began to turn around for Cahill once he pursued jobs that promised mobility, first at the Northern Pacific Railway in 1907, and later with Great Lakes boats.9
Like a young James Gatz, Cahill made the journey east by land and by water, arriving in New York in 1913—the same year that the American art world was capsized by watershed events like the Armory Show. There, a minority of European modernist paintings drew a disproportionate amount of attention, fanning the flames of the longstanding, largely one-way rivalry between American artists and their European counterparts. 1913 also witnessed the completion of Cass Gilbert's record-breaking Woolworth building and the exhibition of two mysterious 17th-century paintings later attributed to the Freake Limner at the Worchester Museum of Art.10 A skyscraper and a pair of musty old portraits may seem like strange bedfellows, but as Wanda Corn has shown, folk art and feats of American engineering both became homegrown muses for contemporary artists questing after what Georgia O'Keeffe called "The Great American Thing."11 Whereas dizzying towers of iron and glass established the present and future dominance of American innovators, pre-industrial handcrafted objects and amateur painting served as past evidence of American bootstrapping and ingenuity. Over the next two decades, folk art, a sweeping category of objects that included utilitarian, decorative, and fine art became "abiding proof that what was unconventional was American."12
Cahill quickly assumed a leading role in this reappraisal of folk art, which was part of a large-scale revision of American cultural patrimony that was taking place across the arts.13 Around the juncture of his 26th birthday and arrival in New York City, he changed his name to Edgar Holger Cahill, a choice that apart from providing a more Anglicized identity has not been explained fully by Cahill's biographers. Cahill spent the teens working as a journalist for two Westchester newspapers, taking classes at the New School, and assimilating into avant-garde artistic and political circles via new friends like Mike Gold and John Sloan.14 John Cotton Dana, the director of the Newark Museum, gave Cahill his big break when hired him as a publicist in 1921. Recognizing the manufacturing center that was his constituency, Dana built the Newark Museum up from its origins as a municipal library with the South Kensington Museum in mind. He opposed the "undue reverence for oil paint" promoted by many of his colleagues, and preached the beauty of everyday objects of both the manmade and machine variety.15
In addition to Dana's progressive ideas about the classes of objects that deserved wall and vitrine space in American museums, Cahill was influenced in the early 1920s by the institutional support for folk art that he encountered during a summer abroad. In 1922, as he traveled through Sweden, Norway, and Germany, Cahill was inspired by museums like Stockholm's Nordiska Museet which housed an impressive Swedish folk art collection.16 Four years later, Cahill made another influential summer trip, this time to Ogunquit, Maine, where Hamilton Easter Field and the sculptor Robert Laurent had founded an art school a little over a decade earlier. Field, who was himself an eclectic collector of everything from Japanese prints to graphic art by Daumier, decorated the painters' studios at Ogunquit with all manner of local Maine handicraft, and by the time of Cahill's visit in 1926 many of the artists had accumulated personal collections.17 Edith Halpert, the proprietress of the recently founded Downtown Gallery, an outfit that boldly sold only contemporary American art, had beckoned Cahill to Ogunquit. She would soon become Cahill's partner in both business and the larger project of patrimonial revisionism that included the folk art movement.18
In 1929, Cahill, Halpert, and Halpert's other business partner Berthe Kroll Goldsmith co-founded the American Folk Art gallery on the second floor of the Downtown Gallery. After several years of combing the countryside, where she had a knack for luring limner paintings out of attics and talking weathervanes off of barns, Halpert issued a press release announcing the opening of the AFA gallery in 1931. She framed the endeavor as follows: "These paintings and sculptures have been collected over a period of years all over the country. They have been carefully selected, not because of their antiquity, historical association, utilitarian value, or the fame of their makers, but because of their esthetic quality and their definite relation to American modern art."19 Halpert made the idea that her modern catalogue was heir to her folk art inventory explicit when she brought selected objects downstairs into the Downtown Gallery space that December for "American Ancestors,"—a show whose carefully chosen title did "not refer to ancestral portraits, but to the ancestors of American Contemporary Painting."20
For Halpert and Cahill, folk art was both the "usable past" that had been left out of American art history and the missing link to American modernism, which exhibited a hereditary strain of formal simplicity and unbridled vigor. It was also a new source of revenue. Folk art turned out to be a blue chip investment for Halpert who admitted that, "During the lean early 1930s when contemporary art sales dwindled, folk art was her 'sugar daddy.'"21 If Halpert and Cahill were the stars of the supply chain, then Abby Aldrich Rockefeller was the grand dame of demand: Between July and November 1931, Rockefeller, an omnivorous collector who served on the board of the recently founded MoMA, bought $21,000 worth of folk art from the AFA gallery.22 Rockefeller's son Winthrop wrote shortly after his mother's death that, "Few if any of my mother's interests gave her more pleasure than her collection of American folk art, and none, I think, more clearly demonstrates her deep pride in the cultural life of the American people."23 Initially Rockefeller kept her folk art in her Manhattan home, juxtaposing it with modern art in a display designed by Duncan Candler, the architect who had initially introduced her to Halpert. But by 1935, Rockefeller's collection outgrew this domestic setting, and she made plans to loan it to the Ludwell-Paradise House, the first building that had been completed as part of her husband's restoration of Colonial Williamsburg. She tasked Cahill with selecting, packing and installing 250 objects from her collection at the Ludwell-Paradise House (Fig. 3).24 And while he was down there, she sent him to "round out what was essentially a New England collection" with the unknown treasures that he might find South of Williamsburg.25
Cahill's Grand Tour of the South
Cahill "didn't buy enough in the South ever to send it by truck," but he did write to Rockefeller about more than two dozen works of art, many of which are still in the Colonial Williamsburg collection today.26 Cahill's Rockefeller report covers the first part of his trip, which hugged the Eastern seaboard (Fig. 1): He traveled through Virginia, North Carolina, South Carolina, Florida and Georgia in February and March of 1935, returning to Williamsburg for several days after March 5th. Based on the account that Cahill gives in his Reminiscences, we know that he must have resumed his trip after his return to Williamsburg, swinging out west through Kentucky, Tennessee and Alabama and going as far south as Louisiana. I plotted the first leg of the trip according to the dates and locations specified in the little known Rockefeller report. There is so far no dated record of the second leg of Cahill's trip, so I plotted its locations based on incomplete evidence from his Reminiscences (Fig. 2).27
Cahill set out from Williamsburg on February 21, 1935 breezing through Newport News, Norfolk and Portsmouth where there was "nothing worth acquiring."29 As he crossed the North Carolina border, passing through Norlina, Raleigh and Hamlet, he encountered no potential acquisitions but "found the itinerant painters of today quite common."30 Cahill had proved sensitive to painting by 20th-century self-taught artists while doing research for his 1930 Newark show, in which he included works by Joseph Pickett a former carpenter who painted Pennsylvania landscapes in the second decade of the 20th century.31 Throughout Cahill's Southern trip, he remarked upon work by untrained painters whose determination to paint proved that "the art urge has been as active in the South as in the North."32 Nonetheless, while he was touched by an amateur painting of natural bridge in Norlina and later by an artist by the name of Ernst who painted local scenery on the walls of a Greek restaurant in Jacksonville, Florida, he does not appear to have acquired any contemporary amateur paintings.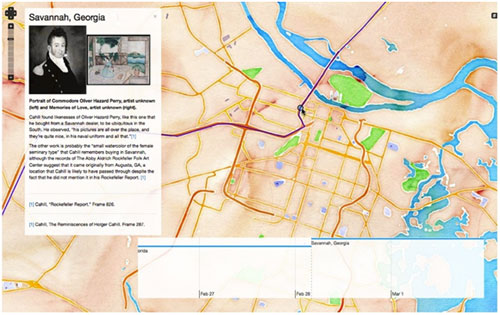 Cahill declared his next stop, Columbia, South Carolina, "barren of folk art," but it provided a lead on an antique shop in Miami. He continued on to Florida, stopping first in Jacksonville and later in St. Augustine. There, "the trail of folk art became a little warmer," as he encountered the sort of thing he had expected based on his experience in the North—items like "embroideries and some good tinsel pictures."33 A lithograph portrait supposedly by George Catlin of Osceola, the great leader of the Seminole resistance who was ultimately defeated and imprisoned at Fort Marion, caught his eye but was not in good enough condition for him to make an offer. All told, he found the city to be "filled with the most horrible antique dealers junk." Miami was not much better, despite the clues that led him there, among them an introduction to Virgil Barker, whom Cahill was told "has searched the south for paintings more than any other man."34 In the end, Cahill found Barker to be rather useless, and when he went to the shop he had heard of while in Columbia, he found only one object of interest, "a painting of a girl on wood panel," which he ultimately ruled out because is was not "of the highest quality" and "came originally from the North."35
Cahill beat a retreat through Savannah, Georgia, where he finally found a truly worthy picture: "a very interesting portrait of Admiral Perry" (Fig. 4). In his Reminiscences, Cahill clarified that this was not the Admiral Matthew Perry who famously opened up Japan to Western trade, but rather Admiral Oliver Hazard Perry, who led the naval campaign that took Lake Eerie during the War of 1812. Cahill described the portrait as "about the same quality as the 'Man with Jabot,'" an 1810-20 painting that was included in his 1932 MoMA show.36 Although the Savannah Perry portrait is still unattributed, Admiral Perry's likeness was captured in 19th-century portraits and history paintings by the likes of Edward L. Mooney, Jane Stuart and William H. Powell; in Cahill's words, "his pictures are all over the place, and they're quite nice, in his naval uniform and all that."37 In most depictions, Commodore Perry's coif is characteristically wild, but the awkward angles of his face-framing curls in the Savannah portrait suggest the slightly skewed perspective of a 19th-century itinerant painter. Cahill found other paintings of interest in Savannah, including another portrait, this one of Archibald Bullock, first governor of Georgia and his family, as well as a watercolor landscape of Savannah done in 1837. Additionally, Cahill recorded the purchase of "an old colonial Georgia seal" and a "small watercolor of the "female seminary type," which is probably Memories of Love (Fig. 4). 38
Savannah was the first major success of his trip, but it was at his next stop, in Charleston, South Carolina, that Cahill "made a real haul."39 He devoted the second half of his Rockefeller report to the four days he spent in and around the city, opening with a comparison between Charleston and another antique capital of the United States. "Charleston is like Boston," he wrote. "The street of antiques in Boston is Charles, in Charleston it is King Street."40 At the 15 shops listed in the phonebook, he found "mostly junk' until he arrived at "the shop of an auctioneer named Burgess," where he encountered a little local competition for two portraits of children from the Ball family (See Fig. 5 for various Charleston acquisitions). Even after he secured the works, his rival gave him unsolicited advice on how to clean the portraits using "water in which onions had been boiled"— methods he deemed to have "something of Voodoo in them." After King Street, he hired a man to tour him through the outlying areas of Charleston, eventually landing in the Hawkstone shop where he purchased two watercolors, one of a parrot that the shop owner said came from Louisville, Kentucky and a small velvet that may have been the still life of pears that was later hung in Bassett Hall, the Rockefeller's residence at Williamsburg. That same day, Cahill found a "needlework picture with a palmetto tree," probably the work known today as Christ and the Woman of Samaria. He also purchased two doorstops, of a bear and a sleeping child, and lusted after "a textile showing Washington and Franklin."41
That Sunday, with the antique shops closed, he began the day by stalking the graveyards of two historic churches. While he admired St. Phillips, the first Anglican Church established south of Virginia, he found nearby St. Michael's to be "a regular art gallery."42 Cahill described many stones in detail, remarking on the changes in their iconography from the 18th to 19th centuries and even sketching the tombstone of one Mary Luyten, but he longed for the finesse of another documentarian: "A good photographer like Charles Sheeler could make a fine book out of these carvings," he wrote.43 Sheeler had for more than a decade been documenting "primitive" objects: He provided photographs for the catalogue of the 1924 Whitney folk art show and was also the preferred lensman for early collectors of African art in the United States, photographing the collections of Marius De Zayas, the Arensbergs, and, as Yaëlle Biro has recently documented, John Quinn.44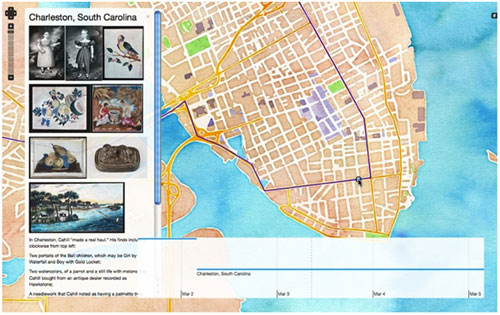 After his morning of morbid fascinations, Cahill headed to the Charleston Museum and the Gibbes Art Gallery—two institutions that proved the South was not as devoid of museums as he had initially thought.45 At the Gibbes, he met the director and "heard something of the woes of the museum director in the South," which included not having enough money to bring in traveling exhibitions.46 Yet Cahill admired what he encountered there, which included "an interesting exhibition of miniatures, a lot of pictures by [Jeremiah] Theus, the Charleston painter, three pastels by Henrietta Daring Johnson, and quite a lot of quaint old pictures." Cahill proceeded to the Charleston Museum, which he described as "a mixture of everything under the sun, from natural history to local history and art." He was fascinated by the museum's "heads and figurines made by Negro craftsmen," including a rare ceramic depicting a seated man which surprised Cahill: "I had seen heads in South Carolina pottery before, but never a figure, and they assured me down there that it was a rare piece." Cahill finished out his Sunday with a successful weathervane hunt, during which he acquired an eagle weathervane from a "prosperous looking residence" near the Fort Sumter Hotel and another from the home of a Charleston physician named Rhame.47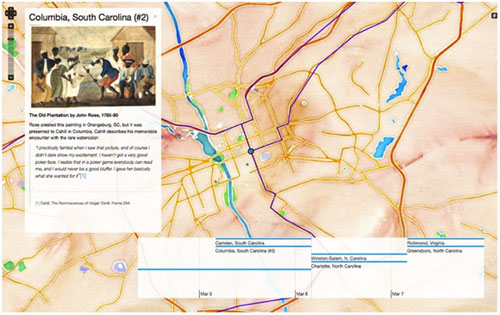 Mrs. Fuller then led Cahill back to Columbia, where he had "high hopes that this time I might find something."49 Indeed, at the home of a Mrs. Lyle, who did not advertise as a dealer, Cahill made an acquisition that is widely considered the trophy of his trip: The Old Plantation, a watercolor depicting African American slaves dancing and singing (Fig. 6). Recently attributed to South Carolina planter John Rose and dated to around 1785-90, the rare work is one of the only extant depictions of slave life from the 18th century.50 Cahill recalled, "I practically fainted when I saw that picture."51 Despite his excitement, he put on a good show:
"I made up my mind to buy it, no matter what she asked, but said no more about it until I had looked over her stock, then I mentioned it again. She said, well, I'm sure some tourist will give me fifty dollars for it. I looked skeptical, the antique scout said he thought it was high, and she came down to twenty dollars! I bought it!"52
Cahill's luck ran out during his subsequent stops in Camden, South Carolina and Charlotte, North Carolina, which "were barren."53 He was further disappointed when things did not pick up much in Winston-Salem, which he had expected to be a "treasure trove" of Moravian folk art. Cahill was, however, taken with the Salem Academy, a female seminary where all the students had been required to "make a "master piece" before they graduated."54 Yet he found nothing worth buying until he came to a half-museum/half-antique shop called The Chimney House. Initially, the shop's owner, a Mrs. Davis, withheld "several stunning pictures" that were not for sale, but Cahill convinced her to sell him four that recalled the masterpieces he had admired at the Salem Academy. In addition to two theorem paintings of melons and other fruit (Fig. 7), Colonial Williamsburg maintains a "Birth and Baptismal Certificate for Alexander Danner" that Cahill acquired from Mrs. Davis, which has since been attributed to Christian Mertle and an unidentified scrivener of Lancaster County, Pennsylvania rather than Cahill's presumed Salem seminary girls.
On his way back to Williamsburg, Cahill stopped in Greensboro and Richmond, but found nothing worth buying. He stayed put in Williamsburg for several days to rewrite his introduction to the collection's catalogue, and then set out again for Hampton, Virginia, which was likewise uneventful. His Rockefeller report ends here, and his next stops can only be estimated based on the recollections found in his Reminiscences. During this leg of his trip, Cahill found New Orleans to be "one of my greatest disappointments."55 His verdict on the inventories he perused in a slew of Royal Street antique shops was: "This is stuff imported from France, not American anyway." At a shop run by a man name Lieutand he admired some prints, especially one of the Battle of Chalmette, and purchased a portrait of Valcour Aime, the owner of one of the most lucrative sugar plantations in antebellum Louisiana who supposedly hosted Louis-Philippe before he became king.56 As he traveled through plantation country, he admired its ruins, noting that, "There were places done in all kinds of fantastic ways. For instance, there was one house that I saw that was an imitation of Walpole's Strawberry Hill—the gothic sort of thing."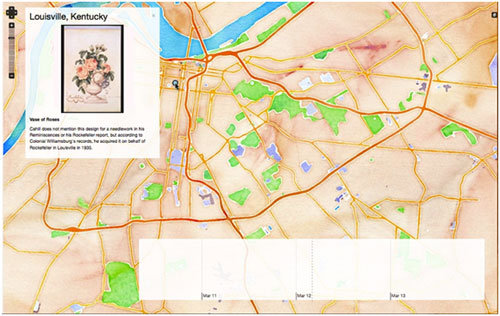 Cahill shares few anecdotes about what he found in Alabama or Kentucky. Of Frankfort, he remembers, "I saw some very beautiful things. Wonderful, beautiful handmade furniture, and a lot of things like that" but he makes no reference to specific objects.57 Yet Colonial Williamsburg maintains two works that Cahill found in Kentucky in 1935: a portrait of a man in a yellow waistcoat that came from a Mrs. Offut in Frankfort (Fig. 8) and a still life of a vase of roses that came from Louisville (Fig. 9). In Nashville, Tennessee, he made a fruitful connection with a Mrs. Clara Brown, "one of these charming, hospitable and rather social women" with whom he shared some mint juleps. Mrs. Brown sold him a face jug that differed from those produced in Edgefield, South Carolina, which were typically molded to have bulging, wide set eyes and bared teeth (Fig. 10). In a letter to Cahill dated June 6, 1935, Mrs. Brown informs him that she shipped the jug express, presumably to Williamsburg. The tone of Mrs. Brown's familiar letter is flattering to Cahill, whose visit she repeatedly compliments, exclaiming, "I get so bored with the usual home trade that visitors from other places are so pleasing to me."58
Not all of Cahill's Southern acquaintances were as fond of him as Mrs. Brown. Cahill shared a long story about his visit to Lexington, where he flubbed his encounter with the president of Washington and Lee University. Escorted by his sister-in-law Alice, Cahill paid a visit to the campus where President Caines "rolled out the red carpet" for him upon learning of his association with the Rockefellers.59 Much to the dismay of Caines, Cahill was captivated by an eight-foot-tall wooden statue of George Washington done by a local artist Matthew Kahle (Fig. 11). President Caines obliged Cahill with a telescope that permitted him to view "Old George," which was set atop Washington Hall where it was a sitting duck for generations of student pranks. Cahill described the sculpture, waxing about the rustic vigor of piece in his trademark fashion: "They told me it was probably carved out of a log […] But it has all this strength, you know, of the hewn-out planes, of an axe-stroke, something like what you might find in Henry Moore, in the way this folk artist had chopped away."60 President Caines "kept after" Cahill, proudly showing him the Lee Chapel, expecting that Edward Valentine's highly finished faux sarcophagus, "The Recumbent Lee," would impress his guest. When Cahill told President Caines that the Washington carving was "a much finer work of sculpture" than the white marble Lee, "the temperature dropped to about 40 degrees." Cahill tried to recover by telling a fable about Holbein and Henry VIII to the effect that artists of Holbein's caliber were one in a million, and that while Lee was a great man, "he couldn't do anything to make Valentine a great sculptor."61 Needless to say this esoteric story only dug Cahill deeper into the hole he had made for himself. Cahill later learned from Alice that he had been memorialized in local gossip as, "That strange man who came from New York and said that old figure on top of the central building was much finer than the Lee down in the Lee Chapel."62
Cahill's veneration of a sculpture carved out of an old log from the Maury river not only marked him as a foolish Yankee in the eyes of his Lexington hosts, it is also an example of how his expectations for the South were predetermined by what he had already found in the North, where life-size carved wooden sculptures like cigar store Indians and ships' figureheads were considered valuable by this point. In his 1932 MoMA show, Cahill even included a cement lawn figure of George Washington that, like the Kahle sculpture, depicted the first president in classical garb.63 Despite Cahill's prevailing urge to use the same methods and criteria for finding Southern folk art that he had used in the North, the most success Cahill had was in South Carolina, where he submitted himself to the mercy of in-the-know guides who took him off the beaten path. Had Cahill deferred to local authorities with more frequency, he may not have found so little in the South. The postwar foundation of Winston-Salem's Museum of Early Southern Decorative Arts is a testament to the wealth of material that eluded Cahill's grasp: Founded in 1960 by Frank L. Horton and his mother Theodosia L. Taliaferro with the express mission of demystifying the assumption that the South lacked venerable folk and decorative arts, today the museum displays the breadth of material that Cahill's trip only grazed, from the quilts of low country planter families to the blanket chests that pioneers used to haul their goods down the Great Wagon Road of the Shenandoah Valley. Even Cahill admitted that he merely scraped the surface of the South in the Rockefeller report. He wrote,
"The South is just as full of folk art as the North, I believe, but it does not make its way to the antique shops, first, because the antique dealers are few and those few consider these old pictures worth nothing, and second because of the family pride of the south. When you add to that the destructiveness of negro servants, and the devastation of war, there is little wonder that, on the surface, the material seems so scant."64
In the conclusion of this essay, I will explore Cahill's explanations for his stymied expectations and argue that they contributed to the relative exclusion of Southern folk art in the Index of American Design.
Southern Shortcomings
As I read through Cahill's impressions of the South, I was reminded of an episode from my own family folklore: The story of my Yankee father's first visit to his future in-laws in Decatur, Georgia. My mother comes from a Lutheran family that lived in practically all of the states of the former confederacy, while my father is a middleclass Jew born and bred in Long Island where his bar mitzvah was a black tie affair replete with chopped liver pressed by a submarine mold—the "S.S. Bruce." Aware of the palpable culture clash that their pairing entailed, my father was on his best behavior with my mother's mother, the stern Louisiana native who would eventually become my Mimi. He tried to keep conversation polite, but when he commented on the surprising youthfulness of the trees in Georgia, my grandmother snapped, "Have you ever heard of a man named Sherman?"
Cahill, too, encountered the memory of Sherman's earth-scorching march across the South as an explanation for the shortage of art he encountered. In the Rockefeller report he remarked, "They have a story in Savannah to the effect that any slashed picture is the result of the Yankee occupation under General Sherman!"65 For Cahill the massive destruction wrought on the South by the Civil War compounded a preexisting hazard to cultural preservation that he perceived as the carelessness of slaves, who he characterized as "not very careful about things. There was a great deal of breakage and destruction."66 Another obstacle he identified was the issue of "family pride of the South," which led individuals to reject his offers with the retort: "Well, we don't sell our ancestors!"67 Cahill found refusals of this nature to be quite distinct from what he had experienced in the North where, "They sell or they don't, but they don't say anything much about it."68 In the South, by contrast, "They make a good deal of their ancestors—in fact, they make a little too much, in that most of them didn't quite come up to that, you know. Many of the colonists in the South were deported people, some were indentured servants."69 Cahill thus explained his overall opinion that the South was "not as rewarding as the North" in terms of the real issue of Civil War destruction, a racist generalization about African American slaves, and a characterization of obstinate Southerners who were deluded about the virtue of their ancestors. Cahill's explanation for the South's apparently "scant" material reveal that he harbored some prejudices about African Americans and Southerners in general, and while pointing this out is not an attempt to overthrow the prevailing perception of Cahill as progressive person who was sensitive to the cultural achievements of a wide range of civilizations and races,70 nor can his biases be dismissed, especially when they appear to have had consequences for some of the decisions he made as the director of the FAP, an office that he took up just months after the conclusion of his Southern trip.
Cahill was appalled by the South's lack of institutional infrastructure for the arts. Writing about his experience in Savannah, Cahill urged, "The South needs museums, and next to that good traveling exhibitions. Here is an opportunity for the Museum of Modern Art."71 Rather than the MoMA, Cahill used the framework of the FAP to address this problem, setting up community art centers in many of the cities he visited, including Raleigh, Miami, and Jacksonville. Although Cahill's effort to stimulate art production through these centers is a testament to his hope for the future of the South, the paucity of Southern objects published in the Index of American Design suggest that Cahill regarded the South's past as a lost cause. Between 1935 and 1942, the FAP employed approximately 1,000 artists to create more than 18,000 watercolor renderings for the Index, which was intended to be an encyclopedic compendium of American utilitarian and decorative arts—everything from weathervanes to quilts to nineteenth-century roller skates.72 According to Virginia Tuttle Clayton, "Cahill and his staff wanted the Index to include every state, but despite their best efforts this was not possible."73 A 1939 report on the FAP's organizations in the 39 states where it was active reveals that regional Index offices were established in more than three quarters of them. Yet Alabama, Georgia, Tennessee and the Carolinas—all stops on Cahill's route—were among the nine states that got FAP funding for projects like community art centers but not for the Index.74 These Southern states therefore lacked the regional Index offices that were tasked with gathering folk art from local collections and training artists in the painstakingly realistic mode of cataloguing them.75 As Erika Doss has observed, the exclusion of many Southern states meant that the Index tended to showcase objects "predominantly rooted in Western European ancestries […] African American folk art and crafts were included in the Index, but sparingly, perhaps because a number of Southern states (such as Georgia, Mississippi and Florida) were barely represented." 76 These infrastructural specifics thus had consequences for the racial and ethnic diversity of a project that purported to capture "our rich national inheritance."77 The Index may have been, as Cahill put it, "a kind of archaeology," but the landscape of national inheritance it exhumed was very much circumscribed by the sites chosen for digging.
In conclusion, the place that Cahill's 1935 trip occupies in the narrative of the interwar folk art movement needs revision: His expedition did not whet his appetite for further explorations of Southern folk art, but rather left him with the impression that the South was infertile ground for the handcrafted objects he considered to be symbols of the American spirit. Yet Cahill's interpretation of the South's holdings of American cultural patrimony is one among many that coexisted during this period. Albeit with very different motivations, literary figures as diverse as Harlem Renaissance writer Jean Toomer and Southern Agrarian John Crowe Ransom inscribed the South as a valuable store of American roots, history and resistance. In music, Alan Lomax was out in the field collecting the songs of the South, and Porgy and Bess premiered the same year as Cahill's trip. And at the hands of festival organizers like Sarah Gertrude Knott, a whole movement that located the most unadulterated kernel of Americanness in the Anglo-Saxon traditions of Appalachia was in full swing by the mid 1930s.78 Cahill, meanwhile, found Southern folk art to be not forthcoming at best and nonexistent at worst. As the Rockefeller report and other documents from the Archives of American Art reveal, while his 1935 trip was motivated by a desire to discover and canonize folk arts outside of the Northeast, Cahill's limited success ironically led him to slap the South with the same verdict of cultural poverty that he had been using the folk art movement to overturn on a national level. For Cahill, folk art—the crucial evidence of America's long doubted cultural patrimony—was alien to the South and native to the North.
Bibliography
Primary Sources from the Archives of American Art
Secondary Sources
Ames, Kenneth L. "Folk Art, The Challenge and the Promise." In Perspectives on American Folk Art, edited by Ian M. G Quimby and Scott T. Swank. New York, N.Y.: W. W. Norton & Company, 1980.
Becker, Jane S. Selling Tradition: Appalachia and the Construction of an American Folk. Chapel Hill, N.C.: The University of North Carolina Press, 1998.
Biro, Yaëlle. "Special Issue on the Exhibition at the Metropolitan Museum of Art, New York." Tribal Art, November 2012.
Cahill, Holger. American Folk Art: The Art of the Common Man in America, 1750-1900. New York, N.Y.: The Museum of Modern Art, 1932.
Clayton, Virginia Tuttle. "Picturing a 'Usable Past'." In Drawing on America's Past: Folk Art, Modernism, and the Index of American Design, edited by Virginia Tuttle Clayton, Erika Lee Doss, Elizabeth Stillinger, and Deborah Chotner. Chapel Hill, N.C.: University of North Carolina Press, 2003.
Corn, Wanda. The Great American Thing: Modern Art and National Identity, 1915-1935. Berkeley, C.A.: University of California Press, 1999.
Corn, Wanda. "The Return of the Native: The Development of Interest in American Primitive Painting." Masters Thesis, New York University, 1965.
Doss, Erika. "American Folk Art's 'Distinctive Character:' The Index of American Design and New Deal Notions of Cultural Nationalism." In Drawing on America's Past: Folk Art, Modernism, and the Index of American Design, edited by Virginia Tuttle Clayton, Elizabeth Stillinger, Erika Doss, and Deborah Chotner. Chapel Hill, N.C.: The University of North Carolina Press, 2003.
Jeffers, Wendy. "Holger Cahill and American Art." Archives of American Art Journal 31, no. 4 (January 1, 1991): 2–11.
Loebl, Suzanne. America's Medicis: The Rockefellers and Their Astonishing Cultural Legacy. New York, N.Y.: Harper, 2010.
McClellan, Andrew. The Art Museum from Boullée to Bilbao. 1st ed. University of California Press, 2008.
Rutberg, G. Carl. "Through Oceans of Raw Experiment: Holger Cahill and the Road to American Art 1887--1960." Ph.D., New York University, 2011.
Saab, A. Joan. For the Millions: American Art and Culture Between the Wars. Philadelphia, P.A.: University of Pennsylvania Press, 2009.
Shames, Susan P. The Old Plantation: The Artist Revealed. Williamsburg, V.A.: Colonial Williamsburg Foundation, 2010.
Stillinger, Elizabeth. A Kind of Archeology: Collecting Folk Art in America, 1876-1976. Amherst, M.A.: University of Massachusetts Press, 2011.
Vlach, John Michael. Plain Painters: Making Sense of American Folk Art. Washington, D.C.: Smithsonian Institution Press, 1988.
Notes