By Meredith A. Brown, PhD candidate in art history, The Courtauld Institute of Art, University of London
We really created a sort of old-girls' network.
–Joyce Kozloff, 19891
Formed of lateral connections, the women artists' network helped bring women out of isolation and into relation with each other. As feminist psychologist Carol Gilligan argues, relationships cast into the image of a web–a complex interlacing network of lines–rather than a vertical hierarchy changes an "order of inequality into a structure of interconnection."2 Through activism, information sharing, and cooperative galleries, women artists sought to transform the art world. They created a wide-ranging network of individuals and organizations that collectively rallied to counter the patriarchy of the art establishment. A.I.R. Gallery, founded in 1972, used its historical position as the first women's cooperative gallery to cultivate and influence the creation of other women's art organizations across the United States. The resources of the Archives of American Art can help map these associations, offering critical tools to visualize the histories of American women artists' political activism and cooperative galleries.
The development of these women's cooperative galleries in the 1970s grew out of and expanded the network of professional women in the arts that had begun with artists' collective political actions in the 1960s. The continued escalation of the Vietnam War and the growing Civil Rights movement radicalized many Americans in this period. By the end of the decade artists on the Left participated in political organizing around artists' rights, discriminatory museological practices, and anti-Vietnam War actions through groups such as the Artists' Protest Committee and the Art Workers Coalition (AWC). Many of these artists were women. Like their sisters in the Civil Rights movement and New Left organizations outside the art world, women in artists' activist groups encountered widespread male chauvinism. Frustrated with being ignored or exploited even by sympathetic colleagues, women left mixed-gender activist groups to create feminist ones, including Women Artists in Revolution (WAR), Women Students and Artists for Black Art Liberation (WSABAL), the Ad Hoc Women Artists' Committee, and the Los Angeles Council of Women Artists (LACWA). Although their participation in mixed-gender protest groups had been disappointing, it also proved opportune, for it was in those groups that many women artists found each other and the courage to fight for their own rights as "women and wives, creative beings, colleagues, mothers and not find conflict between these roles."3
Organized around collective struggle, these activist groups brought individuals out of isolation and into productive relationships. Rather than look to men in authority for assistance or guidance, women looked to each other to create the professional and personal connections to achieve their goals, end their isolation, and further their careers. In a conversation between feminist art historian and critic Arlene Raven and curator and New Museum founder Marcia Tucker, Tucker explained that networking among women was a crucial factor in ameliorating their situation: "women began [in the early 1970s] and have continued to talk to each other, help each other, provide essential dialog and support on a professional and personal basis. In the early days…we had to look to men for this kind of thing."4 The connections formed through activist groups and individual relationships provided women with the information, ideas, and energy needed to organize more permanent professional and educational structures and led to a proliferation of organizations, exhibitions, newsletters, and cooperatives aimed at advancing the causes of women in the arts.
Beginning in the late 1960s, women's collective protests and actions quickly generated an energy that propelled the national women's art movement well into the 1970s. WAR, formed in 1969, protested at New York's Museum of Modern Art (MoMA) and the Whitney Museum of American Art in the early 1970s. The Ad Hoc Women Artists' Committee and WSABAL, both created in 1970, joined forces against the Whitney and its Annual exhibition, which purportedly showcased the best of contemporary American art yet was composed predominantly of work by white male artists. Activist, curator, and critic Lucy Lippard described the Whitney actions as designed to combat "the usual silly business" of sexist curatorial choices.5 Concurrent with the Whitney protests of 1970, on the West Coast, as Joyce Kozloff recalls, outspoken feminist artists Miriam Schapiro and Judy Chicago tasked the recent New York transplant with organizing the women artists of Los Angeles.6 Spearheaded by Kozloff, women formed LACWA in Southern California to protest the dearth of women in the collection of the Los Angeles County Museum of Art. Often the membership of these different groups overlapped as women fought together against the patriarchal art establishment.
Another women artists' activist group, Women in the Arts (WIA), emerged in New York in the spring of 1971 to fight alongside WAR, WSABAL, and the Ad Hoc Women Artists' Committee for women's rights in the art world. Like other feminist activist groups, WIA resisted set governance and instead rotated leadership at meetings, which were conducted non-hierarchically in keeping with the democratic values of second wave feminism. With a large and changing membership, WIA's primary goal was to make the "many gifted and committed women artists" of New York visible to the art establishment and the greater public.7
After witnessing "what can only be described as polite evasion" by New York's museums in response to their requests for private meetings, WIA published an open letter to the Brooklyn Museum, the New York Cultural Center, the Metropolitan Museum of Art, MoMA, the Guggenheim Museum, and the Whitney calling for all six institutions to stage a city-wide exhibition of "more than 500 works by women artists, selected by the membership of Women in the Arts to include the largest number of known and unknown talents."8 Ultimately only the New York Cultural Center was willing to host the exhibition. Women Choose Women opened in January 1973 with 109 artists chosen to represent the current diversity of work made by women. It was reviewed by every major American art publication. Women Choose Women was the most ambitious exhibition of women's art to that point and provided important momentum to the women artists' movement.9 By making the work of many women visible, it energized the movement and helped form links between women who had little professional exhibition experience.
WIA's stated purpose was to "restructure a world in which men and women artists can function as equals."10 As occurred in the women's liberation movement beyond the art world, groups like WIA, WAR, the Ad Hoc Committee, LACWA–and later cooperative galleries like A.I.R.–struggled internally between the "revolutionaries" who tended to focus on self-education (often through consciousness-raising) and radical social change to transform contemporary society, and the "reformers" who concentrated on moderate change and piecemeal improvements within the existing social structure. Although reformist groups also envisioned the creation of a restructured art world, their initial efforts aimed at integrating women into the system as it existed–more women in the Whitney Annual, for example. Feminist sociologist Kathy Ferguson articulates the tension between reform and revolution:
[T]o initiate reforms in the existing structures may result in the strengthening of those structures, thus making them even more impervious to attempts at more radical change. Conversely, to eschew piecemeal reform in favor of revolutionary overthrow is to overlook the immediate needs of individuals who must live in the present system and whose concrete needs cannot be met by promises of a better time to come.11
This divide–between meeting present needs by accepting the established system while working for small changes and anticipating an equitable future by radically abandoning established structures and values–affected various aspects of the women's liberation movement, including artists' groups concerned with ending sexist practices in museums, galleries, and art schools.
Many women's organizations struggled with this problem. In its proposal for Women Choose Women, WIA planned an exhibition with revolutionary aims–"a model for more inclusive and stimulating exhibition planning"–insisting upon an open show wherein all women artists could freely participate.12 When the New York Cultural Center refused to support an unjuried show, tensions arose between the women set on maintaining a radically open show and those who were willing to compromise that principle to ensure an exhibition of contemporary women's art took place in a major New York institution.13 Eventually those advocating reform won out; the work in the exhibition was selected by a committee composed of WIA members Sylvia Sleigh, Ce Roser, and Pat Passlof, with outside curators Linda Nochlin, Elizabeth C. Baker, and the Cultural Center's Laura Adler.
Other groups were founded to reform established institutions, aiming to expand women's rights and eliminate gender discrimination without insisting on a radical transformation of the existing socio-economic structure. The Women's Caucus for Art (WCA) serves as an important example of this type of women's rights group. In 1972 at the sixtieth annual conference of the College Art Association (CAA), artists, art historians, and museum professionals established the WCA to end discrimination against women in the arts and to facilitate their professional advancement, primarily within academia. By exerting pressure on the CAA, WCA efforts led to the inclusion of more women on the CAA governing board, changes to the CAA's group health insurance plan to cover medical costs associated with pregnancy, and challenges to a sexist pension plan.14
Many feminists in the art world less interested in bringing women into the established system than in changing the nature of that system still participated in liberal reform groups. In a letter to art historian Mary Garrard, then serving as WCA's president, artist Joan Snyder reluctantly agreed to serve on the WCA advisory board. "Somehow I'm wary of women breaking their necks to become part of these miserable art departments," she wrote, continuing, "but someday I would hope women will not have to fight to be a part of what I feel are destructive and corrosive experiences for young people…the quality of life, education, etc has to be worked on by women…. But we mustn't get caught up in the trap."15 Garrard, like other liberal feminists, disagreed. She believed that although women had a "unique opportunity to reassess and reshape the values" of society, change could only be effectuated by integration into the established structure, evidenced in her reply to Snyder: "the only women who are in a position to work on the quality of education–not just reexamine the structure of schools but to be able to change them–are those who, like yourself, have achieved a successful position in the male-structured world."16
To an extent, groups focused on revolution and those aimed at reform acknowledged the importance of both aspects of the women's movement toward achieving feminist liberation. Therefore, membership in these groups tended to be fluid as women active in one group participated in the activities of other women artists' organizations. In New York, where multiple art groups existed in close geographic proximity, women's organizations worked together to stage events such as the Whitney Annual protests.
Other projects mobilized feminist artists across the United States. For example, Nancy Spero, anti-war activist, feminist, WAR and A.I.R. founder, and Joyce Kozloff, who had returned to New York from Los Angeles radicalized by her involvement with LACWA and the Southern California women's movement, spearheaded the Rip-Off File, a project which solicited the participation of women from around the United States. It was, as Garrard describes, "an effectively inflammatory" collection of women's personal experiences of sexism.17 Compiled in 1972 by Spero, Kozloff, Snyder, May Stevens, Maude Boltz, and Loretta Dunkelman, the "'dossier' of sexism (rip-offs, put-downs, discrimination) in the Art World and Art Schools" was published as a broadsheet by the Ad Hoc Women Artists' Committee, distributed by the WCA, and exhibited in 1973 at the Mabel Smith Douglass Library at Douglass College, Rutgers University as part of its Women Artists Series (a series initiated by Snyder in 1970).18 As the Rip-Off File project demonstrates, individuals and organizations active in the feminist movement in the art world overlapped in an expanding network of activism and consciousness-raising.
The growth of women's activist groups provided female artists with a community of colleagues willing to help each other professionally and personally. As Judith Bernstein recalled, being part of women's groups in New York was "a great thing for my life…[the other women in the groups] were on the whole very supportive [because what] we were all trying to do together [was] get access to the system."20 The support system Bernstein remembers in New York expanded to encompass women artists across the nation struggling against sexism and enabled the creation of women's art galleries.
Non-localized newsletter and slide registry projects proved especially effective in forging a women's art network across the nation through the systematic sharing of information. To connect women artists on both coasts, Chicago, Schapiro, Lippard, and New York Times art writer Grace Glueck began "a bi-coastal national organizing tool and newsletter" in 1971, which they named W.E.B. (West-East Bag).21 Soon W.E.B. expanded to include representatives in over twenty cities in every region of the United States as well as eleven chapters internationally. Working under the theory that "a group that is locally effective can be doubly powerful if it synchronizes its actions with those of other groups across the country," W.E.B. newsletters shared information about starting consciousness-raising groups, activities at women's galleries, and relevant events and protests. The goal of information sharing was to make "more headway altogether" by knowing of "each others' activities in time to echo or support them."22
W.E.B. also encouraged the creation of slide registries of women's art. Lippard began the first slide registry in 1970 as part of the Ad Hoc Women Artists' Committee to counter institutions' excuses that certain styles of art were not being made by women.23 This registry served as a model for other registries created through the W.E.B. network. These banks of slides of contemporary art by women not only proved useful for exhibition organizers and college and university instructors teaching new courses on women's art, but also became valuable resources to artists by exposing them to the diversity of art being made by women outside their local region.24
Like W.E.B. and the slide registries, the majority of the feminist organizing that began in the early 1970s in the art world was inexpensive, inclusive, loosely structured, and effective in ending the isolation felt by many women artists in the preceding decade. The cumulative efforts of activist groups like WAR, WIA, LACWA, and the Ad Hoc Women Artists' Committee as well as W.E.B. and slide registries enabled the development of a vast horizontal, geographically unconstrained network of professional women artists. Because few women held positions of power or special status to jealously guard, they had little to lose and much to gain by circulating information among their friends and peers and creating means of professional support.25 Feminist scholar Jo Freeman observed in 1975 that the growth of the women's liberation movement followed a kind of "mushroom effect," with one group splitting off to form other groups in an ever-expanding network.26 Within the art world, women's activist groups proliferated but together laid the groundwork for the expansion of the movement into separatist organizations and alternative galleries.
The political organizing and network building of women artists' groups in the early 1970s led to the formation of artist-run spaces dedicated to women's art, as artists moved from protesting existing institutions to establishing their own. In 1976 Jean Bergantini Grillo described the move toward separatist organizations as both necessary and pragmatic: "Women artists never started out to consciously isolate themselves; they just kept finding themselves isolated by others. Tired of exclusion, they looked for an alternative."27 The creation of alternative, autonomous spaces allowed women to further advance a supportive female community built around collective actions, skill development, and solidarity.
---

While political organizing was important for the development of cooperative networks, A.I.R. Gallery, established in 1972 as the first cooperative gallery for women, played a pivotal role in the development of art spaces devoted to the feminist cause. It also resulted from the interconnected community built by feminist activists in the previous years. A.I.R.'s founding artists Barbara Zucker and Susan Williams had been in a consciousness-raising group started by Tucker; they met Boltz, Spero, Dotty Attie, and Mary Grigoriadis through Lippard and mutual artist-friends. Together these founding six chose the remaining fourteen founding members after consulting with Tucker and Lippard and the Ad Hoc Slide Registry. Many of A.I.R.'s members in the 1970s had been active in the AWC, WAR, WIA, women's consciousness-raising and exhibition groups, and other activist projects. Political engagement motivated these and other women artists to think differently about their relationship to the art world and to collectively experiment with alternative ways of operating within it. Zucker recalled, feminism "changed my way of thinking…it changed my friends' ways of thinking," and it opened up a new collective possibility for the women of A.I.R.: "we had a collective hunger to show our work and anger at not being able to do so. We found a way to do it that felt much better than the other options did."28
When A.I.R. opened in 1972, it built on the previous years' political dissent, establishing itself as an alternative to the system that had excluded women. While the gallery was separatist in orientation, it worked not to isolate itself and its members from the rest of the art world. A.I.R. as an organization and the twenty individuals who made up its membership forged links to the wider art system by participating in the art community of its SoHo neighborhood and by positioning A.I.R. as a role model within the expanding women's art movement. In its 1972 grant proposal to NYSCA, A.I.R. presented itself as a gallery that would "function as a model for other women artists. The example it offers will encourage other artists to begin similar cooperative endeavors."29 Through their participation in feminist activism and consciousness-raising groups, many of A.I.R.'s members learned of the importance of building a collective identity and serving as "a symbol of solidarity and support among women artists."30 A.I.R. put itself forward in the art press and among artists' networks as an organization that not only would change attitudes about art made by women but also would inspire other women across the nation to do the same.
While A.I.R.'s commitment to advocating for women artists was shared by other women artists' groups, its strategies differed. Groups like WAR and WIA were initiated to demonstrate for women's rights and raise women's visibility within the art world. The Women's Interart Center, founded in 1970 by members of WAR, was the first space dedicated to the production and presentation of women's art in the United States. Its goal was to bring women out of isolation in order "to explore new forms of the creative process."31 Although A.I.R.'s mission was related to these other women artists' groups, it focused less on feminist activism and general community building than on promoting the idea of the professional woman artist. As a cooperative gallery, A.I.R.'s primary goal was to advance the careers of its members, but it assumed that in doing so, it would serve as a prototype for other women who could look to A.I.R. to help themselves.
This goal was not simple, and the struggle among A.I.R.'s members between those focused outwardly on helping women artists and those focused inwardly on advancing their personal careers within the art establishment was difficult and ongoing. There was disagreement among the gallery members in its earliest years between those who joined the gallery (who may have considered themselves feminists) but felt that remaining a woman's gallery would ghettoize women artists, and those members who believed separatism remained necessary as an oppositional strategy. Zucker was perhaps the most vocal member of the former faction. She wanted the gallery to "continue to shift as the culture was shifting," a view she expressed at a panel at A.I.R. in 1975 when she announced that "A.I.R. should either disband or take male members."32 Others like Harmony Hammond held more radical feminist stances. Hammond believed that A.I.R. needed to take a separatist, feminist, oppositional stance against the male-dominated art establishment and that there was no room for men at A.I.R.33
Despite these internal debates, A.I.R.'s members were committed to the goal of sexual equality in the art world–either because it would help them to show their work or for more altruistic concerns for social change. Regardless of the members' personal feelings, as a gallery A.I.R. presented itself as historically significant so other women would look to A.I.R. for inspiration. In 1974, A.I.R. described itself as radically new and "a symbol of a 'sense of possibility'" for women artists:
It seems that never in the history of art has a group of women who considers themselves professional artists, been willing to exhibit together, as women and to formally and publicly link their careers to the concept of "The Woman Artist." This is the meaning of A.I.R.34
A.I.R. highlighted its historical position to define itself as an organization representative of and inspiring to women artists.
As studies by feminist psychologists have shown, it is important for women to see other women in roles conventionally filled by men, so they can identify with positions that previously seemed prohibitive.35 Within the art world, this meant that for an individual woman to envisage a professional career as an artist, she needed to see other women model professionalism, so being a woman and an artist would appear viable. Lippard pointed to the significance of making professional women artists visible when she wrote in 1975 that "it is certainly important that there be role models for younger women artists, that they be able to see women in the classrooms, the museums, the history books, so that their own progress does not seem utterly impossible."36 Many members of A.I.R. felt the same, as few had had female role models during their student days. Howardena Pindell, who received a master's in fine arts from Yale, recalled, "I didn't have one woman teacher there. Not one. And not one teacher of color." Another Yale graduate, Bernstein, concurred, adding, "there were a lot of women [in A.I.R.] like myself…women who had gone through the boys' system, but [who] had no access to the system in New York because it was a complete boys' club."37 A.I.R., therefore, promoted itself as a symbol of what was possible for other women attempting to end their isolation and show their art to the public. Through its positioning as a model for other women and other women's galleries, A.I.R. became highly influential in the growing network of women artists' spaces.
After A.I.R. opened in the autumn of 1972, other women's cooperative galleries formed, and the number of galleries run for and by women artists continued to expand through the middle of the decade, creating a broad network of women artists' spaces across the United States. As the first such space, A.I.R. influenced the development of this network, acting as inspiration or affirmation for women interested in forming their own galleries. In many cases these women applied to A.I.R. for advice and followed its non-hierarchical structure and egalitarian organizational model to establish cooperatives in their own cities and towns. Within a few years A.I.R. had achieved widespread acclaim as a successful women's cooperative, setting what Joanna Inglot describes as "a powerful precedent" for other women artists' groups.38 Simultaneous activity on the West Coast among artists associated with the Los Angeles Woman's Building also shaped the development of women's art spaces across the nation. The galleries connected with this other pioneering feminist space provided inspiration for women beyond Southern California as they in turn were influenced by A.I.R.'s success.
Early in 1972 a group of artists in Los Angeles began to plan a cooperative gallery to show their work and that of other women. An outgrowth of their involvement in LACWA, artists Chicago, Schapiro, Sherry Brody, Max Cole, Suzanne Lacy, Rachel Rosenthal, Betye Saar, June Wayne, Wanda Westcoast, Faith Wilding, and others began discussing the possibility of creating a permanent exhibition space for women artists. Womanspace Gallery opened to the public in January 1973. Composed of a large membership, Womanspace's goal was to provide a venue for "creative women to control the manner and context of their own performances and exhibitions and to set the criteria for their evaluation."39 Womanspace held juried, open, and themed exhibitions, produced a journal, and organized performance, writing, and film programs.
What A.I.R. had done in New York, Womanspace sought to do in Los Angeles. Unlike A.I.R., however, membership at Womanspace was open to any woman who could pay the fee of six dollars for six months. Within a year the gallery's membership numbered nearly one thousand. Due to its rapid growth, Womanspace required more room. When the opportunity arose to join the Feminist Studio Workshop and other women's organizations in a feminist conglomerate, Womanspace became one of the founding organizations of the Los Angeles Woman's Building in November 1973.
Plagued by financial troubles and ideological conflicts almost from its start, however, Womanspace closed after only eighteen months. With hundreds of artists of "professional, near professional, or attaining professional" status, the gallery's large membership, in combination with its regular rotation of leadership, resulted in an inability to develop consistent goals.40 Its membership held differing views on how political the gallery and its programs should be, with some members espousing radically feminist ideas while others supported more politically neutral women's art.41 Unlike A.I.R., which was purposefully restrictive in its membership to ensure professional quality, Womanspace founder Rosenthal identified a fear of "elitism" as "the seed of [Womanspace's] problems."42 Wilding maintains, however, that in its short lifespan Womanspace "nurtured a tremendous community of artists in Los Angeles, and helped create a new climate of opportunities for them."43
In that new climate a small group of women involved at Womanspace became members of Grandview I and II, a cooperative gallery in the Woman's Building. Run on the model of A.I.R., Grandview opened in 1973 and was composed of a membership of up to forty young professional artists who were selected by the former Womanspace members on three criteria: personal recommendations from women in Womanspace and LACWA, ability to pay the monthly membership dues, and commitment to a women's gallery. Like A.I.R., the gallery endorsed no particular feminist orientation or aesthetic style. Grandview I and II operated for two years, opting to close in 1975 rather than move with the Woman's Building when it relocated to downtown Los Angeles.
When Grandview I and II disbanded, its politically oriented members formed a smaller group, citing the "success of A.I.R., where members were handpicked" as an example to follow.44 The self-selected members established Double X, "an art coalition committed to a feminist perspective."45 Although it never maintained an autonomous gallery space, Double X organized a regular program of members-only and invitational exhibitions in a variety of art spaces in Southern California and sponsored art historical research, publications, and public slide lectures on women's art. Double X's membership over its thirteen-year history included women influential in the feminist art movement in Southern California and nationally, including Rosenthal, Rosler, Wilding, Kenon Breazeale, and Vaughan Rachel.
Grandview and Double X developed out of Womanspace and local activities in Southern California, but the women involved in these groups were aware of A.I.R. and its efforts in New York. This knowledge came from the media coverage A.I.R. received in its first year in the national art press and in women's magazines like Ms., from grassroots newsletters like those distributed by W.E.B., and from individual women's personal and professional connections. By these same pathways, women in other parts of the country began to look to A.I.R. for inspiration and information. A.I.R. received letters from women seeking information about women artists, possibilities for membership at A.I.R., and advice on how to start cooperative galleries in their own cities. Members of A.I.R. diligently responded to these letters, answering queries, providing citations, and suggesting other "active groups of women artists" to contact for additional information.46
Aware that women felt isolated in New York and elsewhere, A.I.R. sought to be a driving force in the women artists' movement. Almost from the beginning the gallery knew there would be more women interested in joining A.I.R. than it could accommodate, because of its limited physical space and constricted membership numbers, and because A.I.R. never intended to be indiscriminate. The membership concurred with Zucker's desire to ensure that A.I.R. not become a "completely accepting, open space that anyone who wanted to join could join…I did not want it to be under the guise of the Great Mother or the all-embracing goddess figure."47 Despite the gallery's selectivity (or perhaps to counteract it), A.I.R. was committed to offering programs that would foster the women artists' community. Spero explained that they "wanted to better the gallery, not just our careers. We worked on enhancing the gallery to include other women within this space in group shows, panels or slide lectures" to contribute to the women artists' community.48 A.I.R.'s Monday Night Program of workshops and lectures provided information as a way to empower women to take their careers into their own hands. Programs like How to Start a Co-Op and Women Artists Talking with Women Art Students helped support the careers of women who were not among the gallery's membership. Having helped themselves, A.I.R. hoped to help other women do the same; it planned to compile "the collective experience" of its members and other women artists into a pamphlet to be distributed around the country so that other women could follow their "practical step-by-step guide to beginning an endeavor similar to our own."49
This guide never materialized, but its absence did not prevent women from forming their own cooperative galleries by consulting members of A.I.R. and following its model. The first of these was SoHo 20, which opened in the autumn of 1973 a few blocks away from A.I.R. on Spring Street. Thanks to a women artists' political organization, a friendship, and the SoHo artists' community, A.I.R. provided first-hand knowledge to their fellow New York women artists in planning their own cooperative venture. Two of SoHo 20's founding members, Mary Ann Gillies and Joan Glueckman, met Denes at a meeting of WAR in August 1972. Denes told them about A.I.R., which was to open the following month, and encouraged them to consider forming their own cooperative gallery. She provided them with the names of women who might be interested, directed them to the Ad Hoc Women's Slide Registry, and suggested they maintain a "loose structure for flexibility" in decision making and programming.50 Simultaneously, Sleigh, who was a close friend of Spero, followed the progress of A.I.R. Sleigh remembered that when she and her husband, curator and critic Lawrence Alloway, regularly dined with Spero and her husband, artist Leon Golub, conversation turned to A.I.R.: "we talked endlessly about the coming gallery. And so I learned a great deal from what A.I.R. was doing and how it was built."51 When Sleigh decided to join the women starting SoHo 20, she brought with her insights gained from these conversations about the establishment of A.I.R. The SoHo artists' network further contributed to A.I.R.'s role in SoHo 20's formation. May Stevens, another founding member of SoHo 20, watched A.I.R. develop firsthand as its members renovated the ground floor of 97 Wooster Street, the building where Stevens and her husband lived. It was, therefore, with direct guidance from A.I.R. that SoHo 20 opened in a renovated loft space in October 1973.52 Following A.I.R.'s structure, SoHo 20 had a membership of twenty artists paying monthly dues and sitting in the gallery for dedicated hours each month. It adopted non-hierarchical governance and formed several committees to carry out the various tasks of running a cooperative gallery, including the planning of an annual invitational exhibition. SoHo 20, like A.I.R., sought to provide, in its words, "a forum for interaction between women artists and…a meeting place where ideas and information are exchanged."53
Out of the energy generated by A.I.R. and SoHo 20 in New York and the galleries associated with the Woman's Building in Los Angeles, women artists in cities geographically removed from the coastal metropolises began to start their own spaces. In Chicago artists decided to create a "forum for interaction" for women, and, within one week of each other in 1973, they opened two women's cooperative galleries, Artemisia Gallery and A.R.C. (Artist Residents of Chicago, a name chosen to reference A.I.R.).54 Both galleries formed out of connections made through the women artists' movement and were modeled on A.I.R. A large group of women in Chicago had been meeting to arrange an all-women's art exhibition like WIA's Women Choose Women when ideological differences erupted over separatist feminist activism versus a desire to enter the mainstream. This ideological split resulted in the formation of two galleries. Despite their differences, both groups leveraged the energy of the women's movement and personal connections to A.I.R. to start their cooperatives. At A.R.C., founding artist Gerda Meyer Bernstein contacted Spero, a friend from the 1950s when Spero lived in Chicago, for advice; similarly, several of the founding artists of Artemisia who had recently been students at the Art Institute of Chicago spoke with Hammond, who was for a time a visiting lecturer at the Institute. Spero and Hammond shared information with the Chicago artists about how they had established A.I.R., discussing its structure and operation, as well as the difficulties they encountered in the gallery's first year.55
Frances Schoenwetter, one of A.R.C.'s founding artists, explained that the women artists' network, and in particular A.I.R., enabled the alternative art scene for women in Chicago. She wrote in a 1974 W.E.B. newsletter, "The women's movement, the stimulus of W.E.B., plus the success and support of A.I.R....combined with the climate of the times served as the catalytic agents to activate the motion of our birth."56 Both galleries followed A.I.R.'s cooperative organizational structure of a membership numbering approximately twenty with each artist paying an initial membership fee and monthly dues toward maintaining the gallery space in exchange for a solo or two-woman exhibition annually.57 They also adopted A.I.R.'s pedagogical scheme as both galleries established educational programs for the wider community of artists in Chicago. As Joanna Gardner-Huggett has asserted, these programs were "critically important" to the local art community because the information they provided was often not available in the region's mainstream art schools or universities during the early 1970s.58 Building from A.I.R.'s structure, female artists in Chicago succeeded in developing a vibrant local community that, in turn, became part of the growing network of women artists' cooperatives.
By the end of the 1970s, at least twenty such women-centered cooperative galleries had formed in locations across the country, from large urban centers like New York, Los Angeles, and Chicago, to suburban areas, smaller metropolitan regions, and rural towns where artists were geographically dispersed and no exhibition venues existed. During the winter of A.I.R.'s first year in operation, two women living in the suburbs of New York, Phyllis Floyd and Benson Woodroofe, attended one of A.I.R.'s programs on starting a cooperative gallery. They left the workshop inspired to find other women to join their venture.59 The result, Central Hall Gallery on Long Island, aimed to prove that women artists in the suburbs were serious, professional and equal to those in the city.
Hera Gallery opened in the small town of Wakefield, Rhode Island in 1974 was the first women's cooperative in New England. Roberta Richman, one of Hera's founding members, recalled, "the whole premise of it was that we had been a group of artists working in isolation…there was a need to establish a community here for ourselves."60 The idea for Hera came from personal connections made in a women's consciousness-raising group, and, following A.I.R.'s prototype, its structure was cooperative and non-hierarchical.
WARM (Women Artists Registry of Minnesota), followed a different trajectory, growing out of a local women artists' movement before establishing a gallery. Beginning in 1973, a group of women in the Minneapolis area started meeting together. Like LACWA, WAR, and WIA, they collected statistics about women artists' representation in the region's two main museums, the Walker Art Center and the Minneapolis Institute of Art, and organized their own exhibitions in protest. In 1975, members of the WARM group decided to establish a cooperative gallery so that women artists in Minneapolis would have a permanent space in which to show their work. Some of its members attended the Midwest Women Artists' Conference in Michigan where they met artists from Artemisia, A.R.C., and SoHo 20. Others participated in a conference on women artists and writers at the Los Angeles Woman's Building, where they learned about the current debates in feminist discourse in Southern California. Still others looked to A.I.R. for inspiration for its organizational framework. WARM, A Collective Women's Art Space (also known as WARM Gallery) opened to the public in 1976. It used A.I.R.'s structural model as a "blueprint" for its own, with members selected on the quality of their work and their commitment to paying monthly fees and participating in gallery obligations, including the renovation of the gallery's space and the organization of a regular lecture series.61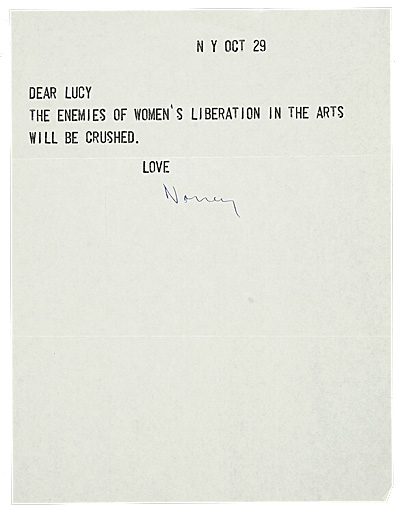 Even when members of A.I.R. did not personally know the women starting cooperative ventures, as was the case with Hera, it nonetheless served as the template for the nation's network of collectively run women's galleries. Modeled on the mixed-gender cooperatives of New York's 10th Street of the 1950s and 1960s, though with the crucial difference of gender separatism, A.I.R. served as a powerful influence on the women artists' movement in the 1970s. Its particular characteristics–a non-hierarchical governance structure, an emphasis on stylistic diversity and "quality," the promotion of women artists' empowerment, professional autonomy, and educational outreach aimed at broad support for the women artists' community–became the standard for other women artists' cooperative galleries. In her 1981 survey of American women's cooperative galleries, Gayle Davis argues that "the shows and programs A.I.R. offered in the first year were valuable, proving to the public that talented women artists were indeed working, and keeping that art work constantly visible. A.I.R. has served an equally important function nationally, as a model."62 While leaders in the Southern California women's art movement were instrumental in the national movement, particularly with their provocative theories, emphasis on separatist pedagogical practices, exploration of collaborative art-making, and advocacy of women's self-empowerment, it was A.I.R., because of its influential role in the creation of other women's galleries, which functioned as the central organization in the network of women's cooperative galleries in the United States.
Thanks to its timing as the first women's cooperative gallery, the personal and professional connections of its members, and its geographic location in the midst of the growing SoHo art scene, A.I.R. Gallery garnered significant positive attention. It demonstrated its viability and situated itself as the leader for other women artists across the nation interested in making their work visible within the context of a women's gallery: "A.I.R. exists as a concept for all women."63 Together the women's cooperative galleries of the 1970s created a complex, supportive network for women artists.
The feminist emphasis on collaboration and interdependence provided women artists with opportunities unavailable to them in the unequal art world. Because many of these activities and organizations were fleeting, the papers preserved at the Archives of American Art are invaluable for tracing histories that transformed the lives of individual artists and the structure of the art world. The goal of the women artists' movement was nothing less than total liberation. The women's task was clear; Spero proclaimed it in bold-faced capitals in a 1971 letter to Lippard. It reads, in its entirety, "DEAR LUCY / THE ENEMIES OF WOMEN'S LIBERATION IN THE ARTS WILL BE CRUSHED. / LOVE / Nancy."64
Notes