Call for Essay Proposals
Special issue of the Archives of American Art Journal on art and the environment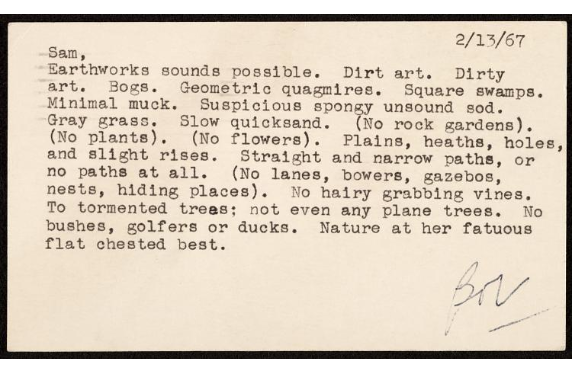 The Smithsonian's Archives of American Art is planning an issue of the Archives of American Art Journal devoted to art and the environment. This special issue invites scholars and artists to explore environmental and ecological questions through the rich primary sources at the Archives of American Art. The following highlights from the Archives' research collections are among the many sources that might foster new contributions to eco-criticism and the broader field of environmental humanities:
correspondence and other papers of landscape painters Thomas Cole, Martin Johnson Heade, Thomas Moran, John F. Kensett, and Sanford Robinson Gifford;
documentation of major Earthworks or Land Art artists, including Christo and Jean-Claude, Walter de Maria, Michael Heizer, Nancy Holt, Dennis Oppenheim, Beverly Pepper, and Robert Smithson;
interviews with eco-artists Winifred Lutz, Ana Mendieta, Jim Sanborn, Alan Sonfist, and Michelle Stuart;
research files and records of environmental art exhibitions at Contemporary Study Wing of the Finch College Museum of Art, Leo Castelli Gallery, Los Angeles Institute of Contemporary Art, Thread Waxing Space, and other venues;
materials related to environmental designers Herbert Bayer and Mary Miss;
documentation of environmental activism and education in the papers of Jo Hanson, Barbara Roux, and Paul Ryan;
lectures and writings on art and the environment in the papers of David Bourdon, Jan Butterfield, Lucy Lippard, and many others.
Essays selected for publication will offer new approaches to art and the environment by thinking in innovative ways about these or other primary sources in the Archives. Authors must identify the specific collections that will inform their research. Please include the following in a single Word document and email it to Tanya Sheehan, editor of the Archives of American Art Journal, SheehanT@si.edu, by March 1, 2018:
Author name and contact information
Proposed manuscript title and abstract of no more than 250 words
The journal's editorial team will review the proposals and then invite select authors to prepare a manuscript of 5,000–7,000 words (including endnotes) for double-blind peer review. Complete manuscripts for review will be due by July 15, 2018. Essays must be previously unpublished and not under consideration for publication elsewhere.