Recently Added
The Edmund Tarbell papers were digitized in 2018, and total 5,483 images. Edmund Charles Tarbell (1862-1938) was a painter and educator based in Boston, Massachusetts and New Hampshire. Tarbell was a member of the Ten American Painters. He was considered the leader of the Boston Impressionists and had tremendous influence on his students, who were referred to as "Tarbellites."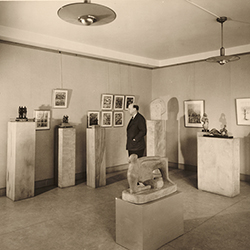 The Jane Wade papers regarding Curt Valentin were digitized in 2018, and total 861 images. Curt Valentin (1902-1952) was a modern art dealer of New York City. In 1937 he opened the Buchholz Gallery on West Forty-Sixth Street. The gallery later moved to West Fifty-Seventh Street and was renamed the Curt Valentin Gallery. Jane Wade was Valentin's assistant and continued to help run the Curt Valentin Gallery until it closed in 1955.
The Chester Dale papers were digitized in 2018, and total 8,963 images. Chester Dale (1883-1962) was an art collector in New York, New York who amassed one of the world's most complete collections of nineteenth and twentieth century French art.