Archives of American Art Releases Report on American Art History and Digital Scholarship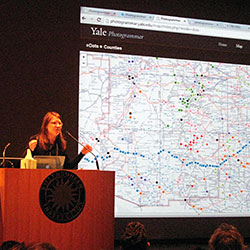 The Archives of American Art is pleased to present Diane Zorich's American Art History & Digital Scholarship New Avenues for Exploration: A Report on the Symposium and Workshop organized by the Archives of American Art and Funded by the Terra Foundation for American Art.
In the report, Zorich summarizes eleven presentations on subjects ranging from scholarly research, curatorial practice, academic publishing, and college teaching. Sessions included digital tools and methods for: mapping images; networks and contexts; curating online; and publishing online. Individual presentations are available on the Archives' YouTube channel.
Additionally, Zorich described the agenda and activities of the half-day workshop that she facilitated. More than 125 professors, curators, art librarians, archivists, and graduate students attended the events in November 15-16, 2013 at the Donald W. Reynolds Center for American Art and Portraiture and the offices of Archives of American Art. It was the first major meeting about digital humanities and American art history.
This symposium and workshop was funded by the Terra Foundation for American Art.