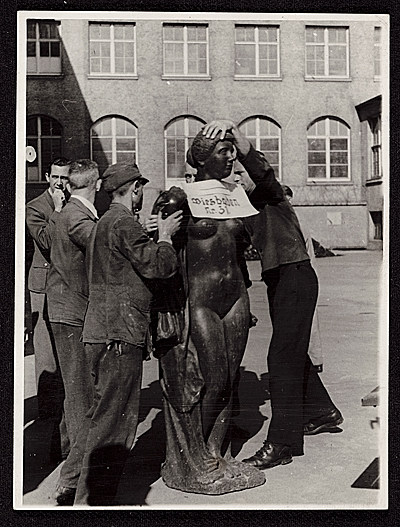 Project Summary
The Archives of American Art has been awarded $100,000 by the Samuel H. Kress Foundation's Digital Resources grant program to support a project to preserve, arrange and create Web-searchable online electronic finding aids for eleven archival collections that are central to provenance research for the history of art during World War II.
The Archives created detailed online finding aids for the historical records of Schaeffer Galleries and World House Galleries, as well as the personal archives of museum professionals, art historians and World War II Monuments Men S. Lane Faison, Walter Horn, Thomas Carr Howe, J.B. Neumann, Perry Townsend Rathbone, James J. Rorimer, George Leslie Stout and Otto Wittmann, substantially enhancing the amount of information that is currently available to researchers about the contents of these collections. Selected highlights from each of these collections will be digitized and made available online. In addition, the papers of New York City art dealer Victor Spark have been digitized in their entirety and made available on the Archives' website.
This body of resources provides additional contextual online access via a dedicated webpage. These newly available World War II-era art provenance research resources are now easily accessible to millions of worldwide users who consult the Archives of American Art's website. The webpage provides brief summary descriptions of each of the individual collections processed during the project with links to their respective online finding aids, as well as links to relevant oral history interviews and related collections at the Archives, such as the records of Perls Galleries and Jacques Seligmann & Co. The Archives worked with a renowned provenance scholar to write content for the webpage and provide scholarly insight to relevant collections among the Archives holdings that have proven to be critical for provenance research for US and international scholars.