You are here
Finding: Source Material in the Archives of American Art
Finding: Source Material in the Archives of American Art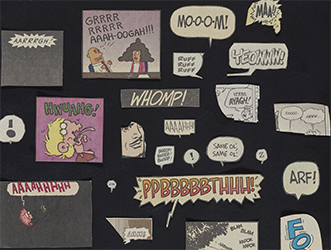 April 22 - August 21, 2016
Artists find inspiration everywhere. Even the most ordinary circumstances can prompt new ways of thinking about and making art. The artists featured in this exhibition collected, organized, and transformed a wide variety of source materials as part of their creative process: comic strip panels, newspaper clippings, snapshots of mundane scenes. Yet the ways in which artists draw on them provides a glimpse into the twists and turns of their creative practices.
The collections of the Archives of American Art hold a kaleidoscopic array of source materials. Some artists gathered hundreds of photographs of carefully posed models and eye-catching objects. Others amassed news items and scraps of evocative ephemera about a single topic. The artists often filed their findings, pasting them into scrapbooks or piling them into portfolios.
The items on view encourage imaginative exploration. Artists rely on source materials to form more cohesive ideas, engage with political subjects or aesthetic challenges, achieve technical accuracy, and even use as raw material. They can also evoke fleeting moments and moods, some of which are never fully realized in artworks. With this in mind, these materials reveal how artists find meaning in the world around them.