You are here
Pushing the Envelope: Mail Art from the Archives of American Art
Media Matters
The varied—and often unexpected—materials of postal communication
---
Carl Andre (b. 1935, American)
Postcard to John Held Jr., 1986
Minimalist artist Carl Andre is known for his sculptures made from identical units, set into geometric patterns based on the artist's instructions. When his 1966 sculpture Equivalent VIII, comprising 120 firebricks, was bought by the Tate Gallery in London in 1972, it led to an uproar in 1976, when the public—as well as art critics—accused the museum of being conned into purchasing a pile of bricks. The cartoon on the front of this postcard, sent from Andre to John Held Jr., makes mocking reference to the response to the show and to his minimalist work in general. While the seriality, multiplicity, and banality of the postcard parallels the characteristics of minimalism, Andre says he does not "classify his mailings as art," even as he applauds Held's efforts in the mail art movement. Similar to Held, who believed in mail as a form of art, Andre says he follows the old adage that "art is what an artist says is art."

— Scott Rollins
---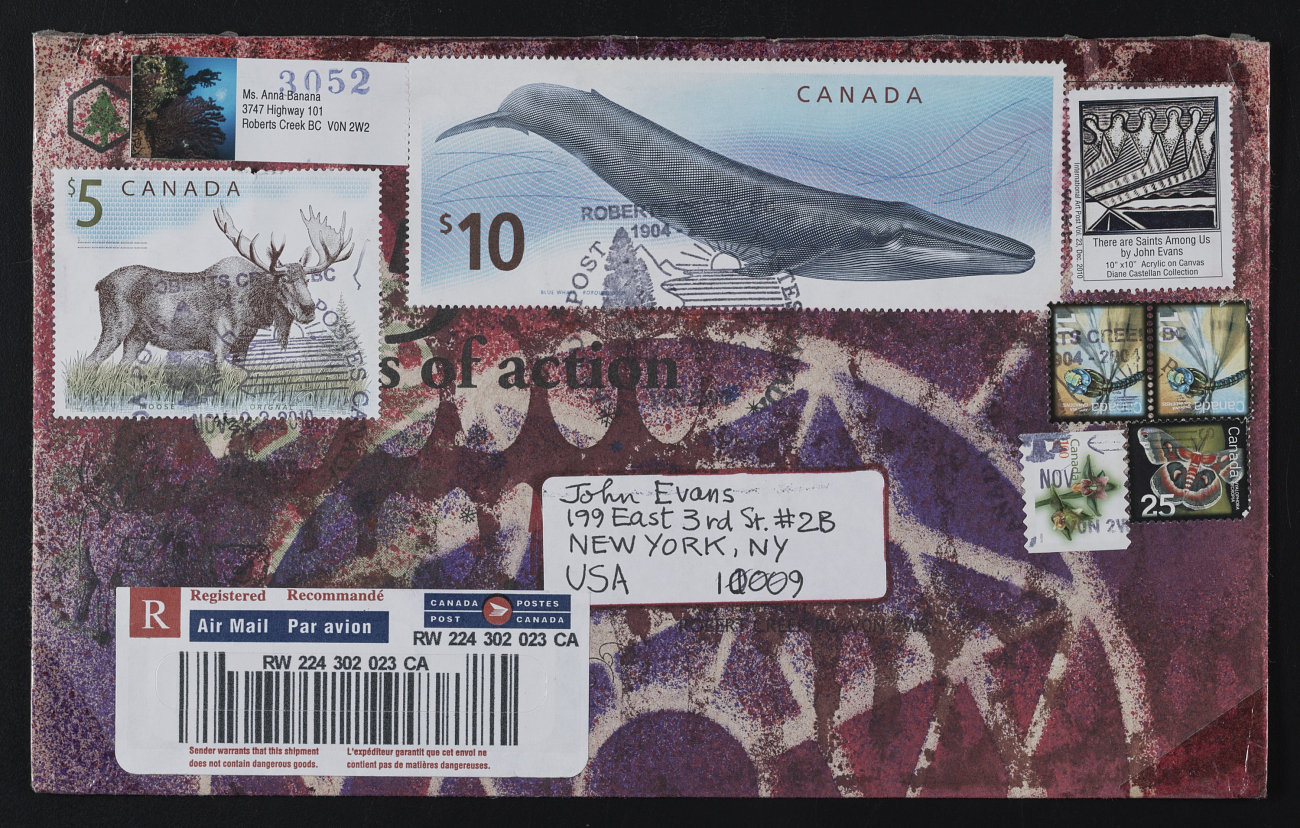 Anna Banana, aka Anna Lee Long
(b. 1940, Canadian)
Mail art to John Evans, 2010
Anna Banana created this mail art for John Evans using pieces of Evans's own work. Evans was most known for his collages, which he began making in his New York City apartment about 1964. He made a different collage every day for more than thirty-five years, using discarded paper items he found on the street in his neighborhood. Just as Evans's collages were constructed of found objects, Banana's piece also created from found materials---labels, a postal sticker, and various canceled postage stamps, some official and some of Evan's artistamps. In addition to the stamps that are on the artwork for aesthetic purposes, the composition incorporates the stamps and labels that are used to systematically transport the item through the post, thus blurring the line between form and function. The two artists exchanged mail art for many years, until Evans's death in 2012. The words "of action" peek out from under a stamp in the middle of the composition, stressing how, in the mail art network, found-object collages get set into motion.
— Jacklyn Weinstein

---
Ry Nikonova (1942–2014, Russian)
Mail art to John Held Jr., 1988
The mystery of a letter's content is an important part of mail art practices around the world. The instructions "Do not open" often appear in works of artists from different countries. For example, a Guy Bleus (b. 1950) mail art piece, which was sent to John Held Jr. in 1990 (to right). In that object, the imperative has figurative meaning rather than serving as a real warning. The contradiction—an envelope is supposed to be opened, but the rubber stamp states not do so—increases one's desire to open the letter. However, the command could have different meanings in different political and cultural contexts. In this work by Ry Nikonova, her carefully penned "Do not open!" instructions literally mean that one should carefully consider the potential consequences before looking at the contents of the envelope. It was a real warning because mail art in Soviet Russia was an unofficial and illegal practice. Participation in mail art could lead to serious punishment, such as time in prison or, in some cases, deportation from the country.
— Mariia Spirina

---
Ken Friedman (b. 1949, American) and Fletcher Copp (b. 1943 American)
"The Sock of the Month" announcement and sock to Lucy Lippard, ca. 1970
Ken Friedman and Fletcher Copp were active members of the international experimental art movement Fluxus, which sought to engage its audiences in the production of art and de-instrumentalize everyday life. Through Fluxus, Friedman and Copp became part of the mail art network. As Friedman stated: "Fluxus approached mail art as an opportunity to experimentation, to communication and to interaction." With mail art projects like Sock of the Month Club, he and Copp parody product subscription clubs like "cheese of the month" clubs that capitalize on the desire to cultivate one's taste and belong to an elite group of consumers. Sending a dirty painted sock, they disrupt the prestige on which subscription clubs depend, while sensitizing the recipient to the materiality of everyday objects.
— Miriam Kienle
---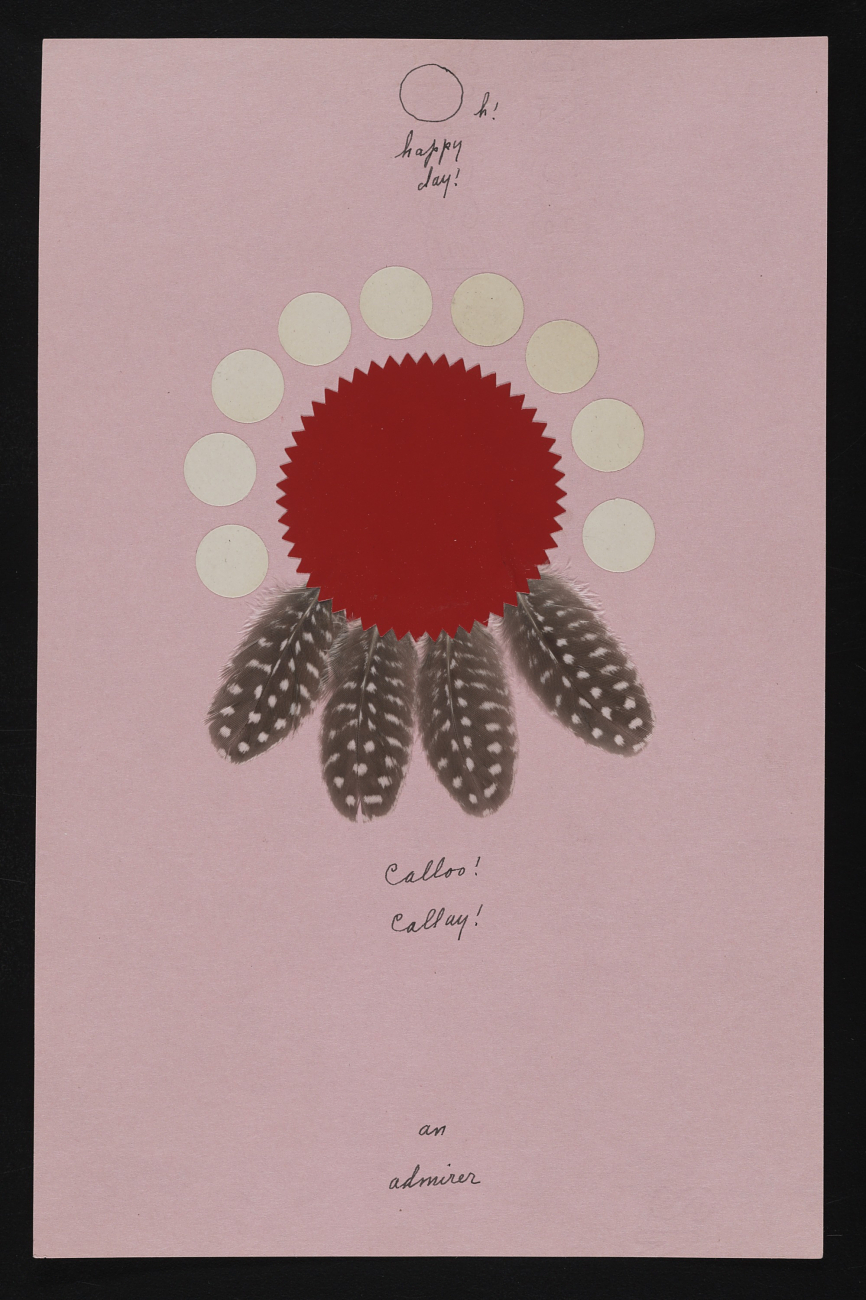 Lenore Tawney (1907–2007, American)
Mail art to Kirk Winslow, son of filmmaker Maryette Charlton, ca. 1965
Fiber artist Lenore Tawney developed a visual vocabulary through her personal correspondence. Many of her mail art collages for filmmaker Maryette Charlton feature found feathers and stickers. This whimsical card references a line from Lewis Carroll's nonsensical poem "Jabberwocky:"
"And hast thou slain the Jabberwock?
Come to my arms, my beamish boy!
O frabjous day! Callooh! Callay!"
He chortled in his joy."
Showing 1 - 9 of 9 results