Pushing the Envelope: Mail Art from the Archives of American Art
Local Scenes
Forging localized (and often underground) communities through the postal system
---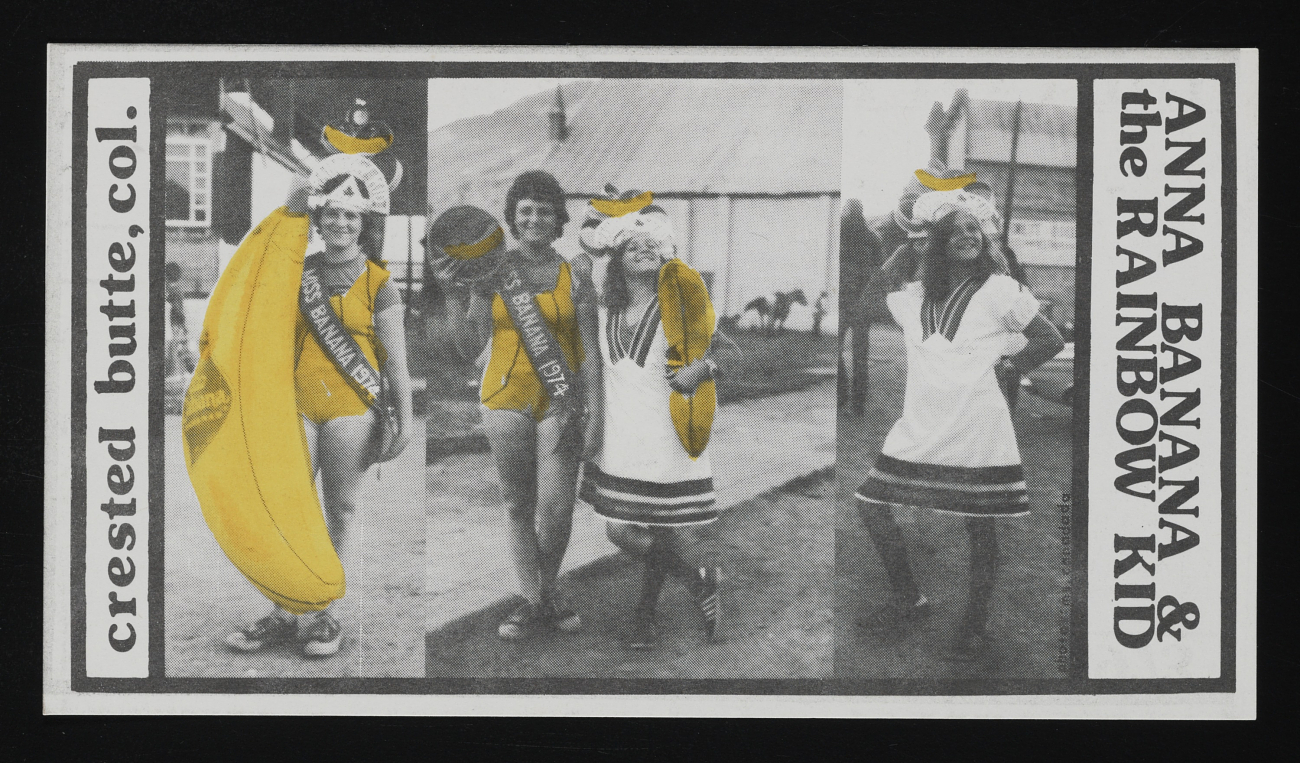 Anna Banana, aka Anna Lee Long (b. 1940, Canadian)
"Banana Cards" to Lucy Lippard, ca. 1970s
Anna Banana is a Canadian artist known for her performances, publications, and mail art. She gained prominence in British Columbia's mail art movement in the early 1970s through the circulation of her absurdist newsletter, Banana Rag, which published anything and everything having to do with bananas. After moving to San Francisco 1973, Banana teamed with the Bay Area Dadaists to produce "dadazines" and performances that were ephemeral, participatory, and parodic. These "Banana Cards," mailed to the feminist critic and curator Lucy Lippard, promote Banana's events of the 1970s, including her "Banana Olympics," which parodied the Olympic Games with events like the overhand banana throw. Banana also promoted "fe-mail art," which stressed the contribution of female mail artists while acknowledging the implicit gender biases within the movement. Today, Banana continues staging exhibitions and events, while publishing newsletters and mail art as the self-proclaimed "top banana" of her company, Banana Productions.
—Miriam Kienle
---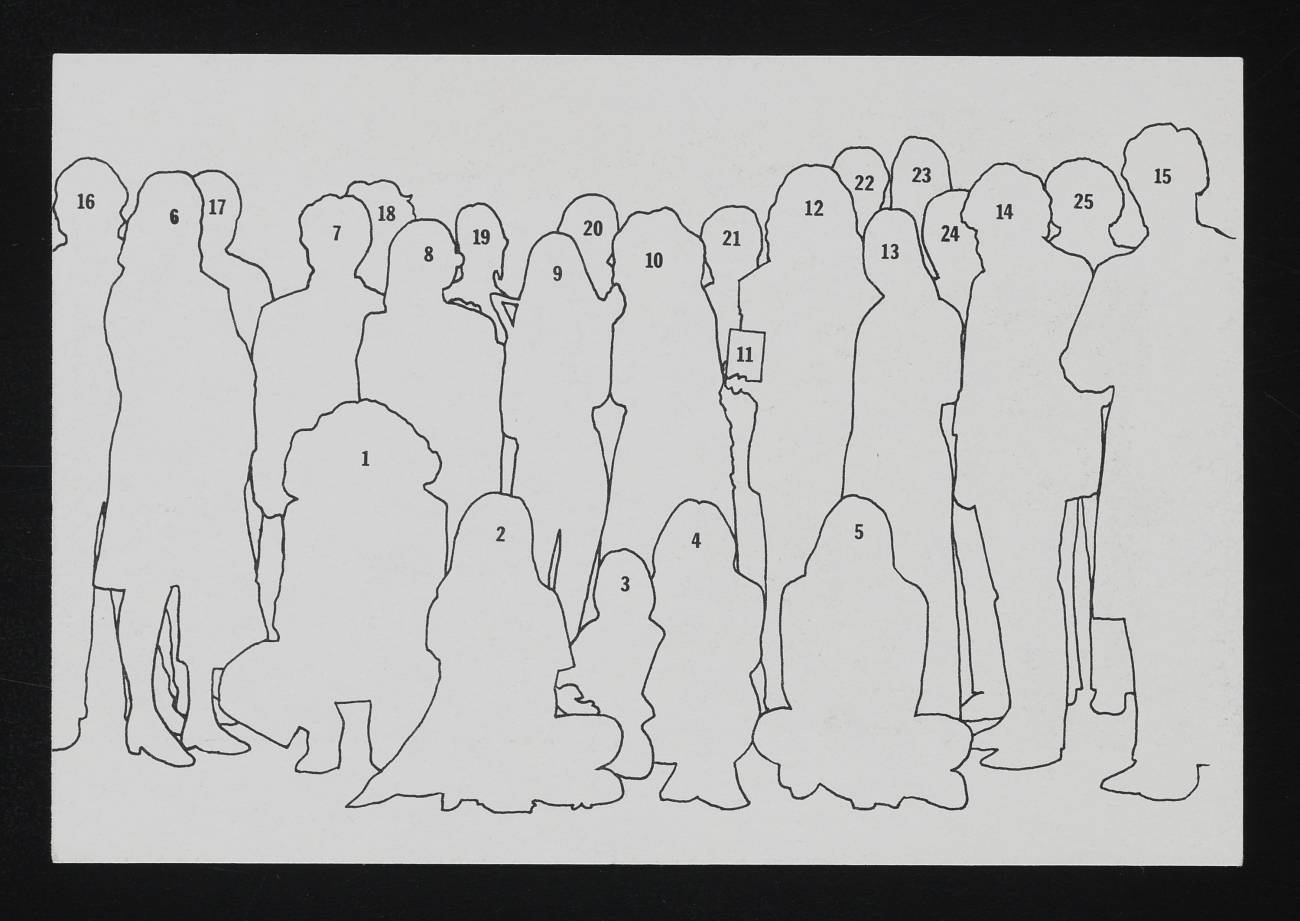 Bay Area Dadaists, aka B.A.D. (ca. 1970–1985)
Mail art to Lucy Lippard, ca. 1975
The Bay Area Dadaists (aka Bay Area Daddaists or B.A.D.) was an artist collective active in San Francisco active from around 1970 to 1985.  They produced mail art, zines, photos, events, and performances in the spirit of the Dadaists and Futurists in the early twentieth century, as well as the West Coast neo-Dadaists of the 1950s and 1960s. With works that were inexpensively produced, quickly made, and easily shared, they gained a fast following. As evident from the postcards on view, the group had dozens of members. Particularly prominent participants—such as Bill Gaglione, Anna Banana, Tim Mancusi, Monte Cazazza, and Irene Dogmatic—often produced zines. The zines documented, publicized, and extended the group's performances and mail art activities. And along with the mail art, which was often reproduced in their pages, the zines created a sense of local cohesion while expanding the Dadaists' reach beyond the Bay Area.
—Miriam Kienle
---
Russell Butler, aka BuZ blurr (b. 1943, American)
Sheet of artistamps, 1986
This sheet of artistamps by Arkansas-based artist Russell Butler, or BuZ blurr, can be broken apart to create many individual works, including ten woodcut-style caricatures of artists prominent in the mail art scene, among them John Held Jr. The work documents a Dallas gathering in support of the international Decentralized Mail Art Congress, a four-month project in which participants all over the world would document the convening of "two or more mail artists" and send the evidence to the congress's headquarters in Geneva. As such, this work represents a network and becomes a means of forging that network. The word "decentralized" also demonstrates another aspect of mail art, which is to have a decentralized movement that follows a rhizomatic idea of no leader or central location. In many ways this work is a visual representation of the values of mail art.
—Whitney Hill
 
---
György Galántai (b. 1941, Hungarian) and Julia Klaniczay (b. 1954, Hungarian), aka Artpool (formed in 1979)
Mail art to unknown number of recipients, 1981
In 1979 György Galántai and Julia Klaniczay founded Artpool in Soviet Hungary, which served as an archive for international avant-garde art that was officially prohibited by the government. Artpool was what Galántai called an "active archive," in that it not only collected "unofficial art" and information about it, but it also acted as a creative space, generating material that itself would be archived. The benefit of this kind of archive, according to Galántai, was that "the interrelation of historical and art research methodologies improves one's ability . . . to perceive problems and to venture into new, previously unknown, research methods." With Artpool's "memorial-stamp-project," the duo demonstrates how such a dynamic and future-oriented archive might operate. Soliciting and documenting "unofficial artistamps" from participants in the international mail art network, they disrupt the patriotic rhetoric of official stamps and imagine a world beyond the intense nationalistic divides of the Cold War era.
—Miriam Kienle
---
Ray Johnson (1927–1995, American)
Mail art to Sam Wagstaff, 1968
In 1962 Ray Johnson's informal practice of linking people with and through collaged correspondence was formalized into what he and his collaborators called the New York Correspondence (later spelled "Correspondance") School. This invitation to a "mysterious" meeting of the group offers participants—who may only have known each other through correspondence—the opportunity to meet face to face. The list includes names of artists primarily known within the mail art network, like Richard C and George Ashley, as well as notable figures in the art world, such as Betty Parsons, Cy Twombly, Richard Serra, Christo, and Joseph Kosuth. And yet art world hierarchies are leveled, as everyone is represented by a pert-eared bunny rabbit. The proliferation of this bunny symbol (Johnson's signature motif) could represent the rapid reproduction of correspondences within the network or the dually underground and aboveground lives of its rabbits. Additionally, black triangles can often be found in Johnson's mailings, which in this context appear like abstract bunny heads. However, they may also address the triangular nature of Johnson's mail art network in which: person A receives a piece of mail from Johnson with instructions to send it along to person B, who contributes accordingly and may send it onward to an additional recipient or return it to Johnson (thus closing the triangle).
—Isabelle Martin and Miriam Kienle
---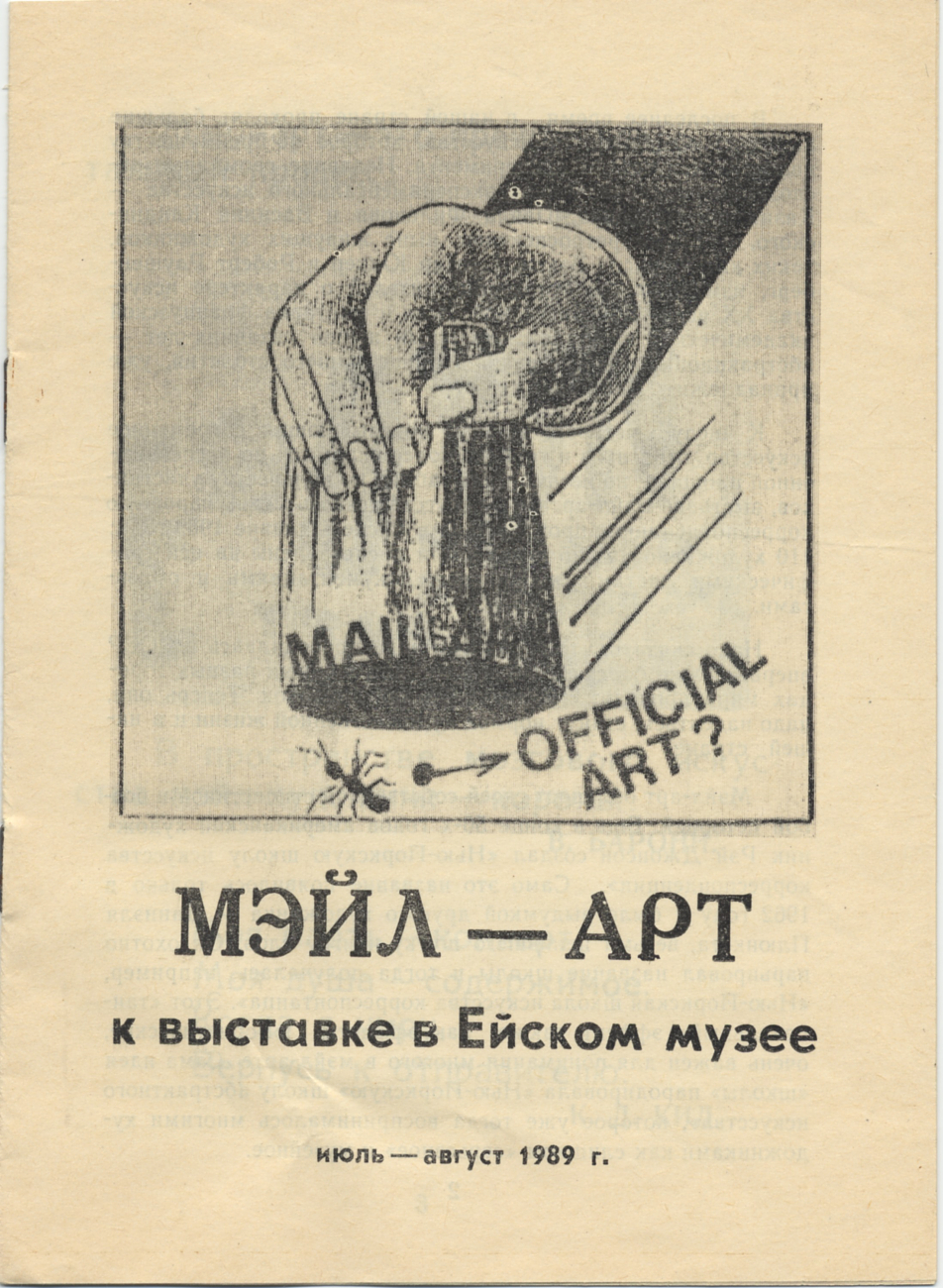 Serge Segay (1947–2014, Russian)
Official Art? brochure, 1989
Official Art? was created by Russian artist Serge Segay to help promote a mail art exhibition in Yeysk, Russia in 1989, which was the first show of mail art in the USSR. Segay and his wife, Ry Nikonova, were the exhibition organizers and leading mail artists in the country. Although the cover appears to display a clear message with few words and recognizable visual aesthetics, the larger message remains ambivalent. In the Soviet Union, this image would have recalled Russian children's book illustrations of an earlier generation. However, the use of the English language orients the brochure and exhibition toward an international audience. In 1989, with the democratizing policies of "glasnost" (or "openness"), the USSR was very close to the breaking point in its history. Artists pushed against the government sanctioned art (i.e. "official art") and looked for other forms of artistic practice as well as greater contact beyond the USSR. In its message, this cover promotes newer and formerly prohibited modes of art-making such as mail art.  However, its style and visual language use the "old" language from the previous and fading epoch. Thus, it seems unclear how the author would characterize mail art in the USSR at this historical moment. Did Segay want mail art to become a new, widespread form of art in a new society, or did he want mail art to replace "official art" in order to renew the Soviet social structure?
 —Mariia Spirin
Read the full chronology of exhibitions organized by the Archives of American Art.
The Archives of American Art's exhibition space is located two blocks away from our D.C. Research Center in the Donald W. Reynolds Center for American Art and Portraiture (8th and F Streets NW).
Please visit www.si.edu/visit for more information and to review safety requirements before your visit.
Learn more about visiting the gallery.
---
Hours: Open daily 11:30 a.m.–7:00 p.m.
Admission: Free