Pushing the Envelope: Mail Art from the Archives of American Art
Global Network
Connecting artists across disparate global localities
---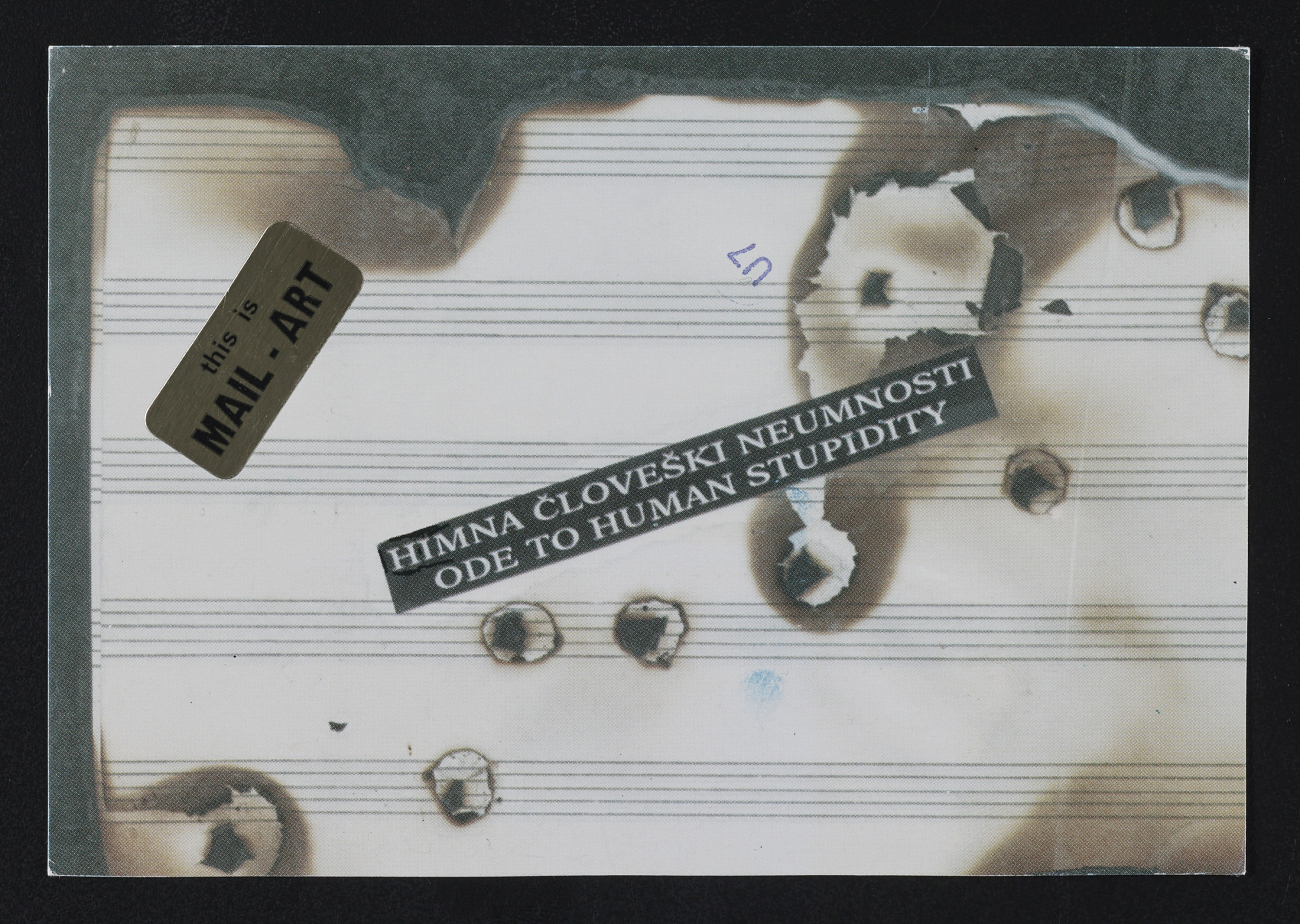 Svjetlana Mimica (Croatian)
Mail art to John Held Jr., 1993
Svjetlana Mimica is a Croatian artist who participated in mail art during the Croatian War of Independence. Her correspondence describes the conditions of living during wartime and how she used mail art both to escape the severity of her surroundings and to connect to the world outside. This note passed through another mail artist, Ruud Janssen, before reaching John Held Jr., who would send her money for postage so she could continue their correspondence and her practice.
—Jessica Perry
---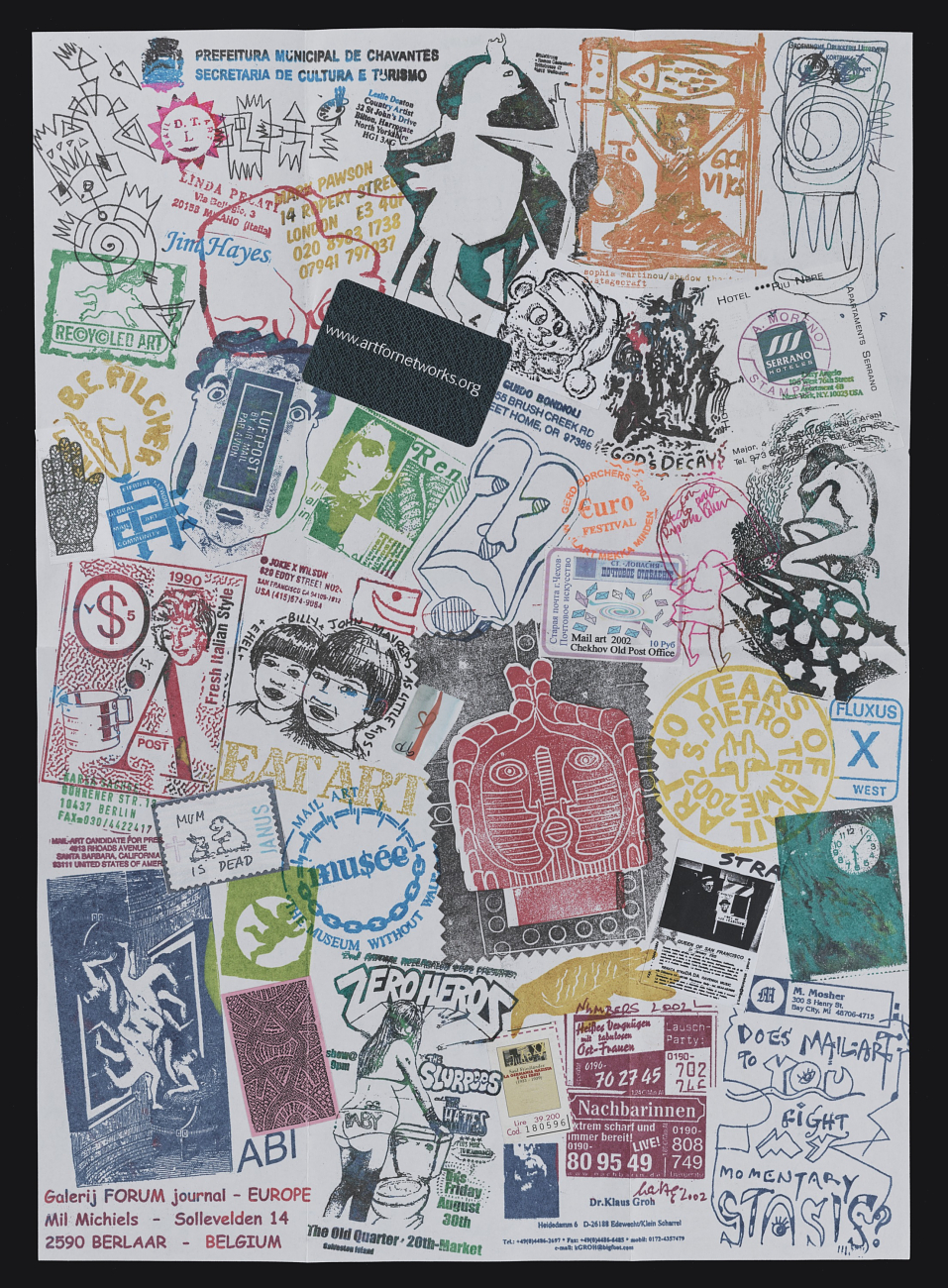 Ryosuke Cohen (b. 1948, Japanese)
Mail art to John Evans, 2002 (ongoing project since 1985)
Ryosuke Cohen is a Japanese mail artist who has been involved in the network since the 1980s. This collage sent to John Evans is part of his Brain Cell project, an ongoing compilation of artistamps, stickers, rubber stamps, and drawings from contributors all over the world, demonstrating a diverse assortment of subject matter. The reverse side lists the names and addresses of artists who submitted works to this edition, the 541st in the series. Brain Cell, which Cohen began in 1985, aptly demonstrates the collaborative nature of the international mail art network, which he likens to "the structure of a brain through a microscope . . . thousands of neurons clung and piled up together." Artists submit their images and objects through the mail to Cohen, who then assembles collages and sends silkscreen copies back to the contributors. Brain Cell #1,000 was completed in December 2017 and the project continues to this day, with over six thousand participants from more than eighty countries thus far.
—Jessica Perry
---
Gerard Barbot (b. 1952, French)
Mail art to John Held Jr., 1988
This piece of mail art, created in 1988 by Gerard Barbot, evokes Dadaist collages of the 1920s in its attack on the toxic effects of the military-industrial complex. Much like participants in the international Dada movement, mail artists are widely scattered and connected largely through the postal system. References to Hiroshima and the statement "Mail art is just a big back and forth without bombs" assert the bombardment of mail as a form of nonviolent communication that may be used against atomic warfare. This phrase was borrowed from materials that mail artists, such as H. R. Fricker (at right), used to promote an international initiative to make works advocating for nuclear disarmament that began in 1985 to coincide with the 40th anniversary of the bombing of Hiroshima and culminated in a series of exhibitions, performances, and workshops held by members of the mail art network in Hiroshima in 1988.
—Isabelle Martin
---
Edgardo Vigo (1928–1997, Argentinian)
Mail art to John Held Jr., 1991
This piece by Edgardo Vigo references several other mail artists with a series of intricate artistamps depicting Lon Spiegelman, Graciela Gutiérrez Marx, and Günther Ruch (see reverse side). The dispersion of these artists throughout the world (the United States, Argentina, and Switzerland, respectively) illustrates the power and reach of the mail art network. Vigo reportedly referred to his hometown of La Plata, Argentina, as being "known for its tranquility bordering on inertia." When this description of a cultural wasteland is contrasted with the idea of Vigo as an internationally celebrated artist, the power of the mail art network to give a voice to lesser known artists with limited access to art institutions becomes evident.
For artists working outside of the gallery or institutional setting, mail art was a truly democratizing force in the dissemination of their work in an age before the internet. For the nominal fee of postage, their art would be carried by the post office to nearly any viewer in any corner of the globe. Vigo eloquently sums this up when he wrote in his diary that, "MAILART has effected connections between international marginalities, the expansion of their interchanges, the distribution of their multiples, the exchange or the polemics of their theories, inviting profound dialogue."
—Mathew Goodwin
---
Clemente Padin (b. 1939, Uruguayan)
Mail art to John Held Jr., 1993
This postcard from Clemente Padin to John Held Jr. contains a rich variety of subject matter that highlights several important themes and figures in mail art. The front features an image of German artist Joseph Beuys, who was an important influence on Padin. As he explains on the reverse side, Padin had recently completed a performance work in homage to Beuys at the Museum of Uruguay. Beuys was a well-known Fluxus artist, and Padin clearly identified with the movement, as evidenced by the prominent "Fluxus Zone West" stamp on the back of the postcard. Networking, communication, and collaboration among artists was of great importance to Padin, and he seized on the medium of mail art to further this practice.
—Matthew Goodwin
---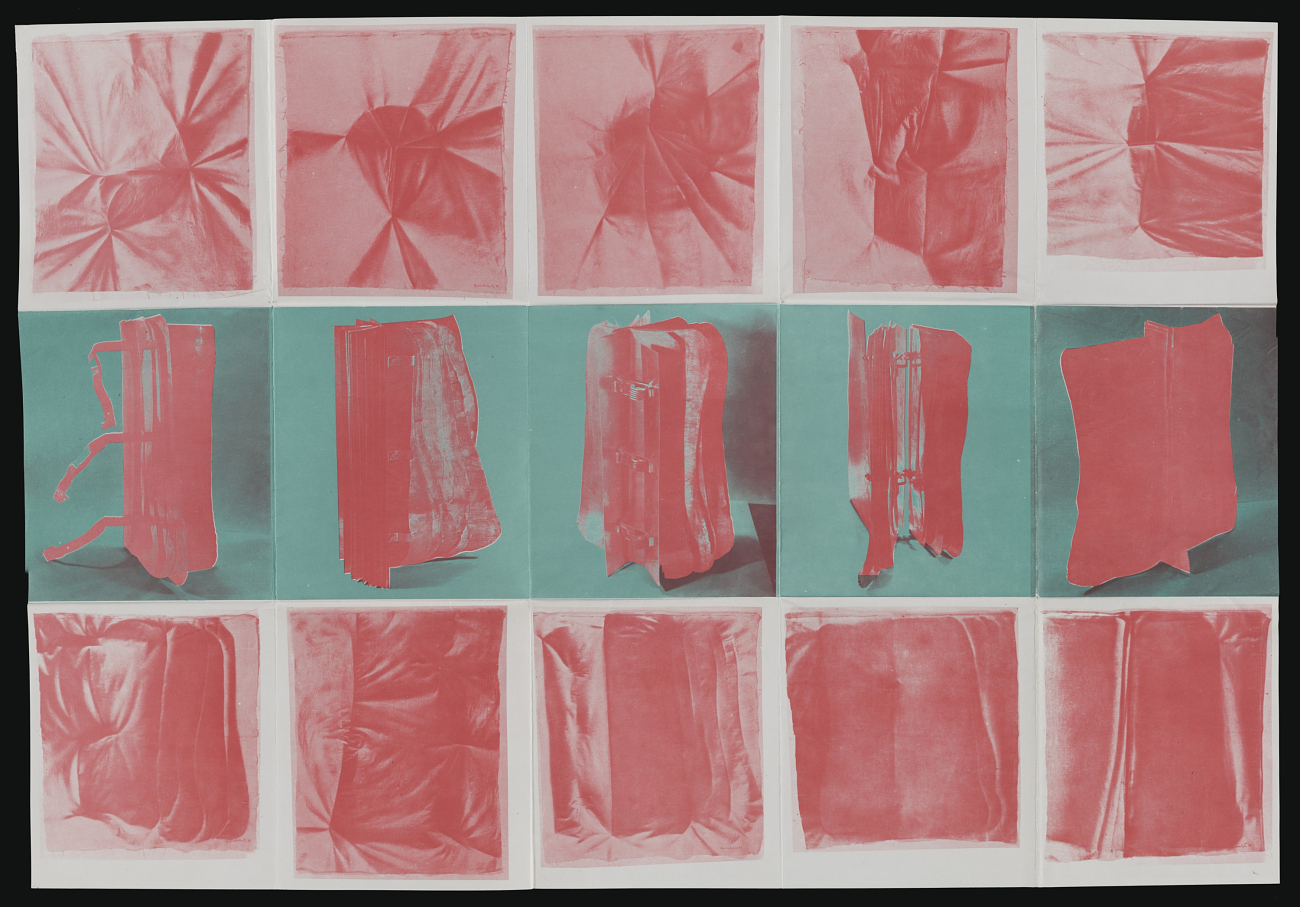 György Galántai (b. 1941, Hungarian) and Anna Banana, aka Anna Lee Long (b. 1940, Canadian)
"Please Send Me Information About Your Activity" poster mailer to Gregory Battcock, 1978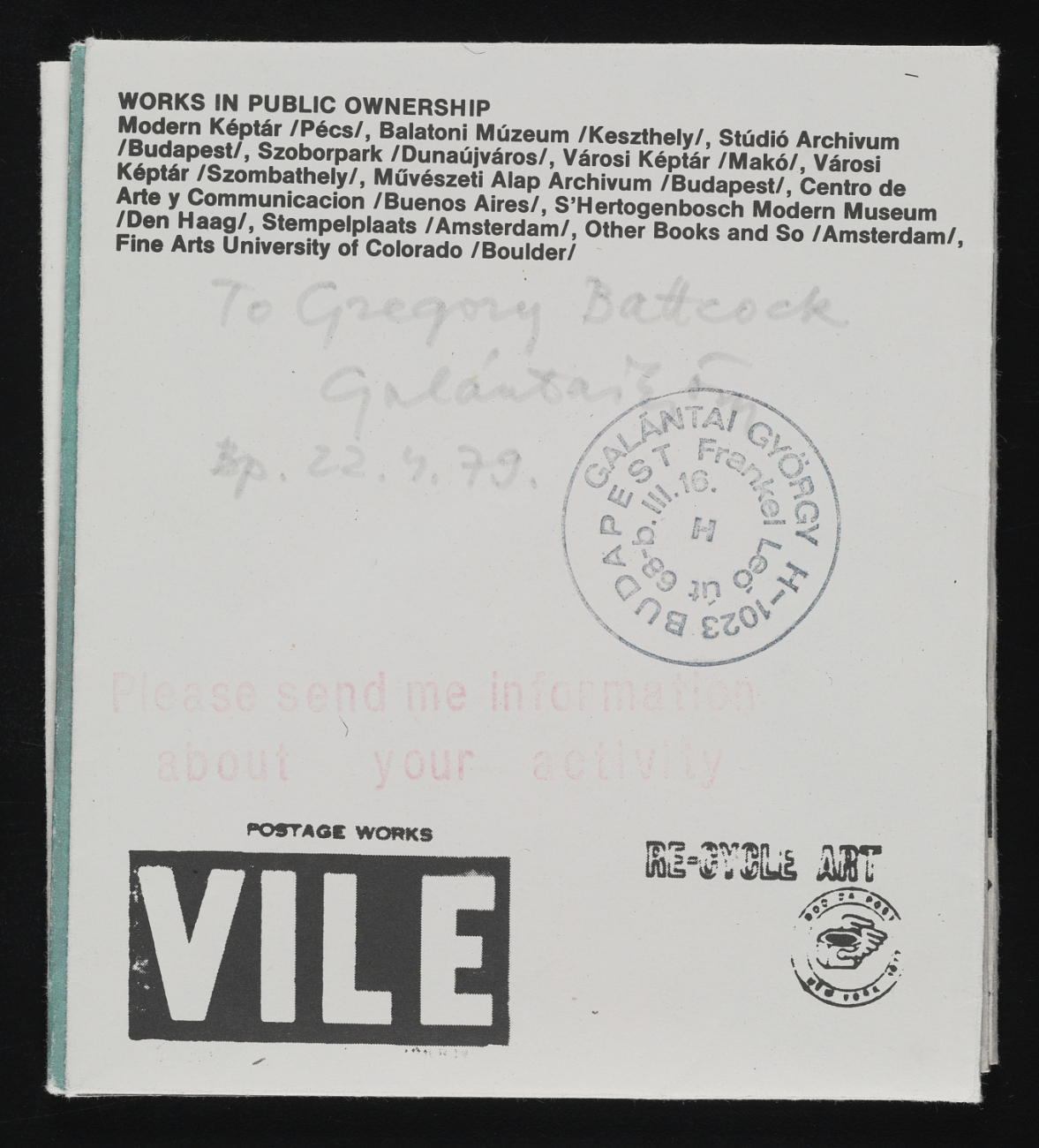 This poster mailer documents a collaboration between Canadian artist Anna Banana and Hungarian artist György Galántai, while also acting as an open call to artists from around the world. Banana and Galántai first became acquainted with each other through the mail art network. Due to restrictive laws that suppressed the public exhibition of "unofficial art" in Soviet Hungary, mail art became an important means of sharing work within and outside Galántai's country. In opposition to official culture, he and his wife, Julia Klaniczay, started Artpool in 1979—an "active archive" that specialized in both the design and production of unsanctioned works. More than a repository of documents, Artpool aimed to be generative. In Galántai's words: "The archive expands through calls for projects, co-operation and exchange as well as circulating information and enlarging the network." This mailer exemplifies this methodology. When folded, it bears a faint red stamp that reads "Please Send Me Information About Your Activity." However, when unfolded, we see Galántai's brightly colored works on the one side, and photographs and texts about Banana's performance in Budapest on the other. As part of this event, Banana read a Hungarian text by András Bán about Galántai's work, even though Banana could only speak English. The mailer thus stresses the performative nature of archives and their ability to traverse (rather than reinforce) cultural, institutional, and national borders.
— Miriam Kienle
Read the full chronology of exhibitions organized by the Archives of American Art.
The Archives of American Art's exhibition space is located two blocks away from our D.C. Research Center in the Donald W. Reynolds Center for American Art and Portraiture (8th and F Streets NW).
Please visit www.si.edu/visit for more information and to review safety requirements before your visit.
Learn more about visiting the gallery.
---
Hours: Open daily 11:30 a.m.–7:00 p.m.
Admission: Free