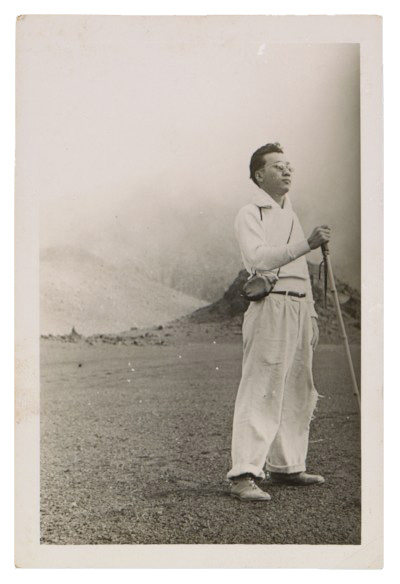 In a 1970 artist statement, Reuben Tam explained that his paintings are "about weather and geology, islands, tides, and light, and the very movement of the earth." His personal papers, which were donated to the Archives of American Art in 2009, reveal Tam's love for two very different island landscapes.
Tam was born into a large family in Kapaa Town, Kauai, Hawaii, in 1916. Inspired by the striking Hawaiian landscapes from a young age, his first oil painting was of Haupu Ridge, which he could see from his classroom at Kauai High School.
He received a degree from the University of Hawaii, studied at the California School of Fine Arts and, in 1941, settled in New York City. There he was represented by Downtown Gallery and taught at the Brooklyn Museum of Art School from 1946 to 1974.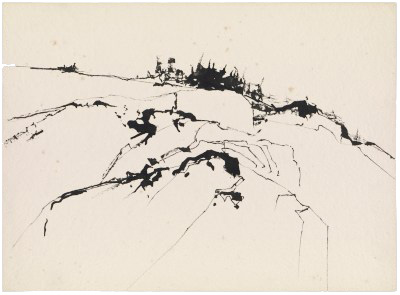 Though immersed in the New York art scene, Tam regularly took summer trips to the coastal islands of Maine. His papers include an album containing photographs of a 1946 sketching trip with fellow artists William Kienbusch, Carl Nesjar, and Hyde Solomon. In 1948 he and his wife Geraldine bought a house on Monhegan Island, Maine, and spent summers there until 1979.
Tam felt drawn to Monhegan Island, and in his notes stated that it was "as if the sea had organized some sort of fraternity" that had also inspired artists such as Rockwell Kent, Andrew Winter, and Morris Kantor.
His papers include seventeen large sketchbooks of the rocky landscapes and shorelines, and several photographs of him perched on the cliffs with a sketchbook.
In 1979, after nearly forty years, Tam and his wife moved back to Kauai. Once again, he could study the landscapes that originally inspired him. In 1984 he had an exhibition of old and new works at the Honolulu Academy of Arts entitled "Two Islands: Paintings by Reuben Tam."
Both island homes inspired Tam not only to paint, but to write poetry as well. His papers include many draft poems, some of which were posthumously published as The Wind-Honed Islands Rise in 1996.
Erin Kinhart is a processing archivist at the Archives of American Art.