Blogs across the Smithsonian will give an inside look at the Institution's archival collections and practices during a month long blogathon in celebration of October's American Archives Month. See additional posts from our other participating blogs, as well as related events and resources, on the Smithsonian's Archives Month website.
To kick off American Archives Month, Archives of American Art staff have compiled a list of their favorite tools that they use in their archival work.
THE LIGHT BOX | Julie Schweitzer, Collections Processing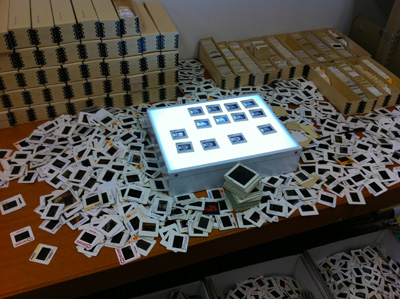 I am grateful for the light box I use to identify, weed, and sort analog photographic slides from the pre-Power Point era. The box is old-school and non-compact-fluorescent, and it hums. Slides plink satisfactorily on the box's surface like a pile of chips at a poker table. By laying slides flat on the luminous pearly-white plane, I can easily identify details without having to hold them up to the ceiling lights and squint against the glare. The box has allowed a summer intern and me to weed tens of thousands of duplicate slides from a collection and arrange the remainder in short order, thereby reducing not only the hunting work of future researchers and reference staff, but also the shelf space the collection requires.
ARCHIVAL FOLDERS | Erin Kinhart, Collections Processing
Whenever I sit down and begin processing a new collection, I always have a large stack of archival folders nearby. There have been many times when I've opened a box of unprocessed materials and found papers stuffed into hanging file folders, old acidic folders with missing labels, or even more challenging, stacks of photographs, letters, or notebooks that were never filed in the first place. Most of my time is spent arranging these documents into archival folders and writing folder labels that will correspond to the online finding aid. Not only do the acid free folders preserve records, but they also allow the archivist to sort items into manageable groupings. I get great satisfaction in bringing order to materials and protecting them from future damage, and I know researchers appreciate being able pull to materials from the box with ease.
THE BOOK TRUCK | Elizabeth Botten, Reference Services
Dear Book Truck,
I'm sorry this note is so overdue, but I just wanted to say thank you for being such a help to me over the years. I feel that sometimes I haven't shown you the respect that you deserve, but my arms and I really appreciate all that you do for us. You help us carry thousands of boxes to our researchers every year—when the Leo Castelli Gallery records opened to the public, we pushed over 100 boxes back and forth in the first month alone.
My colleagues and I couldn't have done it without you. I hope you will accept this case of WD-40 with my thanks and appreciation.
Best wishes,
Elizabeth
THE SSDI | Marisa Bourgoin, Reference Services
I love to bury people. Not actual bodies, mind you, but rather I find it oddly satisfying to establish death (and birth) dates for people found in our records. The Social Security Administration (SSA) has been collecting data on deaths since about 1936, and, in 1980 the agency began making the data file available to the public as a result of a Freedom of Information Act lawsuit. While you can't search the file at the SSA website, there are a number of free (and some paid) websites that provide access to the data as the Social Security Death Index (SSDI). It's not error-free, there are transcription errors and omissions. You can't assume that someone who isn't there is still alive, there are rare cases in which a living person is included, and it only includes people who had Social Security numbers. However, there are ninety million people listed in the file (most of whom died after 1962), and it is a wonderful tool for those who to like to close the parentheses around someone's life dates. Try it out at http://search.ancestry.com/search/db.aspx?dbid=3693 or do an internet search for "social security death index".
THE LAB COAT | Sarah Haug, Collections Processing
my blue lab coat waits