Intern Tiffany G. Camusci shares gastronomical delights from the Archives' collections.
When admiring an art piece in a gallery, it is easy to forget that artists are people too. Artists' lives are illuminated through their personal papers with photographs and snapshots of family and friends, letters and postcards sent and received, and sketches of beloved pets. But often the question remains: what do artists like to eat?
As a digital projects intern at the Archives of American Art this summer, I worked on a wide variety of initiatives with the shared goal of making the Archives' collections more accessible through digitization, which included working with metadata, preparing projects for the Smithsonian Institution Transcription Center, surveying born digital media, and auditing oral history transcripts. I was also given an opportunity to interweave my academic interests of history and sociology with the Archives' digital ventures.
In my own research, I argue for the value of studying early American food not only as a frontier, but also as a means to understand social and cultural interrelations of the period. In conducting research for my history honors thesis, I've come to appreciate studying the value of hidden social history through recipes and food-related primary sources. After grasping the breadth of collections that the Archives has to offer, I began searching through artists' papers for recipes to further an understanding of their lives.
Discovering recipes in an artist's collection was a riveting process in itself. While running my fingers through personal photographs and correspondence, I would often come across notebooks filled with miscellaneous doodles or dabbles of poetry. Every page of these notebooks seemed to tell a different story—highlighting an artist's unknown hobbies or favorite memories—a story that includes recipes. While I cataloged many items in our collections this summer using formal standards, in this blog post I've arranged my favorite recipes in an unconventional archival schema: a five-course meal, complete with a beverage list. Bon appétit!
BEVERAGE LIST
Punch
Finding my first recipe embedded in Charles van Cise Wheeler's scrapbook, "Trash, Treasury, and Trashury" was an exhilarating experience, especially with the unique newspaper clippings, cartoons, and travel itineraries that seemingly burst from its pages. But take note: you'll need to invite a lot of guests if you serve his six-gallon punch recipe at a party.
"Carlo's Wine'
Carlo Alberto Ciampaglia's recipe for wine is so detailed it includes sketches on how to prune grape trees correctly for the best results. Perhaps Ciampaglia's palate for good wine was as extensive as the color palette he used in creating his wall murals?
FIRST COURSE | Soup
Bean Soup
Warm up with Lee Gatch's bean soup recipe. Besides being a dedicated painter, Gatch was also a devoted husband and father—many photographs in his papers show him laughing and spending time with his family. I imagine Gatch recorded these recipes because they were family favorites he cooked for his daughter and wife.

Lamb Stew
Alfred Laurens Brennan's papers include an eccentric assortment of materials: a screenplay of The Wizard of Oz, a small sketchbook including poems and doodles, and quite a few recipes. While Brennan's collection is relatively small, each item is a little treasure trove in itself. Finding these recipes in the same folder as a screenplay was as bewildering as it was exciting.
SECOND COURSE | Appetizer
Rice Milanese
There is something special about looking through an artist's diary—reading through their personal thoughts and most treasured memories. I discovered Anne Ryan's risotto recipe in one of her notebooks hidden among a string of short stories, diary entries, and address lists. Ryan's recipe is not detailed, but it showcases her affinity for good taste and a flair for culinary creations.
THIRD COURSE | Salad
String Beans Health Salad or Cucumber Salad with French Dressing
My jaw hit the floor when I came across this cookbook in artists' model Cleo Dorman's papers. The Newd Cook Book includes more than twenty-five fully illustrated recipes, ranging from drinks to savory stews and fresh salads to mouth-watering desserts. It was a gift to Dorman from the Torana Art League, and each artist signed the second page of the book with love. This eclectic cookbook includes recipes like, "Lasacalories Lasagna," but I've chosen two of the healthier options for our salad course.
FOURTH COURSE | Main Dish
Lamb with Ripe Olives or Veal with Celery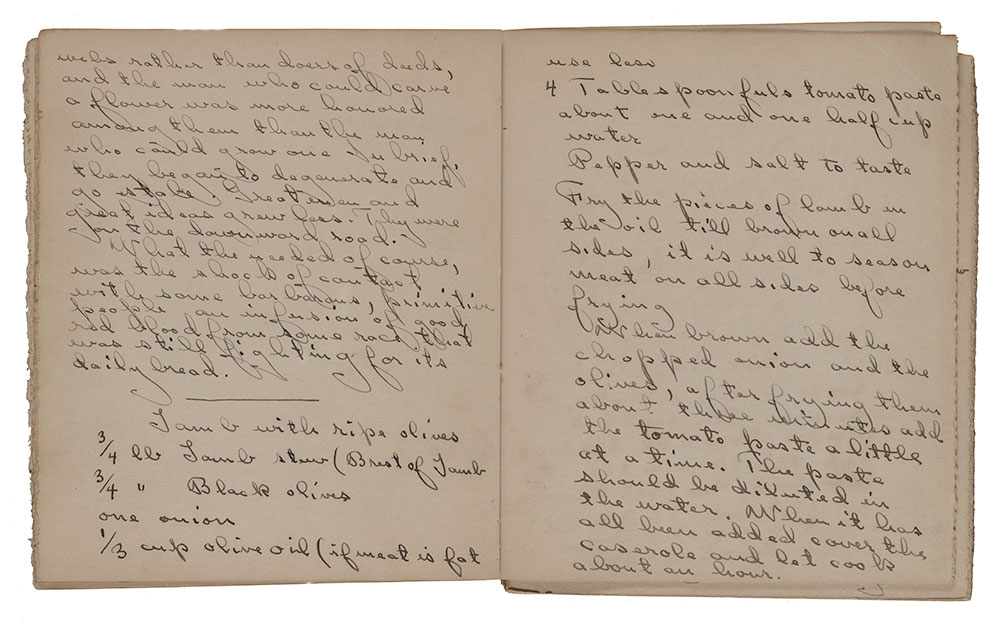 From his recipes for lamb stew, lamb with ripe olives, and veal with celery, it would seem Lee Gatch loved his red meat. When recreating these meat-heavy dishes at least the olives and celery count as a serving of vegetables.
Cream Sauce for White Broiled Fish or Vegetable Pie
In contrast to Lee Gatch's love of meat, Anne Ryan included seafood and vegetarian recipes for our main courses. Vegetarians and pescatarians, these dishes are for you.
FIFTH COURSE | Dessert
Faausi or Grated Taro with Bananas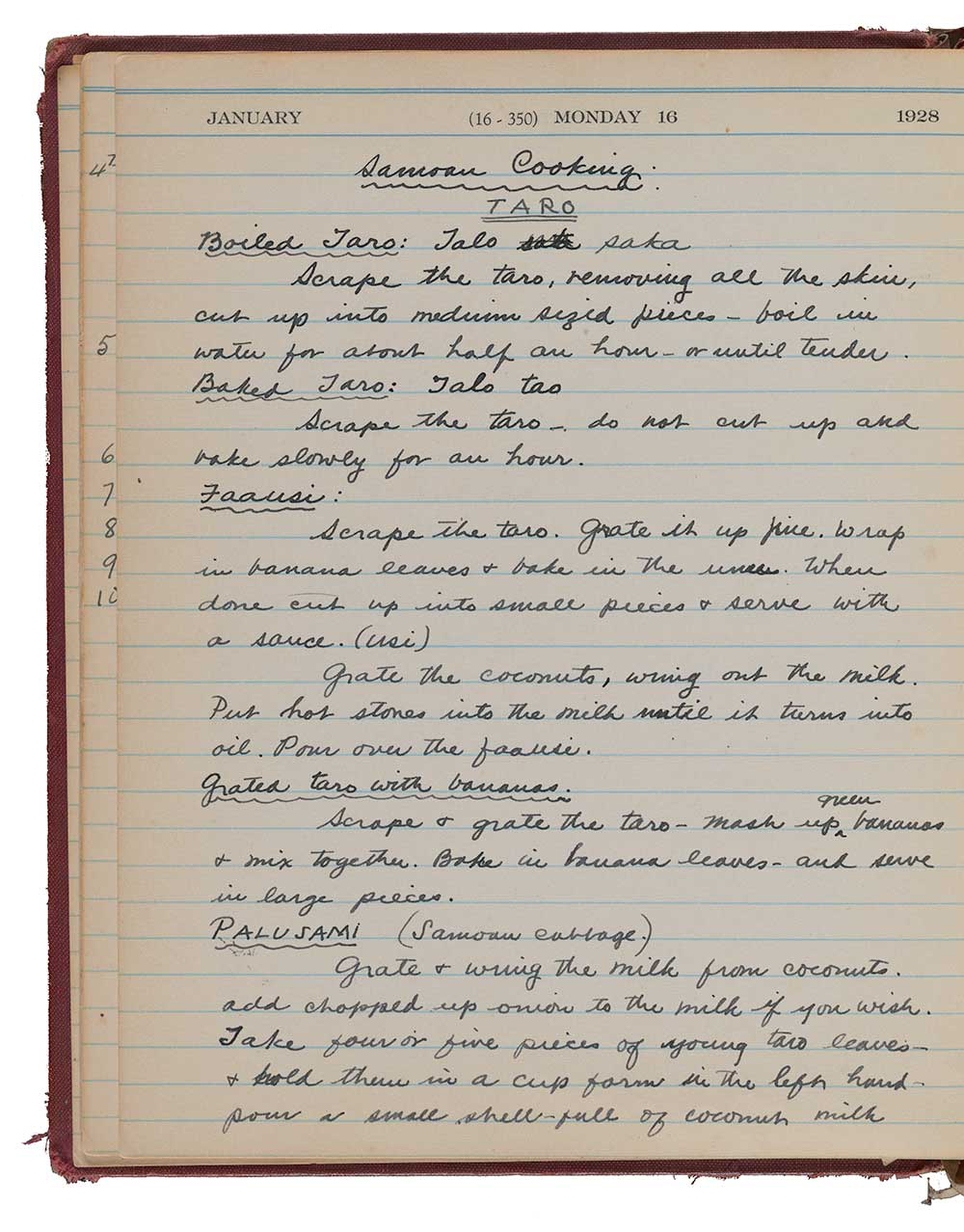 Dorr Bothwell's notebook, filled with writings of her time in Samoa, is something special. It includes reflections on spirituality, remembrances of friends, tidbits on Samoan language and phrases, and several pages of recipes for Samoan dishes. This is perhaps my favorite recipe collection I read this summer—I can't wait to experiment with the exotic ingredients found in Bothwell's writings.
Shoo-Fly Cake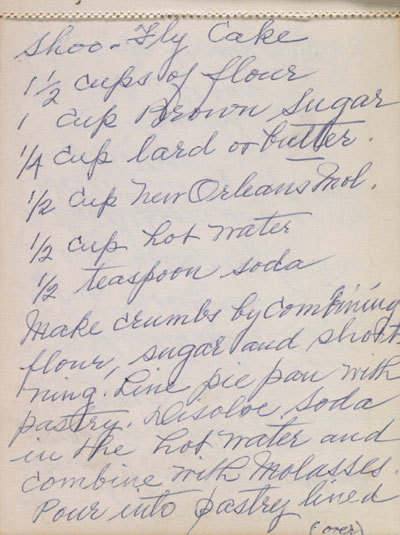 Like many other artists, Charles Sheeler kept recipes among address lists and other miscellaneous writings in personal notebooks. Including two variations of one dessert—"Shoo-Fly Cake" or "Molasses Shoo-Fly" with crumbs—suggests this was a favorite of his. Whichever you fancy, be sure to salute Sheeler for leaving such detailed notes for preparing a well-loved cake.

Blueberry Cheesecake or Avocado Sherbet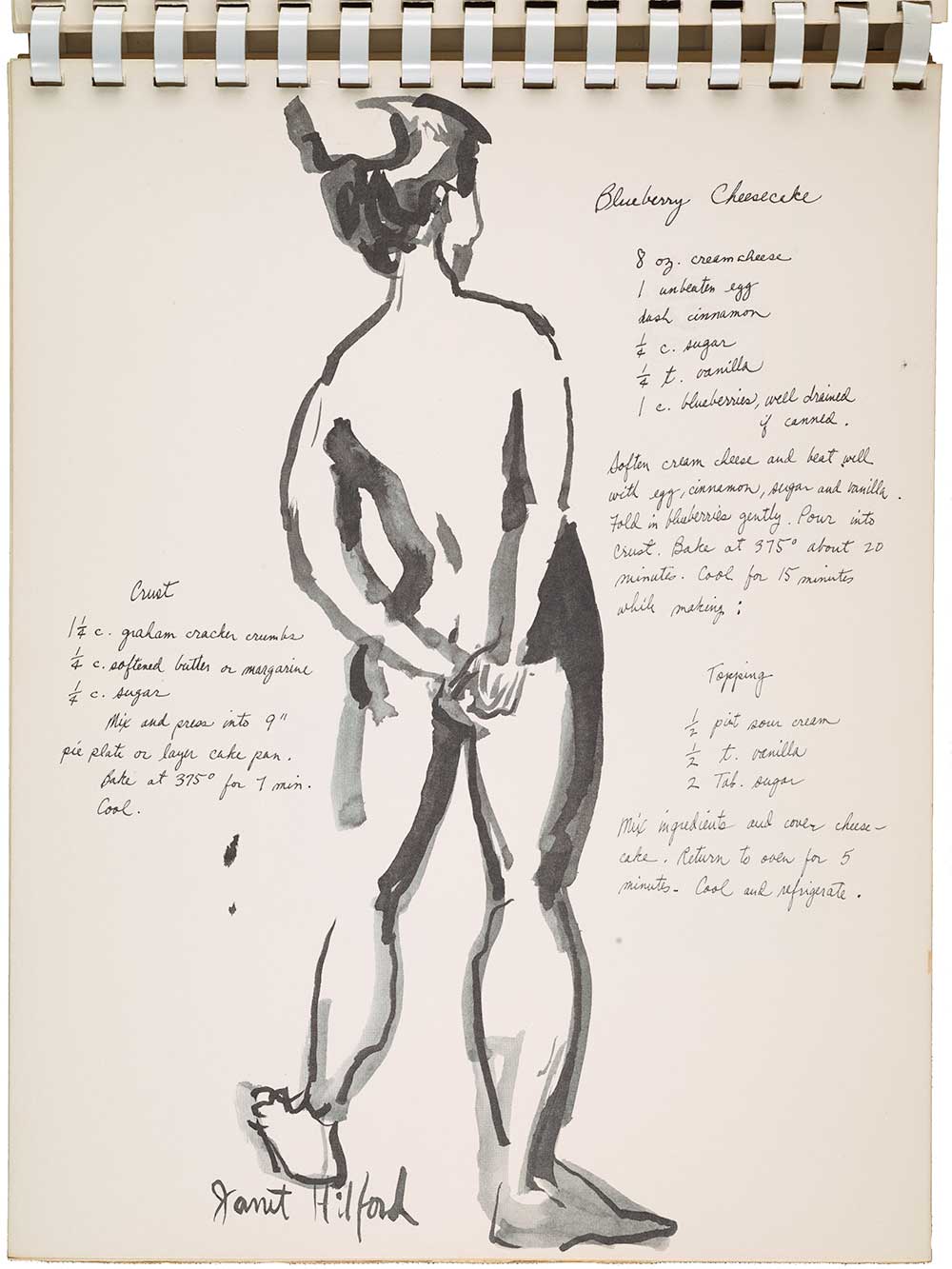 After gaining experience with item cataloging this summer, I can appreciate the level of detail in the Blueberry Cheesecake recipe in Cleo Dorman's copy of The Newd Cook Book. It includes instructions for the cheesecake, as well as the topping and crust—all made from scratch. The refreshing ingredients in the avocado sherbet recipe—like lime and lemon juice—make it the perfect dessert for a hot summer day.
Recipes offer a unique window into the life of an artist. Not only do they allow us to learn about an artist's likes and dislikes, but tell us that they might have found pleasure and relaxation in cooking. None of these artists themselves were cookbook authors, so even more fascinating are the recipes they chose to record. These dishes might have been their favorites to make, their most frequently cooked, or their most cherished for special occasions.
Whether or not the artists shared these recipes or saved them in their notebooks and diaries, their collections are available at the Archives of American Art for everyone to explore, research, and celebrate. You never know what you might find in an archive, but coming across these delectable delights was a delicious surprise.
Tiffany G. Camusci was a digital projects intern with the Archives of American Art during the summer of 2017. She is Binghamton University undergraduate majoring in history and sociology, and is continuing her research of culinary history for her history honors thesis.