Acquisitions: Ben Buchanan Photographs of Artists
This entry is part of an ongoing series highlighting new acquisitions. The Archives of American Art collects primary source materials—original letters, writings, preliminary sketches, scrapbooks, photographs, financial records and the like—that have significant research value for the study of art in the United States. The following essay was originally published in the spring 2017 issue (vol. 56, no. 1) of the Archives of American Art Journal. More information about the journal can be found at http://www.journals.uchicago.edu/toc/aaa/current.
This story begins on April 23, 1985, at Mr. Chow restaurant on East 57th Street, in Manhattan. Dozens of artists, including Jean-Michel Basquiat, Robert Mapplethorpe, and Andy Warhol, had gathered for a dinner hosted by the owners of Area—a downtown nightclub known for its immersive and idiosyncratic environments—in advance of an upcoming "Art" theme there. Ben Buchanan (b. 1958), Area's official photographer, has donated to the Archives twelve photographs documenting these events, several of which highlight the activities of the gender-bending performer and artists' muse Bernard Zette, who helped bring the nightclub's elaborate installations to life.
During Area's brief existence (1983–1987) Zette assumed the guise of dozens of characters, from Marie Antoinette to Cleopatra to a mermaphrodite (a hermaphrodite mermaid). At Mr. Chow, he transformed himself into a human guestbook by acquiring many of the diners' signatures on his coral-hued unitard. "I positioned myself in the entry vestibule and somehow coerced everyone to sign their names," he recalled in a 2015 email to Buchanan. Alex Katz signed the chest, and Julian Schnabel (who crashed the party) initialed just below. Stefano and Dennis Oppenheim signed the right thigh. David Hockney added his name along the right hip. Kenny Scharf doodled a face over the pelvis. Basquiat embellished his signature (which graced the back of both legs) with a trademark symbol. William Wegman sketched a small dog with a halo on the left foot. Warhol signed under the left arm. And Keith Haring drew one of his dancing figures on the rear end.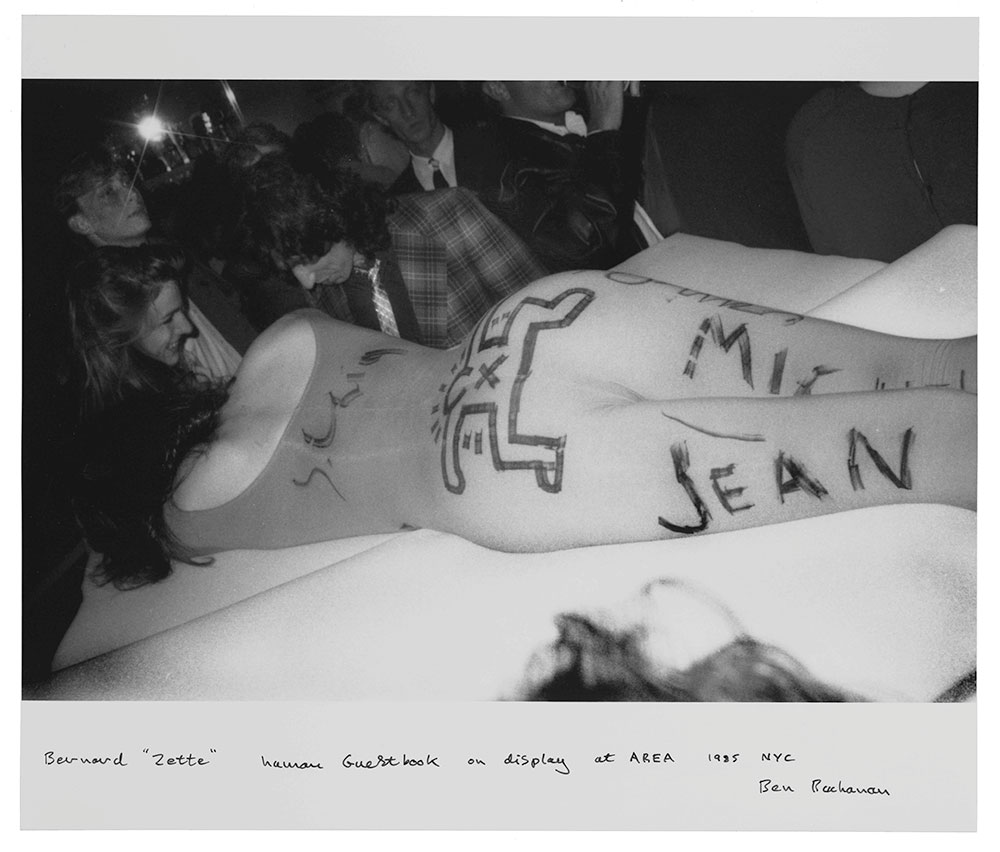 Weeks later, Zette posed again as a human guestbook to kick off the "Art" theme at Area. At the opening event, and periodically throughout the theme's six-week run, he draped himself over the open pages of a large book made of foam, posing to display the artists' signatures on his unitard. Zette later sold the garment and it eventually made its way to a gallery in Japan, where it was purchased by its current owner, an anonymous collector in Sweden. In 2015, Buchanan photographed the unitard in his London studio, and these images are included in his gift to the Archives.
Buchanan's collection of photos help contextualize a more formal portrait of the dinner guests at Mr. Chow, taken by photographer Michael Halsband and donated to the Archives by Dennis Oppenheim in 1996. Indeed, it was this very portrait that prompted the Swedish collector to share with me the story of Zette's unitard. More broadly, Buchanan's 1985 photographs document many of the art world luminaries who expanded the boundaries of pop art by merging art with everyday life. His images compliment the Archives' existing holdings of personal papers, gallery records, and oral history interviews with artists who attended the events at Mr. Chow and Area, including Hockney, Oppenheim, Warhol, Wegman, and LeRoy Nieman, among many others.
Mary Savig is the curator of manuscripts at the Archives of American Art.