200th Digitized Collection Online!
We are pleased to announce that our 200th fully digitized collection, the Bob Thompson papers, is now available online.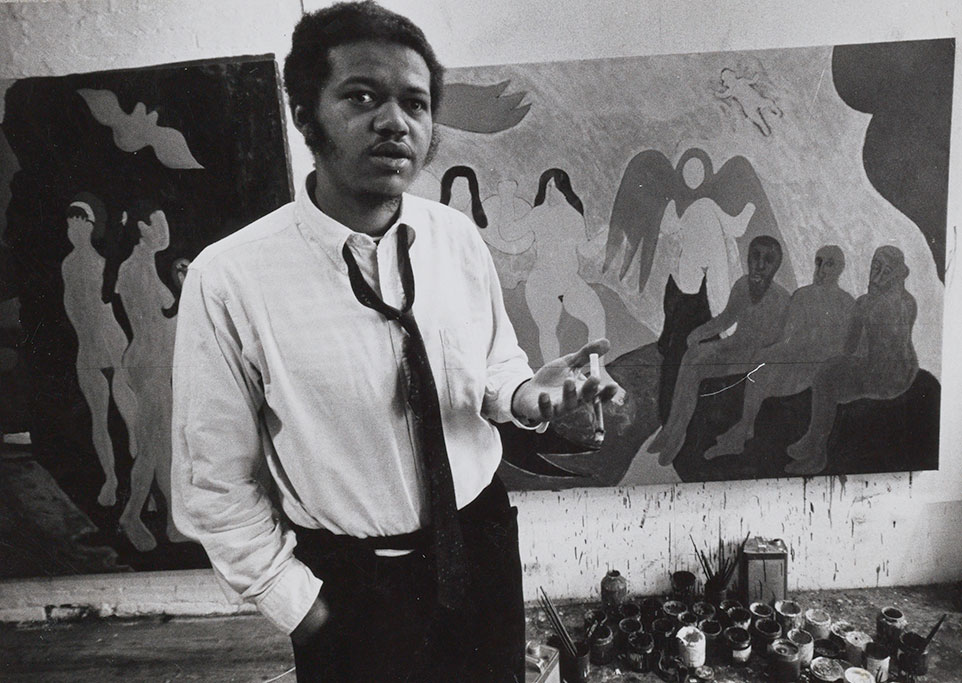 The Bob Thompson papers are the 200th fully digitized collection available to researchers online, thanks to funding from the Walton Family Foundation and the Terra Foundation for American Art.
African American figurative painter Bob Thompson (1937–1966) was born in Louisville, Kentucky, and studied painting at the university there before graduating and moving to New York City in 1958. Thompson embraced life in New York, where he befriended many jazz musicians as well as artists—most of whom he already knew from summering in Provincetown, Massachusetts art colonies. His work as an artist flourished and he had his first solo exhibition at Delancy Street Museum in 1960. That same year Thompson married Carol Plenda, and he received a Whitney Foundation Fellowship soon after. The couple lived in Paris, France from 1961 to 1962, then moved to Ibiza, Spain.
His travels in Europe inspired a frenzy of productivity, and Thompson brought back a great haul of paintings upon his return to New York in 1963. He was soon represented by Martha Jackson Gallery, which showcased his vibrant work in multiple solo exhibitions from 1963 to 1965. In late 1965, Thompson and his wife traveled to Rome, Italy, where he passed away the following year due to a drug overdose on the heels of his recovery from gallbladder surgery. He was twenty-eight years old and had created roughly 1000 paintings during his brief but tremendously prolific and successful career as an artist.
Thompson studied the Old Masters and he was adept at reinterpreting biblical themes, such as the Garden of Eden, or subjects like good versus evil and man versus nature, drawing on his love of jazz and Abstract Expressionism to give them a more contemporary resonance. While his earlier work used more muted palette, his paintings after his first trip to Europe in the early 1960s are known for their vibrant and bold colors.
The Bob Thompson papers are comprised of two linear feet of documents including biographical material, limited correspondence, writings, exhibition files, personal business records, printed material, and photographs.
The highlight of the collection is the photographs series which includes images of Bob Thompson, family, and friends, shot in various locations in New York City and Provincetown, as well as in Spain, France, and Italy. The papers also contain photos of Thompson's studios, iconic jazz clubs in New York City, exhibitions, events, and artwork. Other noteworthy items are four photograph albums: one of the Thompson's wedding, two of exhibitions, and one with photographs of friends and family.
Explore More:
Rihoko Ueno is a processing archivist at the Archive of American Art.