The Accidental Tourist: Out of the Inkwell, Part II
The latest installment in our Accidental Tourist series—posts written by the reference services staff about notable finds they stumble across while traveling through the Archives of American Art's collections—looks at an unusual signature.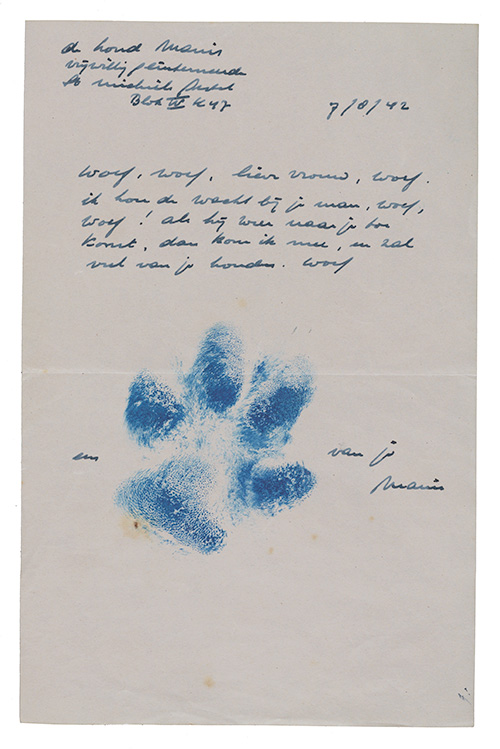 Those of us who work in archives are no strangers to the joys of, as one colleague puts it, "reading other people's mail." Whether looking at an artist's handwriting, the beauty of an illustrated letter, or being allured by a letter's prose, letters as historical documents and physical objects can be wonderful things.
A few years ago, I wrote a piece for this blog about some of my favorite signatures I found in the Archives' collections. Recently, while looking through the papers of fiber artist Trude Guermonprez on behalf of a researcher, I discovered a letter I wish had been included.
In 1942 Guermonprez received a letter from her dog Mavis—dictated to her husband Paul—mostly consisting of the phrase, "Woef, woef." (The letter is in Dutch, but loosely translated this reads, "Woof, woof.") What really struck me was Mavis' signature: A firmly stamped, textured paw print in a glorious shade of azure that is at once both earthy and sophisticated. I was immediately and completely charmed!
Explore more:

Elizabeth Botten is a reference specialist at the Archives of American Art.