This entry is part of an ongoing series highlighting new acquisitions. The Archives of American Art collects primary source materials—original letters, writings, preliminary sketches, scrapbooks, photographs, financial records and the like—that have significant research value for the study of art in the United States. The following essay was originally published in the fall 2016 issue (vol. 55, no. 2) of the Archives of American Art Journal. More information about the Journal can be found at http://www.journals.uchicago.edu/toc/aaa/current.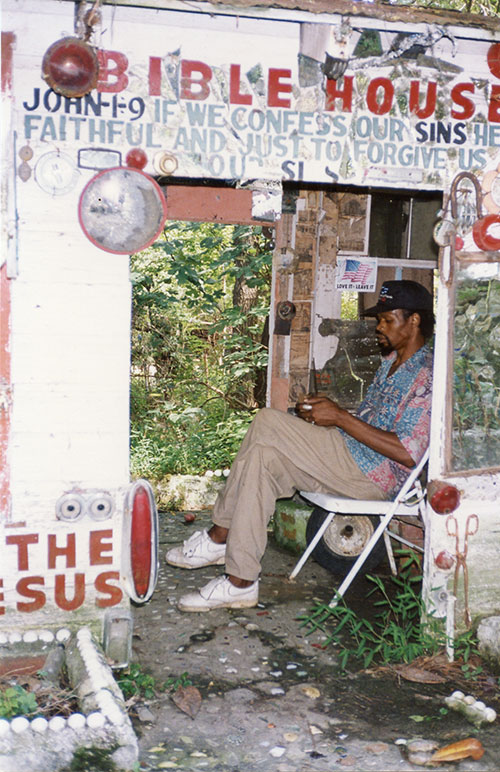 The papers of James R. "Jimmy" Hedges III (1942–2014)—philanthropist, real estate developer, wood carver, and art dealer—have been donated to the Archives by his son James R. Hedges IV. The archive documents more than 400 "outsider" artists, a term Hedges used interchangeably with "self-taught" and "folk," by way of biographies, newspaper clippings, and thousands of photographs that he took of the artists and their work, homes, and studios.
Of a prominent family from Chattanooga, Tennessee, Hedges pursued philanthropic endeavors as a trustee of the family's Tonya Memorial Foundation before returning, at age forty, to his teenage passion of wood carving. Artists in his circle were predominantly southern African American self-taught painters, sculptors, potters, and carvers. Befriending them and collecting their work led Hedges to create Rising Fawn Gallery (later known as Rising Fawn Folk Art Gallery) on his 500-acre farm in Lookout Mountain, Georgia. An unconventional art dealer, Hedges would hand-deliver purchases to collectors' homes, driving his truck on back roads and stopping along the way to acquire more works to sell. An active presence at the Outsider Art Fair and self-taught artist exhibitions throughout the United States, as well as at Slotin Folk Art auctions and prison auctions, his aim was to improve the economic condition of outsider artists and raise their public profiles. Hedges's development of an archive was essential to this goal.
To open his files at the Archives is to enter a world where making art often functioned as a survival strategy in the face of poverty, physical injury, imprisonment, and precarious mental health. Hedges's brief biography of Mose Tolliver (ca. 1920–2006), for example, notes that the artist "worked a variety of jobs throughout his life, as a gardener and general handyman. While sweeping up for a furniture company in the early 1970s, a load of marble fell on Mose's legs, crushing them. While recovering from his injury . . . Mose began to paint. He'd sit in his front yard, painting the neighborhood children, and hanging his paintings in his front yard, hoping to sell them for a dollar or two." Hedges's papers contain numerous photographs of Tolliver's paintings.
Hedges avidly promoted the work of lesser-known artists such as Georgia Blizzard, Haint Bradley, Marie Rogers, Charles Simmons, James "Son Ford" Thomas, Hubert Walters, and Purvis Young. He made fact sheets, postcards, and pamphlets about them, all of which are in his papers, along with sales records and research files on other collectors of outsider art. Also included with his papers is the camera with which Hedges documented the lives of the artists he championed, capturing them at ease in familiar surroundings. He always had at least one photograph taken of himself with an artist, and these pictures show Hedges enjoyment of the scene around him.
The Jimmy Hedges Papers and Rising Fawn Folk Art Gallery Records join more than a dozen other collections at the Archives about outsider and self-taught artists, but this one expresses the unique vision of an artist-dealer and provides a detailed, thirty-year history of outsider art in the American South. In compiling this documentation, Hedges anticipated the recent incorporation of this extraordinary work into the mainstream American art world. Indeed, the arrival of his papers coincides with the planning of a major exhibition on self-taught artists of the twentieth and twenty-first centuries at the National Gallery of Art, Washington.
Annette Leddy is the New York collector for the Archives of American Art.