Acquisitions: Robert Ebendorf Papers
This is the first in a series of entries that highlight new acquisitions. The Archives of American Art collects primary source materials—original letters, writings, preliminary sketches, scrapbooks, photographs, financial records and the like—that have significant research value for the study of art in the United States. The following essay was originally published in the spring 2016 issue (vol. 55, no. 1) of the Archives of American Art Journal. More information about the Journal can be found at http://www.journals.uchicago.edu/toc/aaa/current.
The home studio of Robert Ebendorf (b. 1938) is a trove of trash and treasure: discarded bottle caps, coins, doll parts, twigs, buttons, keys, crab claws, Barbie doll shoes, clock parts, and the occasional squirrel tail are piled onto nearly every surface. Ebendorf playfully juxtaposes this detritus of daily life with fine metals and gems to create evocative jewelry. The artworks conjure memories, tell stories, and prompt viewers to reevaluate assumptions about value. So, too, do Ebendorf's personal papers, donated to the Archives in 2015. This collection is an assemblage of records that offers insight into his multifaceted career as a jeweler, metalsmith, and educator. For Ebendorf, the donation itself is the capstone to his lengthy career.
The gift of Ebendorf's papers was more than a decade in the making. In 2004, he was interviewed as part of the Archives of American Art's Nanette L. Laitman Documentation Project for Craft and Decorative Arts in America, a program dedicated to recording the creative lives and practices of prominent craft artists. That interview coincided with a major traveling exhibition, The Jewelry of Robert Ebendorf: A Retrospective of Forty Years, organized by the Gallery of Art and Design at North Carolina State University. In 2010, Ebendorf received the North Carolina Governor's Award in Fine Arts and, in 2014, a Lifetime Achievement Award from the Society of North American Goldsmiths. In 2015, when the Greenville Museum of Art organized the exhibition Materials and Making: Celebrating the Work of Robert W. Ebendorf, the artist determined that it was time for his papers to go to the Archives. "It is an exciting time for me to let these memories and objects go, knowing that they will have a wonderful home for scholarly purposes," he wrote to me in February 2015.
A consummate collector and connector, Ebendorf has helped shape the field of contemporary jewelry in the United States. His papers offer insights into both the evolution of his studio practice and his influence as an educator. Biographical and professional records trace his life from his childhood in Topeka, Kansas, to his current role as Belk Distinguished Professor of Art at Eastern Carolina University (ECU), documenting his accolades in the craft world as well as a commendation from the New York City Police Department for foiling a diamond heist in 1979. More specifically, the materials map Ebendorf's development as a master metalsmith. Of particular interest are drafts of his artist statements, in which Ebendorf articulates the metaphorical and spiritual meanings of found objects. In the mid-1960s, he began building a visual vocabulary featuring old photographs, organic materials, and discarded objects. "I was restless and straddling two worlds: the pure and clean vs. the ugly discarded object," he explained in 2002. Events like the shootings at Kent State University in 1970 left a lasting impression on the artist and his work. Ebendorf continues,
In the mid-1960s our society was in upheaval. Many questions were being set forth about authority, politics, church vs. state and political unrest and perhaps I was caught up unknowingly even in that turbulent time of youth in society. It was filtering into my work at the time.
Since then, his work has continued to explore notions of consumerism, religion, and beauty.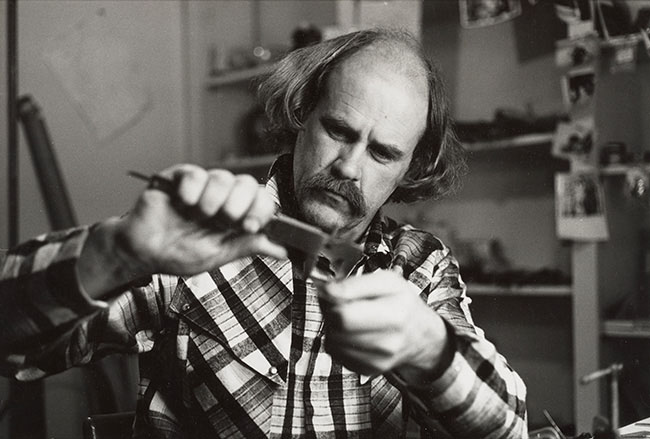 Ebendorf has shared his vast knowledge of metal techniques nearly as long as he has been making art. In his 2004 oral history interview, preserved in the Archives, he contemplated his roles as artist and educator:
Was my journey about education or was my journey about an artist, or did [I] have the pleasure . . . of moving and wearing these different hats and coats? I think I'd rather find myself . . . being an educator and some days being the artist, but having the pleasure of keeping my balance as the skateboard goes rumbling down the way. So I guess I'm hangin' 10.
Many of Ebendorf's papers indicate his importance as a teacher, mentor, and historian of metalsmithing techniques. Photographs, printed material, and teaching files trace his faculty positions at the University of Georgia, State University of New York (SUNY) at New Paltz, and ECU. Rare printed materials also document the many workshops he has led throughout the world, including at the Penland School of Crafts and Haystack Mountain School of Crafts. When Ebendorf applied for the Belk Chair position at ECU in 1998, he gathered several letters of recommendation that spoke to his teaching philosophy. Former student James Bennett wrote, "Robert Ebendorf's ability as a teacher has do to with his faith in the practice of Metal." (Bennett was a student of Ebendorf at the University of Georgia and SUNY, New Paltz. They later taught together at SUNY, New Paltz.) As his teaching notes suggest, he instills this faith in metal by setting a strong example. While he encourages the mastery of skills through repetition, he also nurtures "idea generation," or creating positive conditions in which a student can find one's voice through working with the materials.
In addition to representing aspects of his teaching and art-making, Ebendorf's papers—the correspondence, photographs, and professional files, in particular—refer to his vast network of colleagues, students, and close friends. In so doing, his papers intersect with many other Archives collections, notably the papers of and oral history interviews with his peers at the forefront of contemporary metalsmithing and jewelry, such as L. Brent Kington, J. Fred Woell, Heikki Seppä, Ramona Solberg, and Arline M. Fisch, among others. The conversations among these collections and what they reveal about the field of American craft are here to be explored.
Mary Savig is the curator of manuscripts at the Archives of American Art.
Tags