Ibram Lassaw's Encyclopedia
Blogs across the Smithsonian will give an inside look at the Institution's archival collections and practices during a month long blog-a-thon in celebration of October's American Archives Month. See additional posts from our other participating blogs, as well as related events and resources, on the Smithsonian's Archives Month website.
Denise Lassaw, the daughter of sculptor Ibram Lassaw and Ernestine Lassaw, reflects on a recent addition to her father's papers.
I am looking at the images my father collected and cut from art magazines when he was fifteen. I hold them, one by one, and imagine I am looking through his young eyes. The mass of papers, some crumbling, others still strong and clean, are dated from 1929–1932. I know this because some of them have the dates of auctions and exhibitions. Possibly no one has held them in eighty-three years. Possibly no one has looked through all of them as I am doing since the 1930s. My hands turn black from ancient dust and ink.
In his passion, as he often explained to me, to "own all of art history," Ibram made trips from his family's home on Utica Avenue in Brooklyn to the Forty-Second Street branch of the New York Public Library to read French art magazines and books (he learned French in elementary school while living in Egypt). He would then visit the used book stores on Fourth Avenue where he bought old auction catalogs for a nickel.
Among the thousands of images Lassaw included many examples of each artists work. One finds reproductions of Chagall, an iron weathercock from fifteenth century France, Aztec ruins, Miró, Northwest Indian masks, Persian miniatures, Egyptian goddesses, archaeological sites, the Gateway of Labna, Greek sculpture, several Matisses, Chinese urns, modern pottery, Picasso, the ruins of Pompeii, Rome, the bones of New York skyscrapers as they were growing up, other modern buildings, stone arrow heads, European castles, medieval triptych, and more. There are a few color pictures, but most are black and white, which reminds me that color printing was rare in 1930s art magazines. There was no limit to Ibram's curiosity and inclusiveness of what "art" could be. Among the artists included in the encyclopedia are a number of painters and sculptors Ibram would later know well around Greenwich Village, through the Works Progress Administration, and in the American Abstract Artists group. Years later, his work would share pages in art history books with some of these same artists. Did he have even imagine that as he cut and pasted?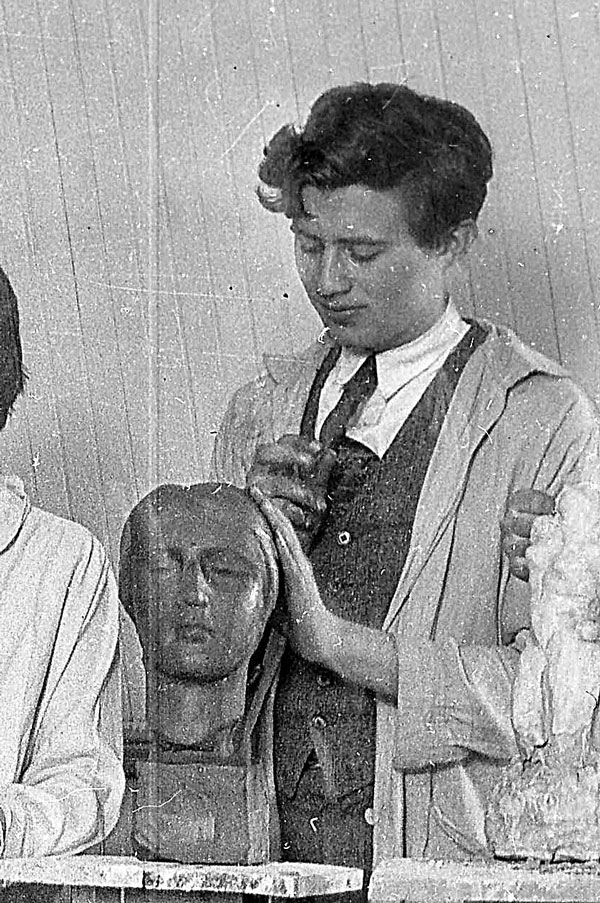 Ibram had a helper to cut and paste. Charlotte Saphier was Ibram's girlfriend from The Clay Club where they studied with Dorothea Denslow. They spent hours working together. Most images are pasted alone in the upper right corner of a page, which are collated alphabetically with other pages and held with brass pins to lock the pages together. Charlotte's hands once held these pages too. I never met her but I am touching the same surface that she touched. When I handle old letters and documents, I have a feeling of intimacy with the writer. Among the art, I find a crumbling page with her handwriting on it. Copied from an art history book, the page discusses Hermes with the Child Dionysus.
One image that wasn't yet pasted in was a Head of Aphrodite. Ibram made his own Head of Aphrodite. He listed the work in his sculpture book: "'Aphrodite' bust, plasteline, destroyed in casting 1927–28." A few years ago, at the SculptureCenter in Queens, which holds the archives of The Clay Club, I discovered a negative of him at age fifteen with a sculpture that could be Aphrodite.
Dorothea Denslow was an energetic, young, classical sculptor who taught a clay class for children at the Brooklyn Children's Museum in the late 1920s. A number of her students "caught" her passion about sculpture and wanted to work on their own. They rented a carriage house at 184 1/2 Brooklyn Avenue and the group began working there. (In the winter, the clay froze hard.) Denslow not only taught modeling, anatomy, armatures and casting, but she imparted a seriousness and professionalism to being a "Sculptor." This is where Ibram got the idea that he could be a sculptor. The Clay Club group grew and matured and in 1930 moved to 4 W. Eighth Street in Manhattan. Young sculptors who participated in later exhibitions there included William Zorach, Blanche Dombek, Cleo Hartwig, Saul Swarz, Peter Grippe, Chaim Gross, Seymour Lipton, Leo Amino, and Isamu Noguchi among others.
All his life, Ibram enjoyed talking about art history. In the 1940s this love, which was shared by fellow artists, caused a ripple in the New York art world; they began meeting in Washington Square Park in warm weather and in cafeterias when it was cold, to discuss and argue about art or complain about their lives as poor artists. Eventually this informal group got a loft of their own and without choosing any name simply became known as The Club or The Artists Club.
My father felt that he was contributing to the evolution of art. He told me that new art does not pop into existence fully formed like Athena from the head of Zeus. It morphs and evolves along with science and the discoveries of new materials that change how people understand the world. He respected the skills and inspirations of artists of the past, but felt no need to repeat what had already been so beautifully done. At The Clay Club, and later at the Beaux Arts Institute where he continued his studies, he mastered the techniques of the past, but copying the past did not interest him. Creating the encyclopedia gave him confidence in his role as an artist. He could speak with some knowledge and do his own work with a vision that imagined the future.
Ibram was proud of his encyclopedia of more than thirty-two volumes. He kept it in a cardboard box which he carried from his parents Brooklyn home to all his studios in Manhattan and then to East Hampton. Over the years a few families of mice called it home, but it was so dense that they never inhabited the interior. In 1988, I transferred it into a large plastic box with a tight lid. As I cleaned and reorganized the studio, I had to move the heavy box many times, and always the question arose: what should I do with it? Looking at it as a mass of old papers, it has questionable value. After all, the images in it are available in better quality reproductions and in color. Its value is not as an art history book rather a result of the efforts that went into its creation and the attempt of a young artist to make all of art history his own.
Ibram died in 2003 and in the process of dismantling my parents lives—the studio, the house, the secret contents of the back shelves of the closets—I have had to allow many mysteries to escape. Even their owners no longer remembered much about them or thought them important. My mother discarded many old letters and drawings from her youth in the months before she died in 2014. My father kept tons of old documents, but never organized them. (I have.) He knew they were valuable as art history, but had no clear plan for them. I will make sure they find a home as the burden of being the caretaker of memories which are not my own was left to me—to carry what I could carry and to save my life by discarding what could not be carried forward.
So, in the case of the encyclopedia, I chose to donate three volumes to the Archives of American Art, to keep three volumes and some loose pages, and to throw the rest away. After so many years of protecting the encyclopedia, it wasn't easy to let those yellowed and crumbling pages tumble into the dumpster at the land fill, but now it is done and the choice cannot be regretted. I have a life to live too.
—Denise Lassaw, 2015 Bellingham, WA.
Denise Lassaw grew up in the heart of the Abstract Expressionist family at a time when artists lived in lofts, the art world was small, and there was little hope of selling art. Lassaw has lived and traveled widely and for more than forty years called Alaska home. She has been the archivist and curator of the Ibram Lassaw Studio since 1988, and among other work is cataloging the art historical documents and photographs created or collected by her parents. Her experience is diverse, working as a laborer on the Trans-Alaskan pipeline, a teacher with the Artist in the Schools program in remote Athabascan and Inuit villages in the Arctic, and as director of the Alaska Tibet Committee. She has published poetry and stories, as well as essays on her father's work, and served as a copy editor for PhD candidates and art historians writing on the subject of the New York School.
Explore more: