Kentucky's Sculptor Enid Yandell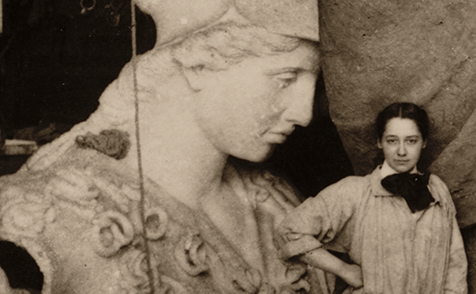 Guest blogger Deborah Pollack summarizes the career of sculptor Enid Yandell based on research in our microfilm collection.
Enid Yandell was born in Louisville, Kentucky, on October 6, 1869 (or 1870, according to some sources).
After studying at the Cincinnati Art Academy in the 1880s and earning a living by designing interiors in Louisville, she took instruction in Paris with Auguste Rodin and Frederick William MacMonnies and domestically with Karl Bitter and Lorado Taft. She soon became a noted sculptor and one of the first women to join the National Sculpture Society.
In 1893, former Kentuckian, Bertha Palmer, director of the Woman's Department at the World's Columbian Exposition in Chicago, called on Yandell to model the caryatids for the Woman's Building. Enid also created a statue of Daniel Boone for the Kentucky Building, which was later cast in bronze and is currently in Louisville's Cherokee Park. Yandell represented to the world her state of Kentucky, southern artists, and women artists as well. A supporter of suffrage, Yandell co-wrote the amusing, feminist memoir Three Girls and a Flat, about sharing an apartment in Chicago during the expo.
Enid Yandell's monumental Pallas Athena, created for the Tennessee Centennial International Exposition held in Nashville in 1897, was awe-inspiring. In keeping with Nashville's nickname, "The Athens of the South," the Fine Arts Building replicated the Parthenon in full scale. It was fitting that the towering goddess Athena stood before the building as if guarding its fine art treasures.
Yandell was only around twenty-seven when she worked on this masterpiece in her Paris studio, illustrated in photographs at Archives of American Art. She copied the statue Pallas de Velletri (Louvre, Paris), found near Rome, Italy, in the eighteenth century, itself a copy of an ancient Greek statue.
An image of the five-foot-seven inch tall Yandell posing before the unfinished Athena was so striking that fair managers used it for an advertisement. After the sculptor completed her arduous work, she threw a celebration held on a platform placed atop the reclining goddess's stomach.
The statue, made of staff—a non-permanent material often used in creating temporary buildings and sculpture for late nineteenth and early twentieth century expositions—was so large that it had to be shipped in sections strapped to the deck of a ship, and made a stop in New Orleans before landing in Nashville. At the exposition Pallas Athena posed, like the Pallas de Velletri version, hieratically, with one arm raised victoriously and the other arm with upturned palm in a gesture of welcome. Perched on a pedestal, it was some forty feet high and reportedly the tallest statue created by a woman sculptor to that date. That a young woman could achieve such a feat no doubt boosted confidence in female fair attendees to excel in their efforts, whether artistic or otherwise. Unfortunately, the sculpture was never cast in bronze and within one year it crumbled into bits.
Yandell went on to create other important works of art, such as Hogan's Fountain in Louisville, portraying a spirited, young Pan; the Carrie Brown Memorial Statue in Providence, Rhode Island; and Five Senses, exhibited at the New York Armory Show in 1913. In a 1915 letter in her papers, sculptor Gutzon Borglum (famous for Mount Rushmore) asked for Yandell's help in carving Stone Mountain near Atlanta, Georgia.
The sculptor hadn't always succeeded in obtaining commissions. Early in Yandell's career, after plotting out a plan for a Louisville Confederate Monument (her father was a medical doctor who treated many Civil War soldiers) the Kentucky Women's Confederate Monument Association received objections from Civil War veterans over the subject matter (the goddess of Victory) and using a female sculptor. The association decided to hire a male sculptor for the job, using the excuse that the architects connected with it rejected Yandell's design. However, a September 20, 1894 letter from the architects to the president of the association brings forth the truth: the architects had in fact accepted Yandell's design and only requested a stronger base.
Benevolent to those in need, Yandell, among other sculptors including Malvina Hoffman, assisted artists and their families as well as orphans affected by World War I. Yandell continued to work for social causes, including with the Red Cross, until she died in 1934.
Enid Yandell's fame has spread internationally, but she will always be known in Kentucky as their home grown sculptor. Her papers reveal just how significant she is in the history of American sculpture.
Deborah C. Pollack is an art dealer, award-winning author, and speaker who lives in Palm Beach, Florida. Her latest book, Visual Art and the Urban Evolution of the New South (University of South Carolina Press) concerns the extraordinary impact of artists and art supporters in six southern cities, Atlanta, Charleston, New Orleans, Louisville, Austin, and Miami from 1865 to the 1950s.