Fiber artist Aram Han Sifunetes recently hosted a workshop in conjunction with our exhibition Artist Teacher Organizer: Yasuo Kuniyoshi in the Archives of American Art. In this blog post, she shares parts of her prepared talk from that event and reflects on issues of American-ness, immigration, and labor. She finds points of similarity between her own experiences and those of artist Yasuo Kuniyoshi.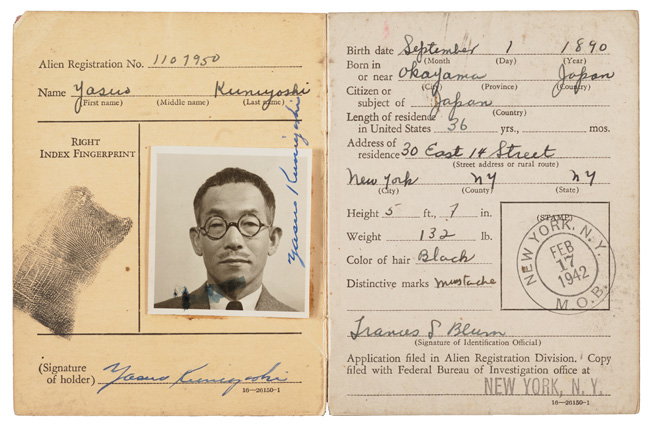 The exhibition Artist Teacher Organizer: Yasuo Kuniyoshi in the Archives of American Art shares the intimate story of Kuniyoshi's experiences as a Japanese-born American artist during the first half of the twentieth century.
Kuniyoshi immigrated to the United States at age sixteen. After learning English, he wanted to return to Japan to become a translator. However, he began to study painting and started his career as an artist, making his home in the United States. During his life he defined himself as an American artist—regardless of citizenship—despite being classified as an "enemy alien" during World War II.
Kuniyoshi made notable contributions to American art with his work, teachings, and organizing for equity. He even worked with the government's Office of War Information during the war to create artworks indicting Japanese atrocities. Though touted as one of the most esteemed artists of his time, he was never able to attain his United States citizenship.
This fact leads me to wonder:
 Why was Kuniyoshi never granted US citizenship?
 What does it mean to be a US citizen?
 What does it mean to be American?
 At what point do we, immigrants, become Americans?
  Is it how long we have lived in the United States?
  How well we can speak English?
  Is it where we call home?
 How do we prove our American-ness?
 How do we prove we are worthy of being citizens?
I have been addressing some of these questions in my project, US Citizenship Test Sampler.
The word sampler derives from the Old French word essamplaire, which means to be copied or imitated. The earliest samplers started out as a collection of patterns and stitches that the sampler maker wanted to refer back to. By the sixteenth century, with the growing accessibility of printed patterns in Europe, these earlier reference samplers no longer retained their original purpose.
The tradition of European sampler making traveled to Colonial America. Samplers were used in the United States during the eighteenth and nineteenth centuries and played multi-functional social roles. Schoolmistresses used samplers to train small children as young as five or six to embroider in order to mark their initials on clothing and household linens. This also prepared young girls for their imminent responsibility for sewing clothing and linens for their future families. To create these samplers, the children learned to embroider numbers and the alphabet. Thus, sampler making also became a tool to learn basic educational concepts.
Some girls, generally from white wealthy families, were able to continue their education. The girls who were fortunate enough to go to boarding schools, created a second sampler in their adolescent years. These samplers were different from the initial number and al