Fiber artist Aram Han Sifunetes recently hosted a workshop in conjunction with our exhibition Artist Teacher Organizer: Yasuo Kuniyoshi in the Archives of American Art. In this blog post, she shares parts of her prepared talk from that event and reflects on issues of American-ness, immigration, and labor. She finds points of similarity between her own experiences and those of artist Yasuo Kuniyoshi.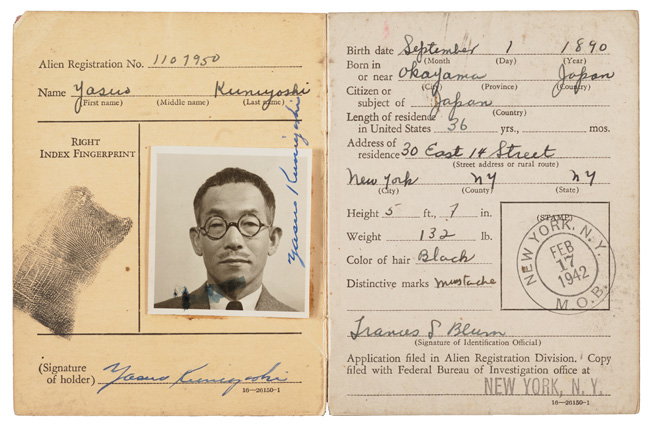 The exhibition Artist Teacher Organizer: Yasuo Kuniyoshi in the Archives of American Art shares the intimate story of Kuniyoshi's experiences as a Japanese-born American artist during the first half of the twentieth century.
Kuniyoshi immigrated to the United States at age sixteen. After learning English, he wanted to return to Japan to become a translator. However, he began to study painting and started his career as an artist, making his home in the United States. During his life he defined himself as an American artist—regardless of citizenship—despite being classified as an "enemy alien" during World War II.
Kuniyoshi made notable contributions to American art with his work, teachings, and organizing for equity. He even worked with the government's Office of War Information during the war to create artworks indicting Japanese atrocities. Though touted as one of the most esteemed artists of his time, he was never able to attain his United States citizenship.
This fact leads me to wonder:
 Why was Kuniyoshi never granted US citizenship?
 What does it mean to be a US citizen?
 What does it mean to be American?
 At what point do we, immigrants, become Americans?
  Is it how long we have lived in the United States?
  How well we can speak English?
  Is it where we call home?
 How do we prove our American-ness?
 How do we prove we are worthy of being citizens?
I have been addressing some of these questions in my project, US Citizenship Test Sampler.
The word sampler derives from the Old French word essamplaire, which means to be copied or imitated. The earliest samplers started out as a collection of patterns and stitches that the sampler maker wanted to refer back to. By the sixteenth century, with the growing accessibility of printed patterns in Europe, these earlier reference samplers no longer retained their original purpose.
The tradition of European sampler making traveled to Colonial America. Samplers were used in the United States during the eighteenth and nineteenth centuries and played multi-functional social roles. Schoolmistresses used samplers to train small children as young as five or six to embroider in order to mark their initials on clothing and household linens. This also prepared young girls for their imminent responsibility for sewing clothing and linens for their future families. To create these samplers, the children learned to embroider numbers and the alphabet. Thus, sampler making also became a tool to learn basic educational concepts.
Some girls, generally from white wealthy families, were able to continue their education. The girls who were fortunate enough to go to boarding schools, created a second sampler in their adolescent years. These samplers were different from the initial number and alphabet samplers, which had an overall standard structure—they were generally more decorative and pictorial and oftentimes depicted religious iconography, functioning as a signifier of the accomplishments of a well-mannered, young lady. By dedicating herself to create such a time-consuming and labored sampler, she was proving her obedience, patience, and skillfulness in woman's work, thus showcasing her worth as a wife.
My project, US Citizenship Test Sampler responds to traditional samplers. I am stitching the 100 study civics questions and answers of the US Naturalization Test, provided by the Department of Homeland Security's U.S. Citizenship and Immigration Services (USCIS). The embroidery is being made on an 8.5 inches x approximately 25 feet piece of linen with cotton thread. The impetus for the project was born from practical motivations: I am not a United States citizen and have to learn the test material for the naturalization test. Thus, like a traditional alphabet and number sampler, I am using needlework as an educational tool to gain and demonstrate knowledge and understanding of the fundamentals of the history, the principles, and the form of government of the United States.
This project follows five guidelines:
1. To sell the sampler for the cost of applying for naturalization—$680.
"Filing Fee. . .$595 (Add $85 biometric fee for a total of $680, where applicable. See form instructions for payment details.)"
 —N-400, Application for Naturalization
2. To log my hours of stitching the sampler.
Because my sampler will ultimately be sold for $680 and the hours required to finish the work will be tremendous, the value of each hour of labor will be nominal.
I have already invested more than 250 hours and I'm only on question fifty-three. If the sampler sold for $680 now, I'd be making less than $3 an hour. I predict that when I am finished, I'll be making around $1 per hour. This gesture speaks to how hand and immigrant labor are undervalued in our society.
3. To apply for citizenship only if my completed sampler sells.
By making my application for citizenship contingent on the sale of the sampler, I let others decide if I've proven my worthiness of becoming a citizen.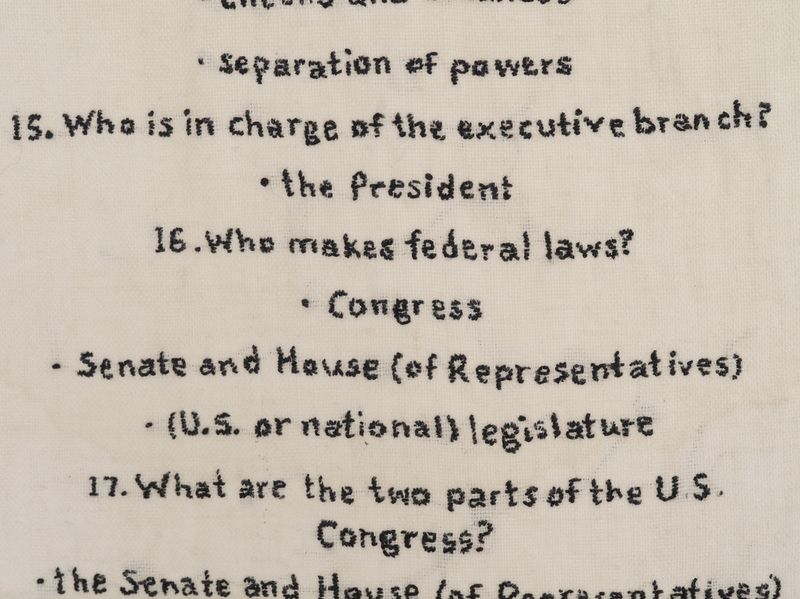 4. To engage other non-citizens to each stitch one of the civic questions and answers.
Participants are encouraged to choose one question that they could not previously answer. In this way, the process remains functional and educational.
Each sampler is created on a piece of linen measuring 8.5 x 11 inches. On the top right hand corner of the sampler, the non-citizen sampler makers mark their name, and age, which reflects the tradition where students embroidered this basic information onto their samplers. I want the individual identities of each non-citizen to be recognized.
So far I have eighty samplers. The sampler makers have also been taking the samplers home and making it their own. I only ask participants to stitch their question and answer. However, my first participant finished and asked me if he could add more because he didn't think it would sell for $680. Since then, many sampler makers have been adding pictorial elements of their own choosing and making judgments of their own invested labor.
5. To exhibit the samplers. If the works sell, to give $680 to the makers of the sold samplers.
The samplers are exhibited together to display the collective value of this community of non-citizens. All samplers are available for sale for $680 each.
The exhibition attendees get to decide which non-citizen sampler makers have proven their worthiness of citizenship. Thus, rewarding them by paying them the $680 needed to pay for the application fee.
In some instances I work one-on-one with participants. Based on the individual and their educational needs to pass the naturalization test, I have become a private tutor for both practicing English and studying civics questions.
I have also been facilitating citizenship-ready workshops at non-profit organizations, community centers, and schools in Chicago, IL; Modesto, CA; and Oakland, CA bringing non-citizen immigrants together to learn the citizenship test material through the act of sewing. With an invitation from the Archives of American Art I also did a workshop in the Kogod Courtyard in the Smithsonian's Donald W. Reynolds Center for American Art and Portraiture.
The sampler workshops organically become grassroots round table discussions addressing immigrant rights, labor politics, and everyday concerns of intergenerational and multiethnic people. These roundtables are ephemeral snapshots of the realities of immigrant life in the United States. This project aims to create a living archive of these people and their experiences, and to provide them with much needed resources and information.
The politics of the project exist simultaneously as patriotic and as political dissent and critique. Some see the act of non-citizens studying American history and government through a traditional American craft as highly patriotic. Others interpret this project as politically confrontational, where the act of stitching these samplers by non-citizens represents a political reappropriation of a text that is inherently condescending to the immigrant community.
The un-Americanness in this project lies in utilizing dominant patriotic and nationalistic practices and language in order to subvert and camouflage dissent. At the core of this project is a critique of the U.S. immigration and naturalizations laws, and the vulnerability of immigrants navigating their way through the process.
For non-citizens this camouflage has been an operation for survival.As individuals and as a community, we (non-citizens) do not have the freedom to voice our protest of the conditions put upon us as immigrants without fear of reprisal. As non-citizens, our status is still precarious, just as it was for previous generations of immigrants.
With the bombing of Pearl Harbor, Yasuo Kuniyoshi's status changed from legal resident to enemy alien. On December 11, 1941, he wrote to his friend George Biddle, "A few short days has changed my status in this country, although I myself have not changed at all."
My own sampler and those of the eighty participants are up for sale and touring in exhibitions around the country. Once I finish my own sampler and if it sells, I will apply for citizenship. I will become a citizen in order to dissent, challenge the government, and embody a more effective voice without fear of reprisal, which may seem un-American to some but to me it is the most patriotic act.
Aram Han Sifuentes is a social practice fiber artist and works closely with Chicago based non-profit organizations, community centers, and public schools to facilitate workshops for immigrant communities. She has exhibited her work nationally and internationally. Her solo exhibitions include "A Mend" at Hollister Gallery in Wellesley, MA, and "73,000 waiting" at Chicago Artists Coalition in Chicago, IL in October 2015. Her workshops and performances include "Immigrant Takeover" at the Center for Craft, Creativity and Design in Ashville, NC. She is a City of Chicago's DCASE grant and Puffin Foundation Ltd grant recipient. Han earned her BA in art and Latin American Studies from the University of California, Berkeley in 2008, and her MFA in Fiber and Material Studies from the School of the Art Institute of Chicago in 2013. She is currently a lecturer at the School of the Art Institute of Chicago.