We continue to celebrate Asian Pacific American Heritage Month with a post by archivist Rihoko Ueno, who looks at one of Miné Okubo's major artistic subjects: the cat.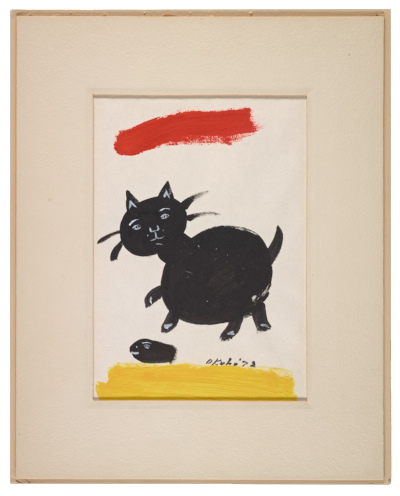 Miné Okubo was an artist, best known for her book Citizen 13660 about her experiences in an internment camp during World War II. Creativity ran in her family. In addition to Miné, two of her other siblings also became artists. They probably got their artistic talents from their mother, Miejoko Okubo (née Kato), who was a skilled calligrapher. Miejoko Kato was born in Japan and graduated from the Tokyo Art Institute where she studied painting and calligraphy. In 1903, Kato was sent to exhibit her artwork and represent Japan at the St. Louis Exposition of Arts and Crafts. Kato later immigrated to the United States where she met her husband, Tometsugu Okubo, a gardener and landscaper who had been a scholar in Japan. Miné Okubo was the fourth of their seven children.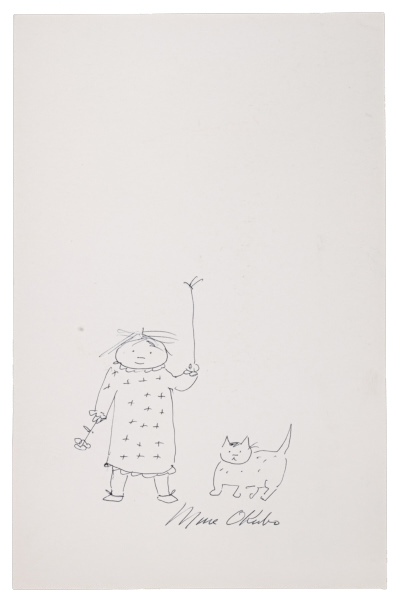 Miejoko Okubo recognized her daughter's artistic talents and encouraged her from an early age. According to one anecdote, Okubo's mother gave her the assignment of painting a different cat every day with the stipulation that she portray each cat's personality as well as appearance.
These exercises might have fostered a lifelong affection for cats, which are often featured in Okubo's drawings and sketches. Mother and Cat (1941), painted shortly after her mother's death, is among the collections at Oakland Museum of California.
Miné Okubo was a self-proclaimed "misfit" and those who knew her described her as witty, cantankerous, creative, and playful. While she remains most famous for her internment camp drawings, her body of work displays a tremendous range of formats and styles that reflects her influences from Fernand Léger to Diego Rivera, and from cave paintings to Japanese folk art, all while maintaining her distinct point of view.
The exhibition catalog for Miné Okubo: An American Experience refers to the cat as "the perennial blithe spirit" that inhabits her work. Whatever it may have represented, the cat certainly appears to embody Okubo's mischievousness and tenacity.
Rihoko Ueno is a processing archivist at the Archives of American Art.