Elana Hain, Smithsonian American Art Museum intern, and Mary Savig, curator of manuscripts at the Archives of American Art, explore perspectives of the life of Yasuo Kuniyoshi through oral history interviews with those who knew him. "Artist Teacher Organizer: Yasuo Kuniyoshi in the Archives of American Art" is on view in the Lawrence A. Fleishman Gallery through July 10, 2015.
The exhibition "Artist Teacher Organizer: Yasuo Kunioshi in the Archives of American Art" sheds light on the multi-faceted life of Yasuo Kuniyoshi. His personal writings and letters articulate his principled approaches to art, teaching, and activism.
Likewise, photographs and rare printed material document the artist at work in his studio and in classrooms, as well as enjoying social events with his wide circle of friends.
Kuniyoshi's contemporaries admired and respected his contributions to American art. In oral history interviews conducted by the Archives of American Art, many of his colleagues and students spoke about him.
Those who knew Kuniyoshi well described him as a profoundly talented artist with a remarkable sense of determination, integrity, and awareness, as well as a congenial person with a passion for life. These anecdotes, recounted as part of each speaker's life story, offer intimate insight to aspects of Kuniyoshi's persona not otherwise captured on paper.
George Biddle
George Biddle, a prominent muralist and champion of social art, was part of Kuniyoshi's circle in New York. The two friends often exchanged ideas about technique and other artistic concerns. Biddle speaks on the influence Kuniyoshi's conscientious habits as a painter.
Play it: Audio excerpt (1:11)
Learn more: Oral history interview with George Biddle, 1963
BIDDLE: I don't think of any artist who had more scrupulous integrity about every flick in his work. Everything in his canvas had to be perfect. Every little bit of paint, every brush stroke; and in little things he would say to me about my work, I could realize how acute he was. . . . His own superlatively sophisticated finish in his own work was never just finished, because that would shock him. It was left unfinished at just the proper moment. Complete sophistication of looseness and superb suavity. In little appreciative remarks he made about some of my own work, little details that I was almost unaware of. He was a very penetrating observer. He missed nothing.
Edith Halpert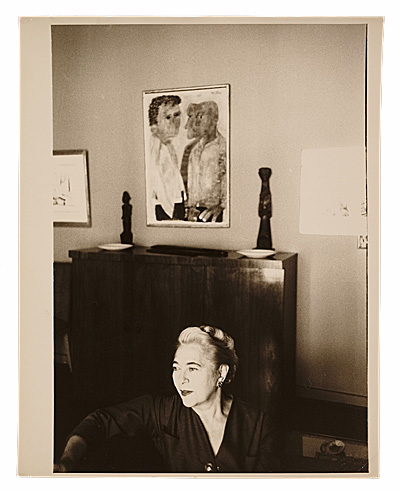 Edith Halpert, an enterprising New York City dealer of modern art, recognized Kuniyoshi's talent early in his career. She began representing him at her Downtown Gallery in 1926 and exhibited his work often, alongside that of other notable artists such as Stuart Davis, Charles Sheeler, and Max Weber. According to Halpert, Kuniyoshi's success was due to not only his skill but also to his outgoing personality, lighthearted spirit, and unfailing determination and persistence.
Play it: Audio excerpt (0:20)
Learn more: Oral history interview with Edith Gregor Halpert, 1962-1963
HALPERT: I'd talk about the shows I was planning and so on, and this was a very business like meeting, and then I'd say, "Any gripes?" And Kuniyoshi would always get up and say, "Let's have more parties." That was his gripe. He just wanted more parties.
Play it: Audio excerpt (1:20)
Learn more: Oral history interview with Edith Gregor Halpert, 1962-1963
HALPERT: And then he did these black and whites. He said, "You know, Edith, some time I dry up." He said, "No ideas. . . . Nothing happens. Nothing inside. Nothing here and nothing here"—pointing to his innards and his head and putting out his hands—"Nothing!" I said, "You're out of your mind. Look at these wonderful things that you do!" He said, "Then I try new challenge. I change medium. I fight with material, and then out come ideas." Well, every artist dries up, there's no question about it. In every phase of our lives we have that. But with an artist, a creative person, it's a difficult situation. Kuniyoshi knew that he had reached that point, so he found a new challenge, a new material that involved himself. Then the ideas came to fill his challenge.
Andrée Ruellan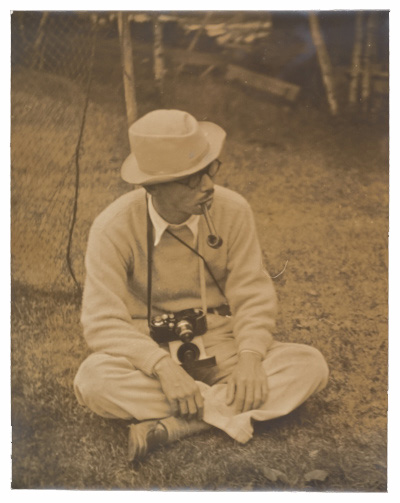 Though he was best-known as a painter, Kuniyoshi was also an enthusiastic photographer. Andrée Ruellan, a painter and printmaker, spent time with Kuniyoshi in Paris during the 1920s, and later in Woodstock, New York, a notable artists'colony. Ruellan shares a story of how Kuniyoshi photographed her cat.
Play it: Audio excerpt (0:56)
Learn more: Oral history interview with Andree Ruellan, 1990 January 27–1991 July 22
KACHUR [interviewer]: Did you admire Kuniyoshi's work?

RUELLAN: Very much. He had a beautiful exhibition at Bard a few years back, and it included a lot of photographs, as well as the paintings and prints. It was very impressive.

KACHUR: Did you ever see him taking photos?

RUELLAN: Yes. As a matter of fact, he did. . . . We had a cat that was pure gray with very high legs—looked like an Egyptian cat. Not a touch of white. All gray—And Jack showed how he jumped, how high he could jump, and Yas said, "Let me take a photograph." So he did. He photographed him in mid-air.

KACHUR: Jumping up? Really?

RUELLAN: It was really quite lovely.

KACHUR: A Kuniyoshi portrait of your cat. [laughs]
Julian Levi
Painter Julian Levi was another one of Kuniyoshi's New York friends. Their lives intersected in many ways: both were represented by Edith Halpert, they taught together at the Art Students League, and often collaborated on organizational activities, including the small association of artists called An American Group, Inc. They also spent much of their leisure time visiting movie theaters together, an activity fondly recalled by Levi.
Play it: Audio excerpt (0:55)
Learn more: Oral history interview with Julian E. Levi, 1968 October–December
LEVI: We went to the movies about three or four times a week when Kuniyoshi was alive because he was crazy about movies. But he didn't care what he saw. If he saw the same film two or three times it didn't matter as long as he had some little images flickering in front of his eyes. And he wanted to go every night. And really we'd meet two or three times a week at least and have dinner together, the four of us, and go to the movies here in the neighborhood. And after his death I don't think I've seen five movies in that fifteen years.
Katherine Schmidt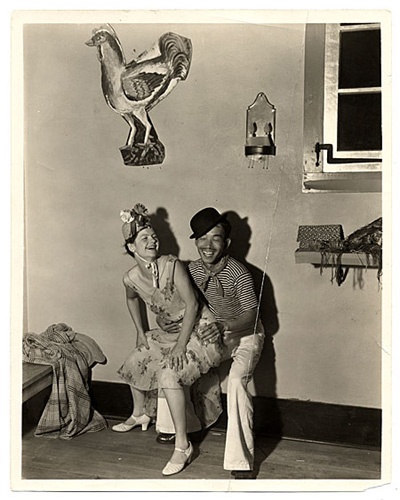 Kuniyoshi's charm ensured that his relationships of all kinds were strong and long-lasting. Even after their divorce, he and his first wife, Katherine Schmidt, remained close friends. Schmidt's recollection of her last moments with Kuniyoshi reveals how the artist retained his characteristic flair right up until the very end of his life.
Play it: Audio excerpt (1:55)
Learn more: Oral history interview with Katherine Schmidt, 1969 December 8–15
SCHMIDT: He was a very talented person. Also he never did lose—and that I think was the difficulty between us—the fundamental Japanese point of view. Although he had become so Americanized he became more American than some Americans, you know, slang and dirty stories, and he always got dirty stories a little wrong [laughs]. It didn't seem to make any difference to him. You know, we were close to him until he died. . . . While he was dying I went to the hospital every day. He wanted me to be there; I felt that he did. And also I felt that I was helpful to Sara, I mean to sit through that long, awful business. There was Sara, Karl Fortess and I. And often they would come back and have dinner with us at night. It was a grueling business because, you know, that kind of cancer is painful and, well, it's long-lasting. It was miserable and just before he died . . . . He got the nurse to bring out a pint of whiskey and he had a tablespoonful and we all had a drink with him. He said goodbye to us.

CUMMINGS [interviewer]: That's fantastic.

SCHMIDT: Well, it was, in a way.

CUMMINGS: Everything seems to have been done with a certain flair or style.

SCHMIDT: Well, he was a bad boy, too. He was very good in many ways.
The exhibition "Artist Teacher Organizer: Yasuo Kuniyoshi in the Archives of American Art" is on view through July 10, 2015 in the Lawrence A. Fleischman Gallery at the Donald W. Reynolds Center for American Art and Portraiture (8th and F Streets NW, Washington, D.C.). Admission is free

Elana Hain was a curatorial intern at the Smithsonian American Art Museum from 2014 to 2015. She holds a bachelor's degree in Art History and European Studies from the University of North Carolina-Chapel Hill, and will be pursuing a master's in the History of Art & Visual Culture at the University of Oxford beginning in the fall of 2015.
Mary Savig is the curator of manuscripts at the Archives of American Art.