The Ivan C. Karp papers and OK Harris Works of Art gallery records, 1960–2014, recently donated to the Archives of American Art, are highlighted here by deputy director Liza Kirwin and archivist Cathy Gaines.
The Archives of American Art recently acquired an extraordinary collection—the records and personal papers of Ivan C. Karp, who founded OK Harris Works of Art in New York in 1969. His papers include the OK Harris Gallery Records.
OK Harris Works of Art, along with the Paula Cooper Gallery and 112 Greene Street, was one of the first galleries to open in the community south of Houston Street in Manhattan, giving rise to the SoHo arts district. And while OK Harris was at forefront of the photorealist movement, the gallery exhibited a wide range of new art from John S. Fawcett's art comics to Jeff Russell's works of sprayed molten steel on canvas.
Ivan C. Karp (1926–2012), the founder of OK Harris Works of Art, was co-director of the Hansa Gallery from 1956 to 1958, and established a reputation in the art world while co-director of the Leo Castelli Gallery from 1959 to 1969. The art world was small then. In a letter to Deborah Gimelson of Art & Auction magazine Karp wrote, "I worked with Castelli for ten years during his gallery's coming of age. There was never for an instant a theory of creating an 'art market.' We mounted shows and hoped for the best. Among the loyalists and allies were eight collectors, two museums, two critics and one magazine."
Karp was an early champion of artists such as Andy Warhol, Roy Lichtenstein, Robert Rauschenberg, John Chamberlain, Tom Wesselmann, and Claes Oldenburg. While the Leo Castelli Gallery was closed for summer vacations in 1963 and 1964, Karp ran his own contemporary art gallery, OK Harris, in Provincetown, Massachusetts. When Karp opened OK Harris Works of Art in SoHo, in his office he displayed a portrait of a bearded man titled "Oscar Klondike Harris." In addition to being responsible for difficult decisions, Mr. Harris also was honored at gallery parties, rock hops, and the like.
OK Harris Works of Art, first located at 469 West Broadway and later at 383 West Broadway, was a 10,000 square foot ground-floor space where as many as six concurrent solo exhibitions were presented every six weeks. The goal was "to exhibit the broadest spectrum of the most adventuresome art being offered" and the focus was on emerging artists, many of them unknown. Duane Hanson, Deborah Butterfield, Manny Farber, Richard Pettibone, Robert Cottingham, Robert Bechtle, Marilyn Levine, Nancy Rubins, Malcolm Morley, Luis Jiminez, Jake Berthot, Jack Goldstein, Porfirio DiDonna, and Al Souza found early and sustained support through OK Harris Works of Art. Many of the artists developed deep and lasting friendships with Ivan Karp and his wife Marilynn and those relationships are well documented in the records.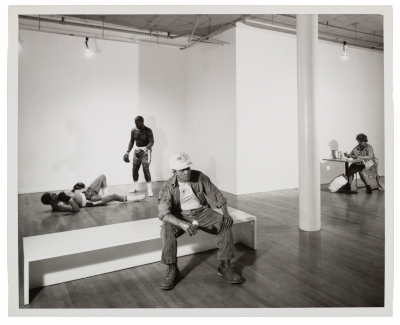 Karp was a decisive advocate. In 1987 he wrote a forceful letter to Thomas N. Armstrong, III, then director of the Whitney Museum of American Art, about the Whitney Biennial, voicing his concern that OK Harris' artists had been overlooked for fourteen years. He schooled Armstrong on the significance of the gallery: "O.K. Harris is secure in its conviction that it is the leading gallery of contemporary art in the country. It mounts over forty splendid exhibitions every year and it functions, for its extensive audience, much like a museum. The gallery does not require the acclamation of the arts 'establishment' for its signature contribution to the fine arts culture. It is indeed, its own 'establishment.' But there are many among our sixty-eight artists who have expressed dismay at their exclusion from the traditional recognition afforded by the Biennial. And it is on their behalf that we seek an explanation for their consistent neglect."
Ivan Karp was a self-proclaimed adventurer. In a 1963 oral history interview with Richard Brown Baker, he noted, "my enjoyment in being in the art gallery activity was to see new work, to experience it very deeply and to seek it out. . . the pleasure was, of course, to see new artists coming in with their work and visiting various studios, and seeing the emerging talent of the time."
His letters and notes are funny and self-effacing, as well as sharply intellectual. He was frequently invited to the annual conference of the Young Presidents' Organization, a network of business leaders. In a note to the YPO, he described himself as "a high school dropout, an egghead Socialist, a gross sensualist, an atheist, a Mets and Jets fan, a heavy cigar smoker who never exercises, the president of a wine and food society, the titular mayor of Soho, founder of the National Anti-Tennis League, a world-class poker and craps player and an outspoken critic of heavy defense spending; in other words—almost everything the YPO does not stand for."
The records measure 80.3 linear feet, dating from 1960 to 2014. There are exhibition files, artists' files, printed material, and photographs of works of art and exhibition installations. Also included are administrative files, prints by OK Harris artists, business and personal correspondence, as well as photocopies of thirty-nine journals that Karp kept, spanning sixty-two years. Of special interest are the many illustrated letters from artist friends to Ivan and Marilynn, as well as comprehensive photo documentation of exhibitions.
In the same note to the YPO, Ivan Karp described his wife Marilynn as "a sculptor and a Doctor of Art History at N.Y.U. and presently senior professor and chairman of the Art Department. She is also beautiful, the mother of two children, one [of] the best haute cuisine cooks in the country and one of the finest people in the world today." At his request she became gallery director after his death in 2012. She ran the business with gallery staff including Ivan's oldest son, Ethan. We are grateful to Marilynn Karp for her gift to the Archives of American Art.

Liza Kirwin is the Deputy Director of the Archives of American Art.
Cathy Gaines is an Archivist in the Archives of American Art's New York Research Center.

Explore more: