Artists on Diaries: Sol LeWitt's Postcards
This is the next installment in the Artists on Diaries series curated by artist Mary Temple, in which guest authors will comment on contemporary diary practices.
— Archives of American Art Blog editors
In Charles Green Shaw's diary from 1963–64 in the exhibit, A Day in the Life: Artists' Diaries from the Archives of American Art, the artist records detailed but succinct accounts of events throughout the day. These short declarative sentences state the time at which he awoke in the morning, what he read, whom he saw and what work he accomplished in the studio.
At nearly the same time, beginning in 1964, a young Japanese artist, On Kawara, began using the same sort of short diaristic declarations as the basis of his paintings and works on paper. Kawara painted the day's date in white letters and numbers on monochrome canvases, (the Today series); recorded the time he arose on postcards, which he mailed to friends, (the I Got Up series); and sent telegrams to friends, (the I Am Still Alive series). These and the other serial works made throughout his life give us the simple facts of Kawara's existence. Writer and curator Jeff Bergman juxtaposes the I Got Up series with the postcards of Kawara's good friend, artist Sol LeWitt, who also used postcard missives as a type of daily record.
— Mary Temple, Artists on Diaries series curator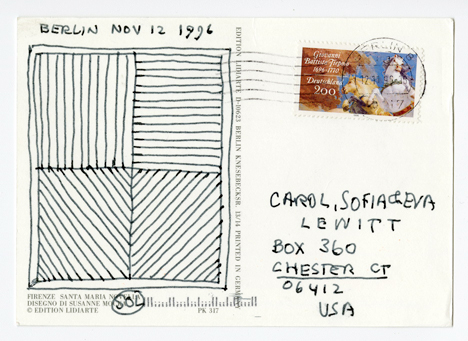 When Mary Temple kindly included me in this project, the first two artists that came to mind were Sol LeWitt and On Kawara. Currently the subject of a retrospective at the Guggenheim Museum, Kawara cataloged his days in paintings and postcards. He traveled and typed out the communication I GOT UP AT (insert time) on postcards and sent telegrams reminding people I AM STILL ALIVE. He sent his postcard diary to friends and curators. Sol LeWitt was one of these friends.
LeWitt created a more nuanced body of correspondence that could easily be viewed as a diary. He cataloged project ideas, sent love notes, and grand encouragements this way. He wrote letters to be sure, but postcards were a favored method of conveying his ideas. Kawara's motives were to create art out of correspondence, whereas LeWitt created correspondence that often included some art. The notoriously generous artist shared his art and ideas with people all over the globe.
LeWitt had no intention of becoming the spokesperson for an art movement, yet his "Paragraphs on Conceptual Art" (published in Artforum in 1967) became a primary statement LeWitt rarely wrote publicly after that and instead used his words to communicate large ideas in smaller ways, often through direct correspondence.
Sometimes, the artist chose to make the art that he was working on as a quick sketch, to share with a friend. Many instances of his lines in four directions, a sort of shorthand for the most pure expression of his many years of projects, appears rather than text to friends and loved ones. To his wife and daughters he sent gouaches; beautiful little paintings that would endure the rigors of the postal system and arrive handled yet still conveying their message.
One of the great friends of Sol's life was the artist Eva Hesse. Converging Lines: Eva Hesse and Sol LeWitt, a recent exhibition at the Blanton Art Museum, documented their productive conversation in art and words. LeWitt wrote many postcards to Hesse, insightfully explored in the catalog by the show's curator Veronica Roberts. (Indeed, what other exhibition catalog has full color reproductions of postcards). In a postcard dated April 19, 1970, LeWitt writes, "We just went to the Rock Garden here 'Ryonji.' It is one of the great works of art of all time. *not pictured" Sharing our excitement about a place on a postcard is unremarkable, but his constant dispatches filled with news and encouragement provided a glimpse into the man and his ideas.
LeWitt wasn't a traditional diarist. He sent his words out to his friends and loved ones, his collaborators, and employers to share his excitement about his many projects and the places they took him. Rather than a diary, LeWitt recorded his history to the benefit of others.
Jeff Bergman is the Associate Director at Pace Prints in Manhattan and as an independent curator. He earned his BA from Hampshire College where he studied Art History and Theory. He writes a weekly art newsletter called Atlas.