Artists on Diaries: Traveling in Place
This is the next installment in the Artists on Diaries series curated by artist Mary Temple, in which guest authors will comment on contemporary diary practices.
— Archives of American Art Blog editors
Bernarda Bryson Shahn's appointment book in the show A Day in the Life: Artists' Diaries from the Archives of American Art, is filled with events. None of the entries are simple reminders of upcoming appointments—nearly every word in the book is adorned, embellished, or festooned in some manner. Throughout, the artist consistently experiments with words as form, pattern, and color. Her notes are incorporated into observational drawings, while experimental fonts appear and reappear every few pages.
Recently, Sarah Schmerler told me about a series of diary/notebooks she's been making on the subways during her commutes through NYC. The way she integrates overheard snippets of conversations into the train drawings brought to mind Shahn's approach to text and images. Indeed, Schmerler makes shapes of some words, while breaking them down into fields of dashes and marks in other places—energetically translating the chaos of the subway into integrated pages.
— Mary Temple, Artists on Diaries series curator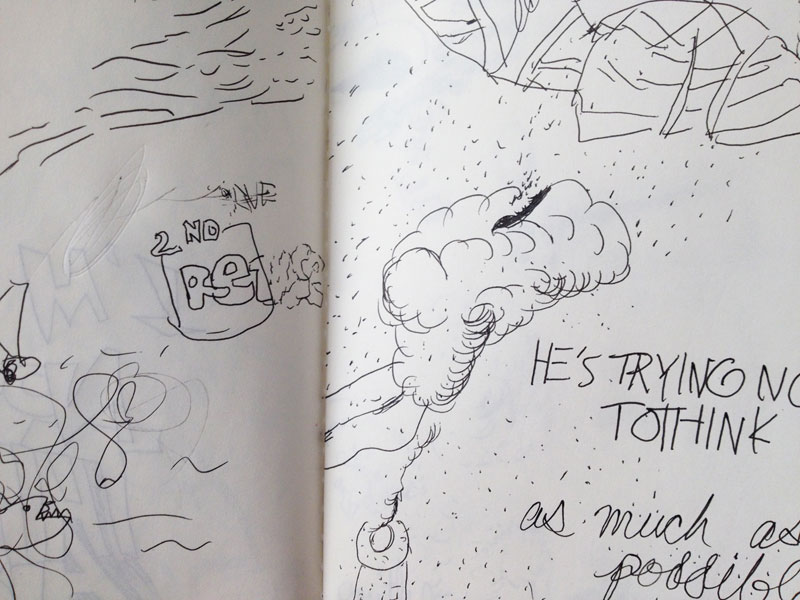 Most people in the art world think of me as a critic and journalist (I earned my living for about twenty years writing exhibition reviews and features for magazines and newspapers), so they are often surprised to learn that, in my most private artistic life, I'm a very different sort of "Journal-ist": You can find me on the subway writing and drawing in journals most every day I ride. It's a vulnerable feeling, riding the trains and openly working, but I get pretty used to it. In the past, thousands of people read my by-line but didn't know my face—sometimes, I'd even see a review I'd written for TimeOut lying on the floor of the subway. Now, they see my face, but don't know what I'm writing. I find that full–circuit "loop" strange, and sort of empowering. Like I'm a flaneur to the fullest, and my connection to the City is complete.
In order to keep the notebook drawings I do for myself as artist completely separate and distinct from the note–taking I do as a critic, I restrict myself to working only in Moleskine notebooks of uniform size (8.25" x 5"), and use only a black Pentel 007 fine point office pen. This—my art journals—is the writing I do for myself, in order to listen to the world. My lines are sometimes spidery, or sometimes strong; they come to me automatically, and I don't like to overthink them. I write words but consider them drawing, and sometimes the other way around. I respond a lot to graffiti and signage; I overhear what the other passengers say and let it merge with my own inner dialogue. I call this the visual and aural "frottage" of my surround. (Later, I exhibit the notebooks in ziplock bags because I don't want the individual pages to be thought of as too "precious.")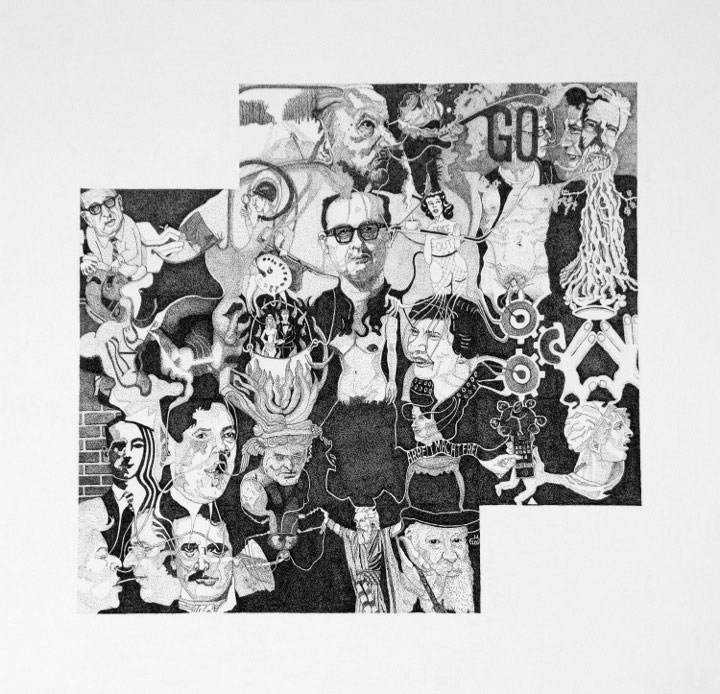 Martin Wilner, who shows at Sperone Westwater and is a close friend, has inspired and encouraged me. Wilner not only works in Moleskine books on the subway, he also does a calendar-based project called "Making History." In January of 2013, he invited me to contribute to its content, and so, for every day of that month, I emailed him something about my life.
If you look closely into the entry for the 17th, my late mother's birthday, you can see her face depicted there. Seeing it gives me the same shivery, "full-circuit" feeling I get sometimes while working quietly on the train as a flaneur.
The reason why I work in this diaristic way comes out of my Jewish roots, as odd as that may sound. My late father was from Eastern Europe; he moved to Leipzig around the time Hitler came to power and got out just barely in time. Most of his family didn't make it. A learned man in torah and talmud, he used to tell me that our identity as Jews wasn't dependent so much on having a solid place under our feet as on having an awareness of the cycles of ritual, and of the law. "We are a calendrical people, not a geographical people," he liked to say, and that pretty much burrowed its way into my brain, artistically speaking. I'm always more comfortable with being itinerant and in motion in my projects, and with using the time of day or the time of year as a way of orienting my own creative compass.
Sarah Schmerler (B.A. Vassar; M.F.A. Pratt Institute) has been published in numerous venues, including TimeOut NY, Art in America, The New York Times, ARTNews, The WG News + Arts, The Village Voice, Photograph, and Glamour. She has curated exhibitions at OUTLET Fine Art, Norte Maar, Pocket Utopia, and Governors Island, and her own work has been exhibited at the Robert Blackburn Gallery, OUTLET Fine Art, and the Abrazo Interno Gallery. Schmerler specializes in teaching artists how to write about themselves, and has lectured at Yale, Pratt Institute, Montclair State University, Parsons and The New School, and SUNY New Paltz. She maintains a private art-writing consultancy.

The exhibition A Day in the Life: Artists' Diaries from the Archives of American Art is on view through February 28, 2015 in the Lawrence A. Fleischman Gallery at the Donald W. Reynolds Center for American Art and Portraiture (8th and F Streets NW, Washington, D.C.). Admission is free.