Artists on Diaries: Drawing, writing, thinking
This is the next installment in the Artists on Diaries series curated by artist Mary Temple, in which guest authors will comment on contemporary diary practices.
— Archives of American Art Blog editors
In his 1946 diary, Joseph Cornell utilized an advertisement for a bedside lamp that he'd clipped from a publication to evoke the night of dreams he'd had the previous evening (May 16th). The way he communicated the intensity of the dreams, and the sense of the day that followed, underscore the fact that all his experiences were interwoven into his work.
Memories, thoughts, emotions, and even dreams comprise the mysterious beauty of a Cornell. "Many wonderful visions of the night have slipped away..." In the margin he added, "Friday succession of images, warm, comforting, friendly." When I asked artist Dawn Clements to talk about her work, she mentioned how much she related to Cornell's layering of art and life.
Clements, who is best known for her large scale ink drawings of interiors, notices particular moments and records them through drawing and note-taking. I was thinking of a drawing I'd recently seen in her studio, a study of blooming peonies. She began the drawing when the flowers were fresh and lively, working tirelessly to capture the essence of the blooms.
Through the hours and days Clements worked to portray the peonies, the blossoms began to wilt and sag, finally falling from the stems. This progression is represented in a single drawing—with painstaking faithfulness. It is a diary of particular moments that would have otherwise slipped away. Clements also makes smaller drawings that she folds and keeps with her when she travels, further chronicling all that surrounds her. She sees these as her most diaristic work.
— Mary Temple, Artists on Diaries series curator
My studio sometimes doubles as my living space. In this confined space, I often make large works that get folded and distressed over the period I work on them. My work often involves visualizing passing time through representations of spaces from multiple viewpoints, and objects that shift, grow, wilt, and die. In these ways, both physically and iconographically, my works often involve some aspect of marking time and counting days.
There is another private and messy place where I observe, think freely, and notate, especially when I am away from home. That place is a folded-up piece of paper I carry in my handbag. It is both a drawing and a book; a collection of daily uncensored observations, notations, transcriptions, thoughts, and information. It is not designed to be completed, even if eventually it may become finished. In a way, it is always finished and never finished. This rambling accumulation of data has a practical value. It doesn't aspire to be a "work of art," rather, it functions as my way of reading surroundings, collecting, and transcribing data.
The images here are an example from the books/drawings I kept in my handbag over lengthy periods. They are accordion-folded lengths of paper, mostly drawn in ballpoint pen, with an occasional addition of gouache and watercolor. Making these, I sometimes ran out of room on the paper and attached more paper with glue. These works show signs of their wear with visible patches and repairs. I usually draw in books like these while I'm a passenger or while I'm waiting for a subway, bus, train, airplane, or person. I almost always arrive ridiculously early for appointments and meetings and so I like having a drawing in my purse for working while I wait. I have always called these "travel drawings," but they might just as easily be called "waiting drawings!"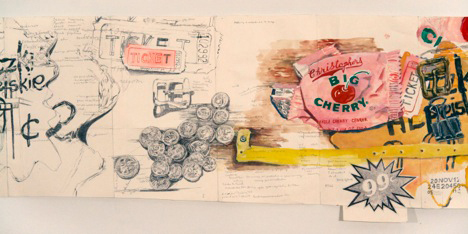 I think about drawing and how it functions for me. "Drawing" is an active verb, and it is also a noun. I love that the word drawing is a gerund (a verb ending in "-ing"). I love that, as a word, it refers to something happening—it remembers a gesture. Grammatically, in the past progressive tense (e.g. "I was drawing"), the gerund verb retains the memory of an action in process. It doesn't have the finality of the simple past, "I drew." Is it a little nostalgic, this -ing?
As an action, drawing is my visual way of thinking. I feel a very strong connection between drawing and writing, seeing, hearing and thinking. The implement I use is the same tool that is often used for writing, and as such I consider drawings texts to be read as well as viewed, not just the words and their meanings, but the marks, the gaps, the layering, the mess.
From the spaces of her immediate (often domestic) environment and from visual passages of cinematic spaces, Dawn Clements presents truthful but subjective works through multiple, but fluid points of view. Her work consists primarily of works on paper. She received her A.B. from Brown University and her M.F A. from The University at Albany (SUNY).
Selected exhibitions include solo shows at Pierogi Gallery (Brooklyn, NY); Acme Gallery (Los Angeles, CA); Hales Gallery (London, England); and the Middlebury College Museum of Art (Middlebury, VT). Her work was included in the 2010 Whitney Biennial (Whitney Museum of American Art); Kunsthalle Wien (Vienna, Austria); Brown University Bell Gallery (Providence, RI). Her work can currently be viewed in Back and Forth: the collaborative works of Dawn Clements and Marc Leuthold at Bates College Museum of Art (Lewiston, ME, January–March 2015) and in the solo exhibition Mother's Day at Pierogi (Brooklyn, NY, February–March, 2015).
In 2013 she received a Civitella Ranieri Fellowship; in 2012 a Guggenheim Fellowship; in 2005 a fellowship in the category of Printmaking/Drawing/Artists' Books from the New York Foundation for the Arts; in 1993 grants from the Bohen Foundation and Arts Matters (Rockefeller Foundation). She has had artist residencies at Civitella Ranieri (Umbertide, Italy); Sint Trudo Abdij (Maele, Belgium); Middlebury College (Middlebury, VT); The Taft School (Watertown, CT); and Farpath Residency (Dijon, France).
In recent years Ms. Clements has taught at Rhode Island School of Design (Providence, RI), Brown University (Providence, RI), Maryland Institute College of Art (Baltimore, MD), California Institute of the Arts (Valencia, CA), Brooklyn College (Brooklyn, NY) and Princeton University (Princeton, NJ).
Her artwork is included in collections of the Museum of Modern Art (NY, NY); Whitney Museum of American Art (NY, NY); Saatchi Collection (London); Brown University (Providence, RI); Tang Museum (Saratoga Springs, NY), Princeton University Art Museum (Princeton, NJ); Henry Art Gallery (Seattle, WA) and other public and private collections.
The exhibition A Day in the Life: Artists' Diaries from the Archives of American Art is on view through February 28, 2015 in the Lawrence A. Fleischman Gallery at the Donald W. Reynolds Center for American Art and Portraiture (8th and F Streets NW, Washington, D.C.). Admission is free.