Artists on Diaries: To tie in the events of yesterday
This is the next installment in the Artists on Diaries series curated by artist Mary Temple, in which guest authors will comment on contemporary diary practices.
— Archives of American Art Blog editors
Joseph Cornell found beauty in everyday life and everyday objects. His diary entry from July 10, 1948 helps us understand how his incredible outlook enabled him to make the elegant artwork he constructed from bits and pieces of the prosaic. Zoë Sheehan Saldaña is a contemporary artist who makes work concerned with the seemingly unremarkable object. Her notes give us a glimpse into her diligent process of deconstructing and remaking commonplace articles, transforming them into subtle, awe-inspiring artwork. Throughout the process she reveals an open and generous sensibility that is akin to Cornell's. In Zoë's contribution to this blog she muses on the concept of a personal diary as well as our relationship to the diaristic aspects of social media.
— Mary Temple, Artists on Diaries series curator
Mary Temple asked me to contribute to this blog (thank you Mary!). I'm an artist. I make work that grows from, and responds to, the quotidian. While the objects I make appear simple, they take a lot of steps to bring together, so along the way I take notes, make sketches, and keep samples. I prefer a notebook with unlined pages and a mechanical pencil with .7mm HB lead and an ample eraser.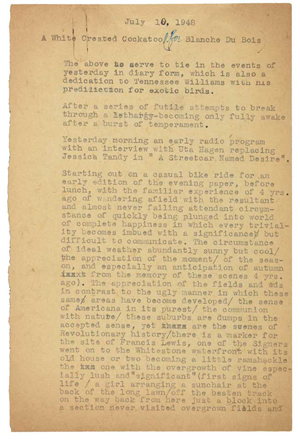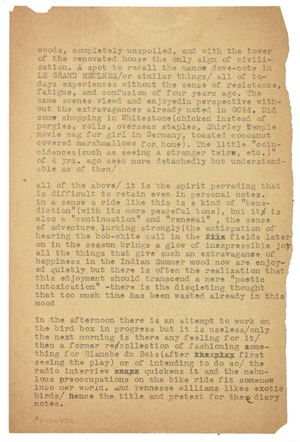 The Day in the Life exhibition contains much good material. What caught me and hasn't let me go is the Joseph Cornell. I love Joseph Cornell unconditionally. And the Blanche DuBois piece is marvelous. It retrospectively describes an ordinary-yet-quixotic day. Cornell rides his bike, does errands, looks around, goes home, tries to work on a piece. While through it all a casual, irrepressible elation keeps shining. A regular day, but not a typical mood. Joseph Cornell had A GOOD DAY. And even as he's writing, the good day has passed, and he's moved on, there's no time to wallow. He lives the goodness of the day, and while there is remembrance, there isn't nostalgia, which is wonderful, and what you would wish for Blanche Dubois, somehow, that she too could have A GOOD DAY and find everything shimmering and vibrant as it only does on good days. It doesn't last forever, and is a gift to be recognized and received. Grace.
The other thing that struck me in thinking about the exhibition is the activity the show proposes is the purposeful reading of someone else's diary. Danger danger! Humans are to diaries as moths are to flames. Except unlike moths we know we really shouldn't invade someone's privacy. Which makes the act even more seductive. Anyone who claims to have no interest in reading another person's diary is LYING.
And then I got to thinking about the format of a BLOG and how, though it is diaristic, it is utterly un-private. It's a faux flame, a glow stick, made for attraction and "sharing" in the meta-sort-of-way that we "share" now. When I "share" on a blog, or Facebook, or any of the myriad public forums, I am hyper-aware of my persona as I project it outwards; I construct myself in the moment. What do I reveal? What do I hide? What do I only pretend to hide? What is the risk? Who gets burnt?
Happily, I have no answers. I come away only with a kind of enhanced sense of experience, and I appreciate how, the more I think, the less I know, and that is thrilling. And I feel like Joseph Cornell having A GOOD DAY because the ordinary has turned all sparkly and alive.
In response I made the following (true) story. I hope it works here. It's not the usual kind of thing I make, and I'm a little nervous about it, but then I think maybe the people whose diaries are on view in the exhibit are also a little nervous about having their stuff put on display, or they would be, if they weren't dead.
Zoë Sheehan Saldaña was born in Massachusetts in 1973. She studied at Oberlin College, the Rochester Institute of Technology, and the Skowhegan School of Painting and Sculpture. Her work has been exhibited in the United States and internationally. She currently resides in Brooklyn, New York, and is a Professor at Baruch College/CUNY.


The exhibition A Day in the Life: Artists' Diaries from the Archives of American Art is on view through February 28, 2015 in the Lawrence A. Fleischman Gallery at the Donald W. Reynolds Center for American Art and Portraiture (8th and F Streets NW, Washington, D.C.). Admission is free.