This is the introduction to a series of posts curated by artist Mary Temple, in which guest authors will comment on contemporary diary practices. She begins the Artists on Diaries series with her drawing project, Currency.
Join us on January 3 at 4:00 p.m. for a public reading of artists' diaries in our Lawrence A. Fleischman Gallery. This free public program is organized in conjunction with the exhibition A Day in the Life: Artists' Diaries from the Archives of American Art, on view through February 28, 2015.

The Artist's Diary in Contemporary Practice
The current exhibition of diaries from the Archives of American Art is not only aesthetically rich and visually seductive, it also allows us a behind–the–scenes glimpse of how artists have developed their ideas, whom they spent time with, and, in general, how they passed their days. The entries include the prosaic—a description of a delicious meal—and the tragic and historic, as in Rubens Peale's entry, which recounts the news of President Abraham Lincoln's assassination and taking his daughter with him to view the President's corpse.
The show, A Day in the Life: Artists' Diaries from the Archives of American Art relates to how we experience social media, and that connection helps understand the diary's relevance. But the fact that these hand-written journals were private, not really intended for sharing, somehow elevates them. Maybe it's seeing the beautiful penmanship, the aged paper, or the sketched marginalia that makes them so compelling. Artists do still keep diaries today, of course, and sometimes they even make them part of their artwork, or make their artwork journalistic. Because my own art practice often involves a journalistic approach, I was very pleased when asked if I might contribute to and curate a blog series on the subject. It seemed a perfect opportunity to hear what a variety of contemporary artists are using as diary forms. Over the next few weeks and through the duration of the show, I'll ask artists, curators, and writers to talk about their contemporary take on the diary. We'll hear from people who have thought about how important milestones are and how useful a diary can be in placing them.
I'll kick off the series with a description of a pen and ink drawing project titled Currency that spanned five years of political events beginning in 2007.

Currency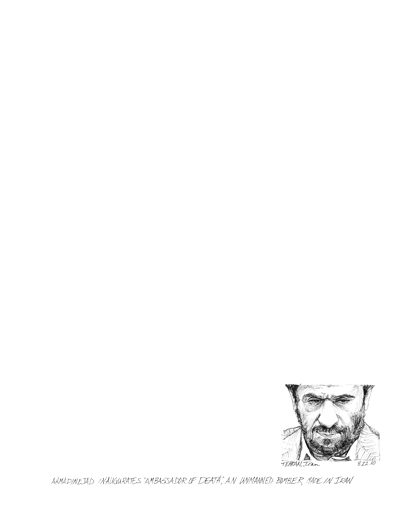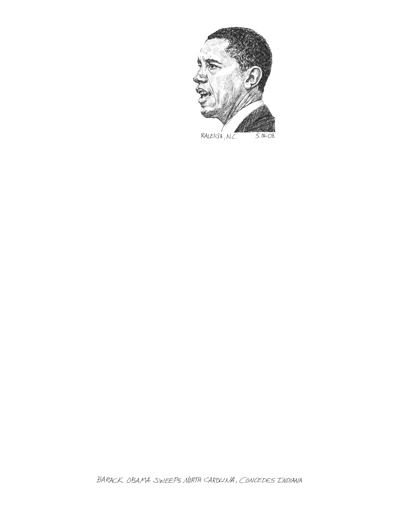 On September 24, 2007 the president of Iran spoke at Columbia University amid protests and much controversy. I found the event, coverage and images of Mahmoud Ahmadinejad compelling and made some drawings of him from various web-based news sources. Drawing his face somehow forged a bridge for me, making me curious to understand more about Iran's past, even while feeling contempt for Ahmadinejad's hate speech and policies.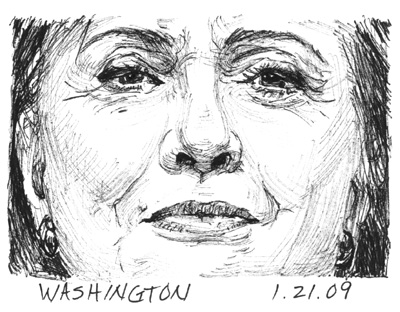 Propelled by the strength of this connection, I continued each day, to draw a portrait of a world-leader whose actions had made news headlines. Before beginning the portrait, I would read as many opposing reports of the story as I could find on the web. I then assigned the portrait a position on the tabloid-sized drawing page, according to my sense of optimism or pessimism regarding the leader's behavior or action: the higher it was on the page, the greater my hope for world harmony.
To underscore the diaristic nature of the undertaking, I hung the drawings in a calendar format, in monthly grids. After I completed the drawing each day, I scanned it and emailed the digital file to a museum where it was then printed and hung in an ever-growing installation on the gallery walls. Thus, the drawings began to delineate a journalistic timeline, in which the raising and dashing of my hopes for peace played out like musical notation.
It happened that I began Currency in the very early days of President Barack Obama's first presidential campaign, though at the time I knew very little about the then senator. As the project unfolded, I chronicled his nomination, campaign and eventual win of the Presidency. Over the course of Currency, I drew President Obama's portrait more than any other world-leader. It seemed then to be a natural bookend to the series, when, finally, at the end of his second campaign, he won a second term.
For over five years I had researched, drawn a portrait, scanned and sent the drawing to someone every single day. It was, in every sense, an endurance performance piece, at times grueling and at others nearly impossible, but always deeply engaging for me. Because other aspects of my artistic practice require me to travel extensively, I was occasionally off the grid just enough to make finding an Internet connection extremely difficult. One evening, while working on an installation at an art center in rural France in 2008, I found myself locked out of the only office with Internet connectivity, just as the daily deadline approached. In order to send that day's drawing, I had to take the train to Paris—an hour and half trip! There I wandered the city searching for WiFi, until finding a Starbucks, where I paid two euros so I could push the send button on my laptop! Though the project was incredibly demanding, I've never immersed myself so completely in global politics, nor do I think I could have found a way into the subject without connecting to it through my art practice.
Primarily known for her tromp l'oeil installations Mary Temple's cross-discipline conceptual artworks blur boundaries between painting, sculpture and drawing. Informational spin, false documents, and verisimilitude all play important roles in Temple's practice.
Temple has exhibited her work throughout the US and abroad. The artist has completed commissioned projects at venues that include, the San Francisco Museum of Modern Art, CA; SculptureCenter, Queens, NY; The Drawing Center, NY; Massachusetts Museum of Contemporary Art, North Adams, MA; The Aldrich Contemporary Art Museum, Ridgefield, CT; Rice Gallery, Houston; Western Bridge, Seattle, WA; The Hyogo Prefectural Museum, Kobe Japan; and The Art Gallery at NYU, Abu Dhabi, among many others.
To see the complete Currency series please visit: http://marytemple.com/artwork/currency/.
Mary Temple was born in Arizona, and now lives and works in Brooklyn, NY.

Join us on January 3 at 4:00 p.m. for a public reading of artists' diaries in our Lawrence A. Fleischman Gallery. Selected participants will perform diary entries dated January 1. This free public program is organized in conjunction with our current exhibition, A Day in the Life: Artists' Diaries from the Archives of American Art.