Auditing and Editing Oral Histories: An Intern's Perspective
Summer intern Emma Kibblewhite shares about a summer spent with the Archives of American Art's oral history collection.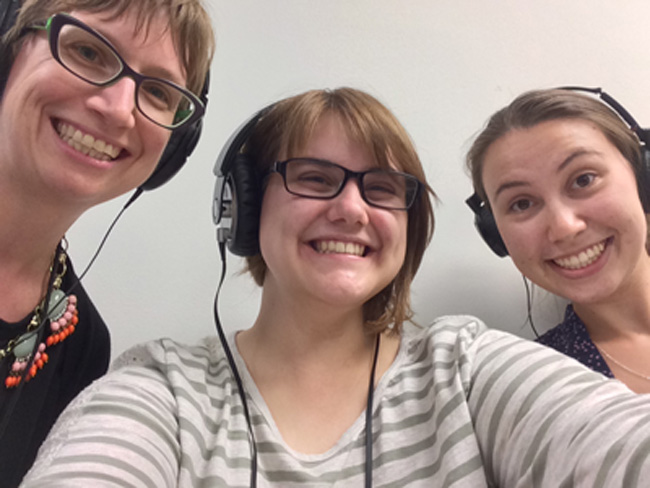 A few weeks ago, I was in New York with my friend Fannie, trying to hit as many museums on Fifth Ave as possible in one day. We started at MoMA, and soon Fannie realized her grave mistake: she was in for a full day of fun facts and anecdotes about whatever work of art was in front of us.
"Jo Baer. Minimalist. She has a reputation of throwing men through glass doors."

My friend raised her eyebrow, "And you know that…how?"

"It's in her oral history. At the Archives of American Art."
Before starting this internship, I had a general idea about art history, its various movements, "what does it mean," that sort of thing. Then, I was chosen to work with Jennifer Snyder, Oral History Archivist at the Archives of American Art, wrangling their more than 2200 interviews on their journey from mouth to print to the Internet. My macro lens was replaced with a microscope, now looking intimately into the lives of single artists and their puzzle piece in history.
The majority of my assignments concerning the interviews themselves fell into one of two categories: auditing and editing. Once an interview is completed, it's sent off to be transcribed into anywhere between five to five hundred (!) pages of black and white and read all over. This is where we, fellow intern Simone Zehren and I, come in.
The process of auditing then begins: listening to the interview and following along with the written transcript, making sure names are spelled right, dates of artworks and projects are added, and the "I–mean, y'know, sorta"s and their other speech filler friends are weeded out. My favorite part of this process is listening to individuals speak about their life and experiences, whether they're artists, gallery owners, or have some other connection to the art world. While there are those who may not quite my cup of tea, others just have the natural gift of storytelling I could listen to for hours. And still, each is full of fascinating stories communicated with such character.
This brings me to the next step in the process: editing. Once we've cleaned up the transcript, it's sent back to both interviewer and interviewee to be reviewed. More corrections are added, sections of the text reviewed for clarity, that sort of thing. The draft evolves into finished product, ready for the next step of being put online, where it can be easily accessed by scholars [and others] all over the world.
Of course, my work doesn't end there. There are always odd tasks around! Filing, sorting, double-checking, reboxing; steps that might seem minor but have a huge impact on the workflow here at the Archives of American Art. I've gotten to peek into a few different departments during my time here—everyone has been so helpful and wonderful—as I search for a niche. I don't know if oral history will be my final roost, but it's been fantastic, oh–so educational, and enriching so far!

Emma Kibblewhite is rising senior/undergraduate at George Mason University, studying art history and film and media studies. Kibblewhite spent the summer of 2014 as an intern with the Oral History department at the Archives of American Art.