Guest blogger Katie Monroe examines this history of the bookplate, and finds inspiration in some original plates designed by artists.
While looking over the Archives of American Art's collection of Lynd Ward's bookplates for the Journal's article about his graphic work, it struck me that these little rectangles of paper, though beautiful, are, for the most part, sadly forgotten in this digital age.
Though I definitely consider myself a "reader," someone who would rather read a book on a Friday night than go out on the town, I do not read that many physical books. I am the proud owner of a Kindle, with a "shelf" of more than 400 books that I can take with me wherever I travel. The only books I own fall into one category—my seemingly endless collection of decorative arts history books that make up the reading list of my master's program. And inside of every one of these beloved books, books I will take with me wherever my degree leads, I have affixed an "Alice in Wonderland" bookplate that I won as a raffle prize. But why did I do this? And who uses bookplates anymore? Well, I can answer only the first question with any certainty: I did it because I like these books and I want anyone who opens them to know that they belong to me. But I am not the only one to regard my bookplates as marks of ownership and reverence. Bookplates, with a history reaching back over 500 years, have been collected in the United States of America since the late nineteenth century.
The creation of bookplates followed the development of the moveable type printing press in mid–fifteenth century Europe. Bookplates first appeared in the 1480s with the book-owner's coat of arms. In America, people started using them as early as 1680 and in greater numbers in the 1730s. And by the end of the nineteenth century, when the Arts and Crafts Movement was challenging the excessive decoration of the earlier Victorian taste, bookplate collecting became a fashionable pursuit, one that would remain so until World War II. What fascinates me most about their history is what James M. Goode wrote in Three Centuries of the American Bookplate, the catalogue for his 2010 exhibition at the University of Virginia:
When ordering a new bookplate, an owner usually had additional copies made for exchange purposes. Often, cards were printed to accompany an owner's bookplate, and were mailed to other members of a bookplate society or to famous people or movie stars. The cards gave detailed information on the owner's profession, interests of organizations, as illustrated on the bookplate. There was almost always a request for an exchange.
Was this the equivalent of the modern–day business card swap? Rockwell Kent certainly received such requests and bookplates from people, like the one from Hal W. Trovillion, who, along with his bookplate, includes a letter stating: "If you care to send, I would like one of your plates. I am not a collector, but have gathered in a few that I admire." I love the idea of mailing my Alice in Wonderland bookplate to, say, Kate Winslet, letting her know about my research in the field of British glass and asking her to send me her own bookplate to add to my collection.
Of course, these bookplates were not the ready-made kind you would purchase in the store. No, these bookplates were designed specifically for the book-owner, sometimes commissioned from a well-known artist, like Kent. And it is these types of bookplates that can be found in the collections of the Archives of American Art.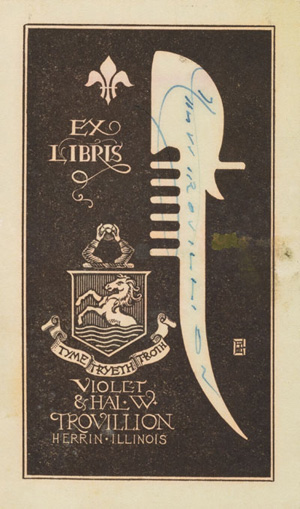 The Archives has several bookplates engraved by Grace Arnold Albee, a successful printmaker and the second woman to be elected to full membership in the National Academy of Design. Albee made these bookplates in the 1960s, well into her career that spanned over sixty years. The one she engraved for her friend and patron William B. Connor is particularly eye-catching, with the cardinal's flash of red standing out amidst the monochromatic and precisely delineated books and trees.
With such an eclectic array of bookplates in the Archives, it makes me wonder about the people for whom they were made. Did they commission the bookplates for their own use in their library? Or did enthusiasts want an individualized calling card to send to friends and famous people, with the desire to receive one in return? Regardless, I will never look at my Alice in Wonderland bookplates in quite the same way. Maybe I should write a letter to a friend and include my bookplate. Who knows—that person might just send one back!
Katie Monroe was the 2013–2014 intern for the Archives of American Art Journal. She has just completed her master's in the History of the Decorative Arts from George Mason University/Smithsonian Associates, and will be pursuing a master's in Library and Information Science at UCLA beginning in Fall 2014.