Curator of Manuscripts, Mary Savig, on artists and models who inspire as they strike a pose.
Think you've got what it takes to be an artist's model? Vogue with us on Instagram and Twitter using #StrikeAPose.
The Archives of American Art's current exhibition Artists and Their Models considers the important role of models in the artistic process. A model's distinct characteristics help bring life and personality to an artist's idea. Yet being an artist's muse requires both muscle and moxie. Live models have to ignore their aching limbs and maintain dramatic gazes for hours at a time. They must comport their bodies into awkward positions, often while wearing little or no clothes. Original photographs in our collections offer a glimpse into the work of models. Of these images, I wonder, which of these posers is premier? I have channeled my inner Tyra Banks to rank the top artist's models in the Archives of American Art.
6.
Georgia O'Keeffe shows us that posing doesn't need to be painful. Donning a cozy robe, O'Keeffe reclines in the yard of her Ghost Ranch house in Abiquiu, New Mexico abode as sculptor Una Hanbury models a bust in O'Keeffe's likeness.
5.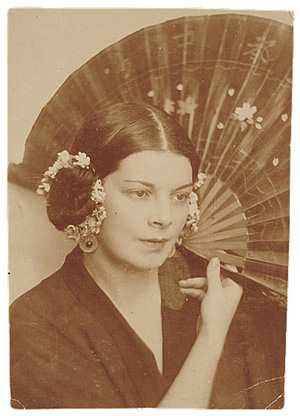 This model, Natasha, was likely a model for painter Josef Presser. Her sultry smizing is well-suited for Presser's moody, expressive portraits.
4.
Social realist painter painter Honoré Sharrer perfectly captured the swagger and ennui of teenagers in these snapshots. The images served as source material for her detailed paintings of everyday life in twentieth century America (also known as the time when teenagers could not share photos of themselves on Instagram).
3.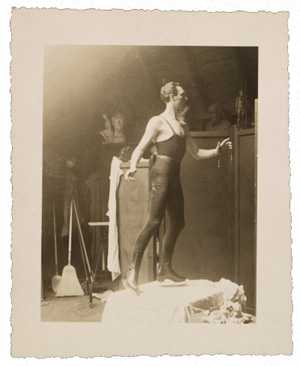 This model had to demonstrate the graceful stride of an ice skater while controlling his balance on thin blades. How might Tara and Johnny rate this performance? Let's go with a perfect 10.
2.
Perhaps model Tony Sansone has a leg up on the competition because he was also a professional bodybuilder. This striking handstand helped sculptor Chester Beach create Sun, Mist and Sea (1930).
1.
This model likely posed for accomplished muralist Allyn Cox. It's also likely that he dominated the game of Twister with his impressive flexibility and balance…and because no one wanted to play him in the nude.
Join us for a free gallery talk, Friday, July 11 at 1 p.m. at the Lawrence A. Fleischman Gallery (8th and F Streets, NW).
Explore more:
Mary Savig is the curator of manuscripts. She has yet to appear on America's Next Top Model.