The Real Monuments Men and Women
Bettina Smith, librarian for digital projects at the Archives of American Art, looks at the real-life heroes who inspired characters in the new film The Monuments Men, starring George Clooney, Matt Damon, and Cate Blanchett.
The film The Monuments Men is an adaptation of the true story of the Monuments, Fine Arts and Archives Section (MFAA) of the Allied Forces. It follows a small group of art historians and artists who served in World War II to protect and return to their rightful owners works of art which had been looted by Hitler's Nazi regime. Three of the central characters in the movie were inspired by real people, and we hold the papers of two of them here at the Archives of American Art. So let's compare some historical facts with Hollywood fiction, shall we? SPOILER ALERT: there are some central movie plot points discussed here.
George Clooney as "Frank Stokes," inspired by George Leslie Stout
Frank Stokes, portrayed with Clooney's usual silver foxy charm, is the ringleader and chief agitator for the creation of the Monuments Men force. George Stout was a leader in the field of art conservation working as the head of the conservation department at Harvard's Fogg Art Museum when war broke out in Europe. He had served in the Navy during World War I, and re-enlisted in World War II. He was one of the first to be appointed to the MFAA and directed many important recovery missions in German and Austrian mines where huge troves of art had been stored by the Nazis, rescuing such masterpieces as Michelangelo's Madonna and Child and the Ghent altarpiece, both of which figure prominently in the film. One aspect that does not get much air time in the movie, however, is the interaction between the Monuments Men and German civilians. Stout gives a moving rendition in a letter he sent to his wife Margie in 1945 of their passage into a mine which sheltered civilian refugees as well as looted art:
We walked in a path not more than a foot and a half wide. The rest was compressed humanity…This was the population of the city, all that could not get away…We were the first Americans they had seen. They had no doubt been told that we were savages. The pale grimy faces caught in our flashlights were full of fear and hate. Children were snatched out of our path. And ahead of us went the fearful word, halfway between sound and whisper — "Amerikaner." …Yet, there was some indifference…I felt a touch on my free hand, and turned my light there. It was a boy of about seven. He smiled and took hold of my hand and walked along with me. I shouldn't have let him do it, but I did and was glad.
Cate Blanchett as "Claire Simone," inspired by Rose Valland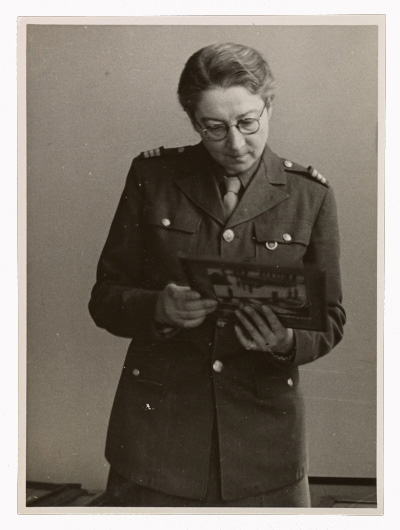 Claire Simone, played with an air of canny shrewdness by Cate Blanchett, is an employee of the Jeu de Paume Museum in Paris who keeps a close watch on the Nazis who have taken over the museum and must decide whether to confide what she knows in Matt Damon's character James Granger. Rose Valland was an assistant curator at the Jeu de Paume starting in 1932. She was one of the few employees retained after the Nazis began using it as the headquarters of the Reichsleiter Rosenberg Taskforce in 1940. Due to Valland's unassuming nature and her ability to speak German (a fact she carefully kept hidden from the Nazis) she was able to gather much information that was vital to relocating looted artworks once Allied forces took power. In our oral history interview with Monuments Man Stanton L. Catlin, he says of Valland:
She is really one of the heroines of the world's inheritance of modern art … She kept notes of the manifests as to where every package went, or every crate went. It was these records that formed the basis of the recovery after the surrender, and she did this at the risk of her life … the most dramatic part of it, I've heard, was when she had to do the work that preserved these records at the moment when the French populists were rising up against the Germans during the Allied advance toward Paris in the summer of 1944 and shooting was going on all over the place, and she was suspect, as a collaborator, because she was working in the museum for the German Otto Abetz's command there and she had a narrow escape at that particular time, but she has been credited with and honored for ... saving a major part of the modern patrimony of the world of modern art.
Matt Damon as "James Granger," inspired by James J. Rorimer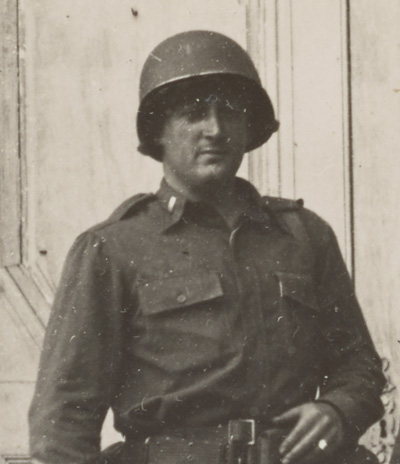 Matt Damon's Granger is an earnest curator at the Metropolitan Museum of Art who speaks comically bad French, and is sent to Paris where he meets and attempts to gain the trust of Claire Simone. James Rorimer was a curator of medieval art at the Met and central to the creation of their Cloisters museum. It is true that Rorimer worked closely with Rose Valland, and that he had to convince her of his trustworthiness before she would share her priceless trove of information. In the handwritten draft for his memoir, he writes:
I for one was certain that Rose Valland could tell more…if she only would…She had learned to trust no one. Even the friends of her colleagues had to play politics during those trying years of occupation and she had suffered too much for her country's welfare to permit anyone to use her or her material for their own personal gain.
When Simone finally comes around to Granger, she gives him a photograph of Neuschwanstein Castle in Bavaria and tells him to look there for a large cache of stolen works. In Rorimer's papers is a photograph of Neuschwanstein with a note written by Valland on the verso, which shows evidence of having been folded in half (perhaps so that Rorimer could tuck it into his pocket). Fiction presides when the movie takes their relationship one step further. After her initial chilly reception toward Granger, Simone warms up a little too much. Granger, a married man (as was Rorimer) rebuffs her advances, and that is the end of that. In truth, Valland was a professional who had a fruitful and respectful relationship with Rorimer, and they remained friends for many years after the war.
While some aspects of the movie were fictionalized, the story remains an incredibly compelling tale of bravery and dedication from a group of people who risked life and limb to protect some of the Western World's greatest cultural artifacts. So go see the movie, visit our exhibition, listen to the Monuments Men's own voices in our oral histories, and let us know what you think about the portrayal of these real-life heroes.
Explore More:
Bettina Smith is the former librarian for digital projects at the Archives of American Art.
Tags