Graduate student Craig M. Corpora explains how he came to better know artist Jerome Caja through his papers at the Archives of American Art.
Jerome David Caja (1958–1995) was a San Francisco visual artist known for his small narrative painting and intimate portraits, that he referred to as his "little lovelies," which he painted onto found objects with nail polish, make-up, white-out, and sometimes a little (or a lot of) glitter. He often appropriated Greco-Roman mythology, Catholic iconography and art historical references, playfully combining these tropes of western culture with irreverent humor, overt sexuality, and gender fluidity. Jerome was also well known as a drag queen, performing, and go-go dancing at many San Francisco queer clubs during mid-1980s through the early 1990s.
I unfortunately never knew Jerome personally—only through the book After the Pageant, various articles and reviews, and anecdotes from mutual friends—however, I came away from my time at the Archives understanding him as a more complex individual than I did prior. Initially, I was both surprised and overwhelmed at the volume of material in his papers at the Archives of American Art. Presented below are a few things that I found that reveal the breadth and depth of Jerome Caja and his work. Though this is still an incomplete snapshot, as it's difficult to encapsulate any individual into a few stray observations, I hope that this post will inspire more people to look into the life and art of Jerome Caja.
Rescue and Survival Swimming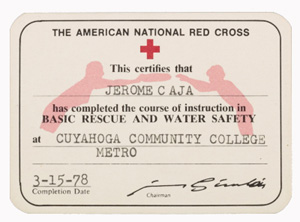 When Jerome began Cuyahoga Community College in 1978, he didn't major in art, instead, he wanted to do something involved in social welfare. He took classes in early childhood education, social welfare and, as he said, "prison-type things." He also studied and was certified in First Aid and Life Saving, Basic Rescue and Water Safety, Advanced Lifesaving and Water Safety, and Advanced Survival Swimming. This was one of the first of many things that I stumbled upon, which I was pleasantly surprised by. Not only was Jerome both a talented artist and an outrageous drag-queen and go-go dancer, but he also had very practical lifesaving and survival skills. He was someone you would want to be around at a night club or art show, and also in the event of a catastrophic emergency.
Ceramic Work
There were quite a few photos of Jerome's ceramic work, many that I hadn't seen documented before. In Earthquake Detector, Jerome uses the fragility of the medium and the instability of its narrow form, especially at its base, to make a joke. When this work tips over and shatters into pieces, you know there has been an earthquake!
Large and Soft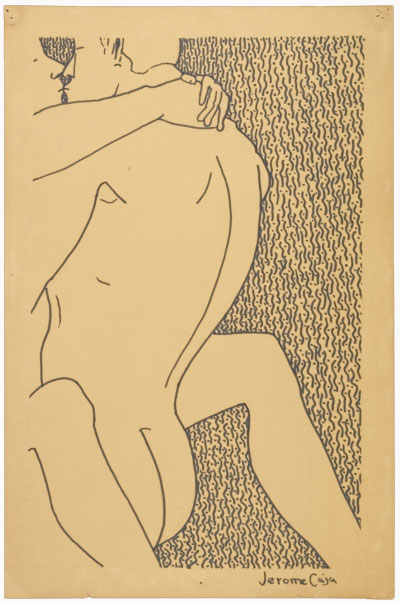 Jerome's work is noted for its small size. He painted many portraits on flattened bottle caps and was even known to work on pistachio shells. So, I was surprised to find out that there was an oversized folder of large works. Equally surprising was seeing his softer side. Jerome claimed that he wasn't a sentimental person, saying "I don't like lovey-dovey things," often portraying sex with a certain violence and/or psychological trauma. Seeing this simple line-drawing of a romantic embrace, added another level of complexity to Jerome and his work. The sincere intimacy and "economy of line" (well, except in the wall treatment) also reminded me of both Jean Cocteau's homoerotic line drawings and Andy Warhol's pre-pop "Boy Drawings."
First Time in Drag in Public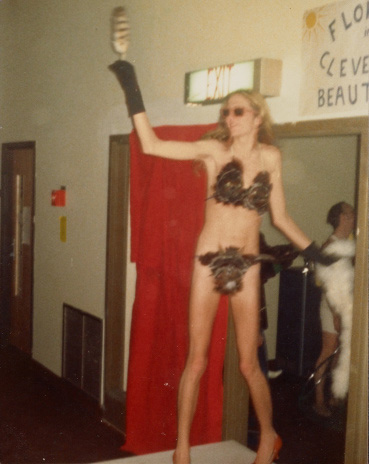 In his oral history interview, Jerome said that he was always "fascinated with sex changers, both men that become women and women that become men." Included in his papers is Wen Interessiert Denn Schon Mein Elend, a German book on transvestites and drag queens and a note from Jerome's good friend Anna van der Meulen. She explained:
I gave this book to Jerome in Sept. 1983, which I'd bought in Germany. At this time Jerome had only done drag a few times and was very interested. He had me translate the text for him, out loud, and we talked about it quite a bit.
I just love the idea of an intimate moment that was shared between Jerome and Ms. van der Meulen; the idea of her opening up a safe place for him to think about drag in a nonjudgmental and perhaps theoretical way.
Drag queens don't come out of the womb in heels and lipstick—or in Jerome's case, tattered lingerie—there is an evolution of knowledge, of self-acceptance and probably a lot of throwing caution to the wind. What I love so much about this photo is Jerome's look of sheer exuberance and utter confidence. It's like a "coming-out" of sorts, revealing another aspect of himself. I also love that for his first time in public in drag, he is breaking all the rules of drag! He is not going for passable glamorous beauty but something of his own creation. Certainly, Divine and The Cockettes had already set a precedent for nontraditional drag, but I think that it was still very bold for Jerome's first time. I think this is such an amazing photo and probably my favorite thing that I found during the course of my research.
Explore More:
Craig M.Corpora is an Art History graduate student at San Francisco State University, concentrating in Queer Art History. His thesis on Jerome Caja will be completed in Spring 2014.