Guest blogger Dr. Susanna Gold reflects on how Archives' materials enriched collaborative exhibition and performance projects about the life and work of African American painter Charles Searles.
The Archive of American Art's newly acquired papers of Charles Searles (1937–2004), one of Philadelphia's most understudied but influential African American artists, served as a trove of primary source material for sixteen student curators working on a collaborative exhibition project at the Tyler School of Art, Temple University, and the La Salle University Art Museum. Art History graduate students at Tyler and undergraduates at La Salle and Chestnut Hill College planned, organized, researched, and implemented exhibitions on both North Philadelphia campuses. "The Mask of Abstraction" at La Salle explored Searles' use of formal abstraction within a thematic conceptual framework, probing ideas such as Searles' early development, Africa-inspired work, abstract and anthropomorphic sculptures, working processes, public projects, and other areas of investigation. Tyler's "In Motion," an in-depth study of significant aspects of Searles' work, offered a penetrating look at Searles' vibrant large-scale paintings and sculptures to reveal underlying impulses of continual movement and transformation, both conceptually and stylistically. The combination of approaches in these two exhibitions allowed for a rich, layered intellectual experience for the viewer—where one provided a thorough sense of Searles' career, the other took one aspect of that career and investigated it pointedly; where one achieved breadth, the other achieved depth, each exhibition depending on the other to offer a complete idea of the artist and his work.
The accompanying illustrated scholarly catalog, edited by Susanna Gold and Klare Scarborough, integrates the semester-long research projects that each student performed individually working closely with Archives' materials. Offering a range of fresh perspectives, essays place Searles in art historical contexts; consider the impact that his experiences in Philadelphia had on his work; emphasize social and political issues related to race; consider the relevance of religion and spirituality to his work; investigate his connectedness to his African ancestry; and explore his working and thinking processes. A significant contribution to the art historical literature, the exhibition catalog will be an invaluable resource not only for scholars of Searles himself, but also for scholars of Philadelphia cultural history, twentieth century American Art, and art of the African Diaspora.
The Tyler exhibition opened with a afternoon of performance, dance, and discussion in "Call & Response," a cross-disciplinary arts symposium featuring the creative work from Temple's Tyler School of Art, Boyer College of Music & Dance, and Division of Theater, Film & Media Arts.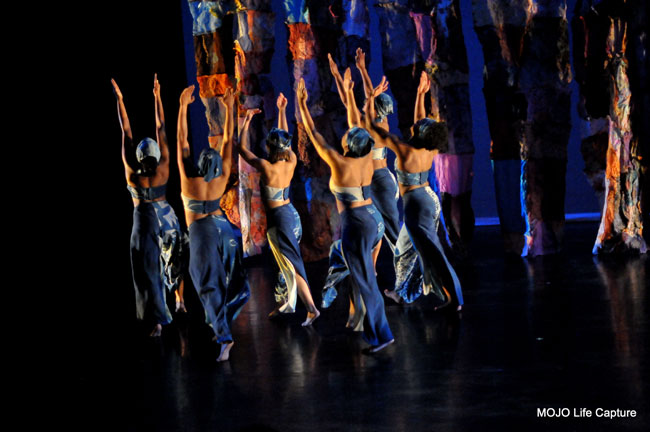 The symposium's title, "Call & Response," referencing a fundamentally interactive African-derived cultural aesthetic, speaks not only the interactive aspects of the choreography, costume design, set design, Africa-inspired pattern, music, and theatrical performances featured in the symposium, but also reflects the African American thrust of many of the contributions.
Among these, Kimmika Williams-Witherspoon's play "One of My Favorite Colors is Black" offered a particularly creative use of the 1991 interview of Searles conducted by Cynthia Veloric as part of the Archives of American Art's Oral History Program. Performed as a script-in-hand reading by Robert Jason Jackson as the voice of Searles along with Professor Williams-Witherspoon, the play drew almost entirely from Searles' words, tracing significant events in the artists life and bringing the artist's ideas to life in vividly colorful drama.
"Charles Searles: In Motion" (April 20–June 16, 2013) was curated under the guidance of Dr. Susanna Gold, Asst. Professor of American Art with MA/PhD student Louise Feder, MEd student Alexander Cohn; and MA students Alicia Bonilla-Puig, Elise Houck, Rachel McCay, Nicole Restaino, William Schwaller, and James Short.
"Charles Searles: The Mask of Abstraction" (March 11–May 31, 2013) was curated under the guidance of Klare Scarborough, Director and Chief Curator at the La Salle University Art Museum, with BA students Carlos Contente, Meredith Dean, Irene Martinez, Kelly Sheehan and Taylor Strickland (La Salle); and Christopher Dunn, Emily Lukasiewicz, and Westly Mandoske, (Chestnut Hill).
"Call & Response," a cross-disciplinary arts symposium (April 20, 2013), featured keynote speaker Michael D. Harris, art history; Kariamu Welsh, choreography, Kariamu & Co.: Traditions, dance performance; Marie Anne Chiment, costume design; Regina Lloyd-Spain, assistant costume design; Maya Freelon Asante, set design; Chris Hetherington, lighting design; Sophie Sanders, art history; Kimmika Williams-Witherspoon, performance poetry; John Dowell, printmaking; Robert Jason Jackson, theatrical performance, and The Impulse Trio, jazz performance.
Susanna W. Gold, Ph.D., is Assistant Professor of Art History at the Tyler School of Art, Temple University. She specializes in American Art, with particular interests in Exhibition Theory and issues of race. With Klare Scarborough, she is the co-editor of Charles Searles, published by the LaSalle University Art Museum.