Alma Thomas's March on Washington …with 250,000 Others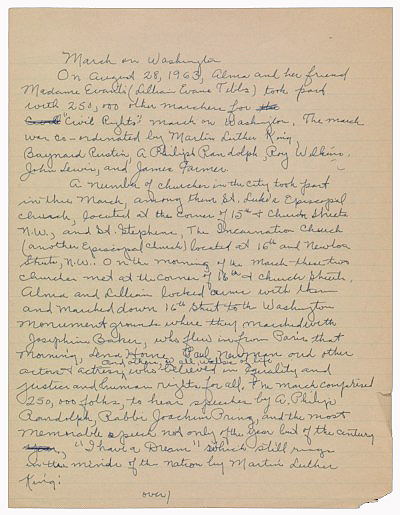 Alma Thomas (1891–1978) lived most of her adulthood in Washington, D.C. first as a student, then later as a teacher and artist. For talented, educated African American women and men such as Thomas, the city offered considerable advantages: she was an active participant in civic, social, and cultural circles.
As a painter, she drew inspiration from her environment whether from memories of childhood summers spent in the rural fields of the South, or glimpses of the garden she tended near the city's Logan Circle. Thomas distilled these impressions into bright colors and lines, transferring them to canvases in the studio she established in the kitchen of her Fifteenth Street row house. She developed a national reputation as an important abstract artist after her retirement from the public schools.
In late August 1963, Thomas and a friend, the prominent opera singer Lillian Evans (perhaps better known by her stage name Madame Evanti), left their homes and took to the neighborhood streets. They joined thousands of men, women, and children to demonstrate for racial equality and civil rights as part of the March on Washington for Jobs and Freedom.
These women—both septuagenarians—met members of the congregations of St. Luke's Episcopal Church and St. Stephen and The Incarnation Church at the corner of Sixteenth and Church Streets. As Thomas's sister J. Maurice Thomas described in these handwritten notes, "Alma and Lillian locked arms with them and marched down 16th Street to the Washington Monument grounds where they marched with Josephine Baker, who flew in from Paris that morning, Lena Horne, Paul Newman and other actors + actresses and others, of all walks of life who believed in equality and justice and human rights for all."
She walked down the wide boulevard, side by side with friends, neighbors, celebrities, and strangers, past residential homes and office buildings, around Scott Circle, toward Lafayette Park and the White House. Alma Thomas was inspired.
As a result of participating in this event, she returned, if only briefly, to representational painting. It is as if she wanted to convey the import of the day by insisting that we see the people with whom she marched
She sketched studies later in 1963, and in 1964, she produced March on Washington, an oil painting on canvas. In these works, people and placards fill the frame just as they filled the city's streets on that sunny August afternoon.
She exhibited Freedom March, an oil painting, at Atlanta University's Art Gallery in the Trevor Arnett Library in a show in April 1964. And, in 2005, the United States Post Office reproduced Thomas's March on Washington as one in the ten stamp series To Form a More Perfect Union: Seeking Equal Rights for African Americans.
On the fiftieth anniversary of the March on Washington, we remember the nearly two mile walk that two friends took from their Northwest neighborhood to the National Mall. Alma Thomas marched that day…with 250,000 others.
Kelly Quinn is the Terra Foundation Project Manager for Online Scholarly and Educational Initiatives at the Archives of American Art.