The Accidental Tourist: Rockwell Kent and the great cerise whale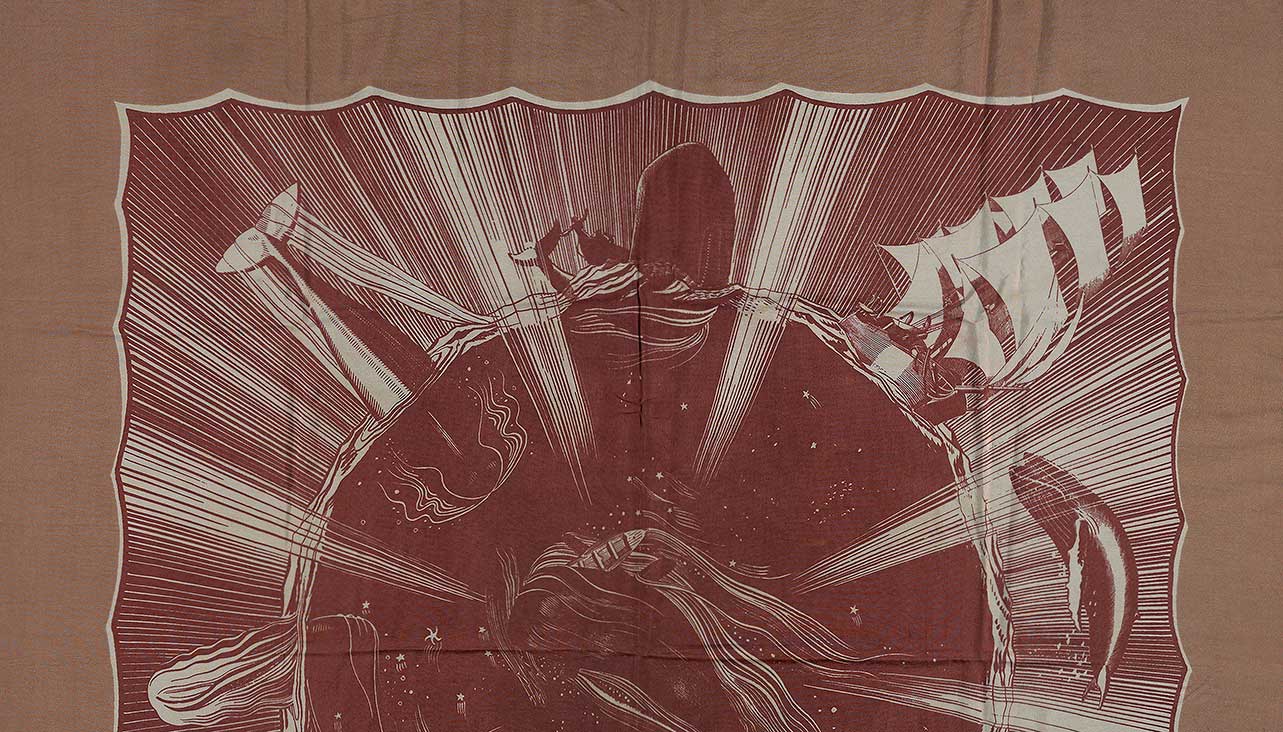 Reference specialist Elizabeth Botten investigates Rockwell Kent and a whale of a scarf tale.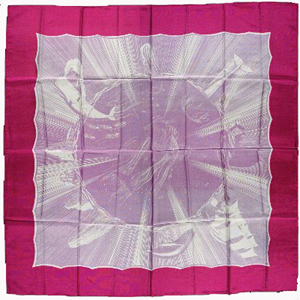 As a keen collector of vintage scarves, and someone who appreciates the intersections between art and fashion, when I stumbled upon a box of Dan Burne Jone's Papers relating to Rockwell Kent and Lynd Ward that listed MOBY DICK SCARF among the contents, it caught my attention. I was compelled to investigate further.
On September 16, 1926, W. A. Kittredge of The Lakeside Press inquired whether Rockwell Kent would illustrate an early American novel: perhaps 750 or 1,000 copies which will be sold at cost or less to collectors of taste and prominence…in each case a book will result which will stand for all time as the finest edition of the particular text which it preserves. Among the lesser–known titles Kittredge suggested were Frank Norris's early novel Moran of the Lady Letty, and Joseph Hegersheimer's The Three Black Pennys. He also recommended several American classics including: Huckleberry Finn, The Red Badge of Courage, The Call of the Wild, and, of course, Moby Dick. Known as "Four American Books," this project produced Edgar Allen Poe's Tales (illustrated by W.A. Dwiggins), Henry David Thoreau's Walden (illustrated by Rudolf Ruzicka), and Richard Henry Dana Jr.'s Two Years Behind the Mast (illustrated by Edward A. Wilson), in addition to Herman Melville's Moby Dick (illustrated by Kent).
The hundreds of letters in the R.R. Donnelley files in Kent's papers—the Lakeside Press was an imprint of the Chicago publishing house—not only chronicle the warm friendship that developed between Kent and Kittredge, but also the artistic care and administrative minutiae required to create a book of this caliber. Indeed, early in the process, Kittredge wrote Kent promising: We will leave "no stone unturned" in making this "the perfect book." In 1930, a three-volume set of Moby Dick with 280 illustrations, bound in "black cloth with silver decorative stamping," was released to great acclaim in an edition of 1000. A trade edition was published the same year by Random House; set in smaller type, the book was a single volume with 272 accompanying illustrations. Also in 1930, the Moby Dick prints were exhibited in New York City at the Weyhe Gallery. In 1928, Clarence Littell, a vice president at R. R. Donnelley, predicted: I think MOBY DICK is going to be the greatest book printed in this country. He did not miss the mark.
Opening the box of Dan Burne Jones papers, I found an archival sleeve holding a square of brightly colored silk. The scarf is creased after years of being folded, and has a wide cerise border surrounding a montage of illustrations in lilac. The center features a dramatic illustration from chapter seventy-six, "The Battering-Ram," where Melville meditates on the physiognomy and power of the whale.
According to Fridolf Johnson in his introduction to The Illustrations of Rockwell Kent, Kent approached the work with fastidiousness. Johnson observed, "[The] theme of Captain Ahab's passionate pursuit of the great white whale, with its mystical undertones, excited Kent, and between workdays he spent long hours in research, steeping himself in whale lore." I was then surprised to learn that he had little to do with production of this scarf, though, not necessarily by choice. Rockwell Kent's correspondence with Samuel Golden, his friend and agent who founded the American Artists Group (AAG), illuminates the scarf saga.
The Moby Dick scarf was produced in 1947 by a company called Contemporary Design Inc., headed by Owen Young Kinnard and J. N. Cameron. Associated with the company were Reeves Lewenthal, who founded the Associated American Artists, the artist and critic Ruth Reeves, and, at some point, Samuel Golden. A copy of a contract dated March 15, 1947, promising Kent, "Seventy five cents per scarf for the first two thousand scarves actually sold" is among his correspondence with Golden, but Kent never signed it, finding the terms unsatisfactory. Details about Kent's dealings with Contemporary Design are scant; by May it is clear they had gotten off to a rocky start. Kent explained to Golden:
Everything appears to be straightened out with Ruth Reeves. She is in no way to blame except for that rare virtue — over-enthusiasm…as soon as I learned [of your financial involvement], I called off my threats and told her to forget the whole business. But she sent me a check for $100 down payment. And now she writes, in explanation of not having returned the "Moby Dick" design, that is has been decided after all to go ahead with making it.

…I will be glad if they go ahead with it, for I think it's a lot of hooey that ladies don't want whales around their necks.
By July 1947, Kent had not received a contract though Ruth Reeves had sent word that production was going ahead. In a November 15th letter, intended only for Samuel Golden, Kent complained of his distaste for the "conduct of the scarf people:"
I don't want to deal with them. Their first repudiation of [Ruth Reeve's] authority to commission me and their rejection of my design, and their subsequent failure to answer correspondence, shows them to be the kind of people, in ethics and manners, that I don't want to deal with.

If a contract is to be signed between us, it will be my contract…It contains no agreement whatsoever that I won't design scarves for other people; and certainly nothing about designing wallpaper—or airplanes, or locomotives, or atom bombs.
Kent sent a second letter to Golden the same day, one that was meant to be forwarded to Kinnard. Kent stated plainly: I learned by the merest of chance that my MOBY DICK has been produced, though not yet in quantity. …That scarves should be produced—as, apparently, they are about to be—and samples of the color schemes not even submitted to me for my approval, leaves me aghast.
By December 3rd, Kent had received scarf samples at which point he sent a disapproving letter to J. N. Cameron of Contemporary Design:
I have received the four scarves. While I am glad to see that the scarves are in production, I must tell you that I am deeply disappointed in the result…We like the brown one, not because the two shades of brown in conjunction are good, but they are less objectionable than the other three. As to the lilac and cerise version, it only caused us to scream when we saw it.
Kent closed the letter by reminding Cameron that he was still awaiting his contract. Based on this letter, and a different version of the scarf owned by the State University of New York, Plattsburgh, it is clear that the scarf in Dan Burne Jones's papers is one of these early samples produced without Kent's approval; the scarf that was ultimately produced carried Kent's specifications.
A sample scarf in brown is found in Rockwell Kent's papers, along with a set of Moby Dick dinner ware that was produced by Vernon Kilns in the late 1930s.
By mid-summer 1948, things had taken an even more sour turn. On July 15th, the same day that he notified Owen Young Kinnard that he was hiring a lawyer, Kent asked Golden for advice in taking action against Kinnard and Contemporary Design emphasizing that he did not wish to "involve or offend" him in doing so: If not for your, Reeve Lewenthal's, and (originally) Ruth Reeves' association with the enterprise I would long ago have proceeded against them as one must proceed against swindlers.
Ruth Reeves (and Golden) apparently agreed on Kent's assessment. In a letter to Rockwell and Sally on September 6th she reported:
You will be interested to hear that Sam Golden is pulling his money out of Contemporary Design Inc. and I am about to do the same. Reeves is staying in (Reeves Lewentahl) and it will march forward to commercial glory under the aegis of this cobra, Kinnard and his stooge, Cameron. They have nubbed me and given me such a runaround that I feel I shall be lucky to get out what I put in. Did these guys by any chance send you any royalties?
In next few years Rockwell Kent's business relationship with Samuel Golden and the AAG—an organization which was produced greeting cards with original art to support artists during the Depression—would also be tested. While Golden occasionally printed political pamphlets on Kent's behalf (and at Kent's expense), after Joseph McCarthy targeted Kent and called him to testify before the House Committee on Un-American Activities, Golden was under pressure from retailers who carried Kent's cards to drop him due to his political views. Golden felt an obligation to "the greatest number for the greatest good" in dropping him from the roster of AAG artists but Kent dissented, insisting that all of the artist members of the AAG should be allowed to vote on his standing: If your principle of saving your business, for whatever purpose, should be obserbed [sic] by other businesses in the community, all business would be compelled to bow to the will of the hoodlum McCarthy minority. That would spell the end of American democracy.
Even Dan Burne Jones wrote to Golden to protest on December 27, 1953: Being an innocent bystander watching such activity take place I register my feeble protest of one having been denied the opportunity of purchasing fine art Christmas cards as representative of the fruits of art in a free society.
Ultimately, Kent did not win his argument. In a letter to Golden dated November 21, 1955, he described his feelings, ones that may have also applied to the Moby Dick scarf business: I am sorry that our long and friendly business relationship should have come to an end, but such casualties are to be expected in a period that is trying not only to men's souls but also to their pocket-books.
Explore More:
Elizabeth Botten works in the Reference Services Department at the Archives of American Art.
Comments
an interesting opinion because I love art and fashion
Posted by

June 22, 2013
on
Wow... all this over a scarf design and how to market the thing to the public. An Ahab scarf doesn't seem to merit all the politics that went behind making it. Very cool article.
Posted by

July 10, 2013
on
The mandala effect is very cool! What a great thing to discover, since you are a collector of scarves.
Posted by

July 11, 2013
on
A virtual repository of a substantial cross-section of the Archives' most significant collections.