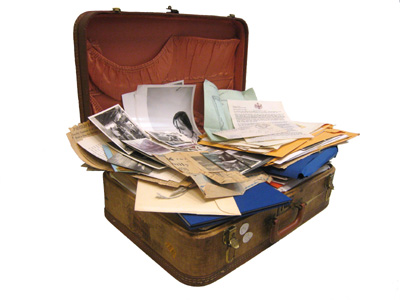 The Archives of American Art recently received as a bequest the personal papers of Jock Truman, an art dealer who served for many years as director of the Betty Parsons Gallery. Truman's papers, approximately 3.5 linear feet of correspondence, photographs, biographical material, artwork, and printed material, arrived in two suitcases. This was an unusually personal mode of delivery for material that normally arrives in pasteboard boxes and manila envelopes, and my curiosity about this new acquisition was instantly piqued.
An archivist's initial encounter with any new collection can broadly be characterized as a kind of "first date." We ask a series of boilerplate questions, experience an unfolding recognition of compatibility and red flags, and, if all goes well, gain a deepening appreciation for the uniqueness and appeal of the person (or collection) across the table.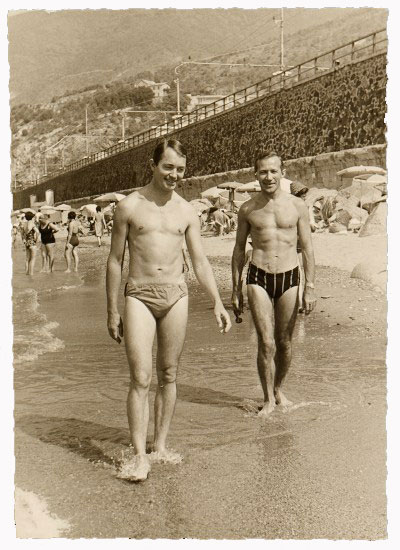 As I reviewed Jock Truman's papers, I noticed a significant accumulation of personal photographs from nearly every stage in Truman's life. Although most of the photographs were undated, those apparently taken after his military service in Brazil during World War II began to feature a recurring figure named Eric Green. Jock and Eric lived together, vacationed together, collected art together, and were photographed together over the course of many decades. From the photographic evidence alone, their relationship probably spanned fifty years or more.
While I could find no direct evidence of their romantic attachment, the pictures seemed to make the case compellingly. Jock and Eric may have lived in a time, place, and social context where the explicit terming of their intimacy was forbidden or at least entailed some risk.
As I wrote the accession record, the basis for the catalog record accessible to the public, I struggled to identify the relationship between Jock and Eric with a word that respected their own apparent circumspection but that would not give greater power to the forces responsible for that apparent guardedness. Custodians of culturally significant material grapple regularly with words that classify. The Archives has conventionally used the term companion or lifelong companion to describe unmarried couples of any sexual orientation; however, I was very uncomfortable with this proposition. We also use the term companion to indicate unidentified people in photographs. The word felt pejorative in this instance—a negation.
What would Jock and Eric have preferred? How did they introduce each other to family, friends, and acquaintances? Should that be a factor in how we write our catalog records in 2013? Was I moralizing unnecessarily from the vantage point of my own milieu? Perhaps they weren't secretive at all, but the collection was simply lacking in textual material on the subject. Nonetheless, I wanted to find a term that was descriptive and accurate and at the same time would not make the Smithsonian's catalog records complicit in the silence that has historically hidden these relationships from view.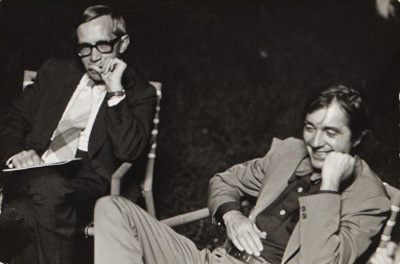 I personally consider the label "companion" (or its cousin, "friend") to be a fossil of a term intended to conceal, while at the same time offering some small, tacit acknowledgement of the importance of the relationship for those who understand the code. The term enables deniability. Partner is a coded term, too, albeit one that makes no attempt to conceal but to differentiate between relationships with unequal legal status and social endorsement. Despite the ubiquity of the term partner (even among heterosexual couples allied to the Lesbian, Gay, Bisexual, and Transgender civil rights movement), the word may yet prove insufficient to the task of describing LGBT relationships and eventually fall into disuse the way companion has in everyday speech.
In the end, convention trumped my misgivings, and the term "companion" now appears in the catalog record for the Jock Truman papers.
As LGBT Pride Month comes to a close, I invite you to find other companions in the Archives' collection and consider the power one word can wield.
Explore more:
Jason Stieber is a Collections Specialists at the Archives of American Art. Jason travels throughout the United States in search of treasures to add to the Smithsonian's collections.