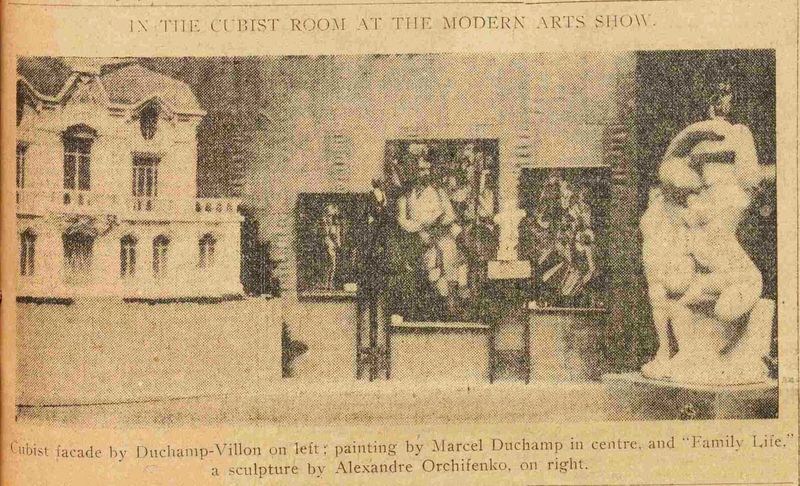 The newly rediscovered Hagelstein Brothers photograph of "The Cubist Room" at the Armory Show (figure 1) provides clues as to what inspired the final floor plan of galleries at the 69th Regiment Armory, as well as evidence of Walter Pach's hand in designing the installation.
In the fall of 1912, Arthur B. Davies sent Walt Kuhn a letter that contained a drawing of a preliminary floor plan for the New York venue of the show (figure 2) that was composed of traditional rectangular or square rooms.
How then did the installation become the honeycomb–shaped design of polygonal galleries, shown in a blueprint (figure 3) and in the catalogue of the New York venue (figure 4)?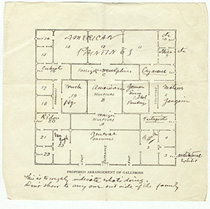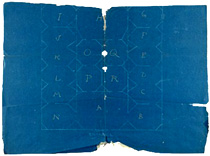 In the fall of 1912, the Cubist group of artists that included Raymond Duchamp–Villon, Jacques Villon, Marcel Duchamp, Albert Gleizes, Alexander Archipenko, and others held an exhibition called La Salon de "La Section d'Or" at the Galerie de la Boëtie in Paris (figure 5). Several works from this exhibition were chosen by Pach for the Armory Show including Duchamp's Nude Descending a Staircase No. 2 (figure 1).
Simultaneous to La Section d'Or was the 1912 Salon d'Automne in which La Maison Cubiste was displayed. The architectural façade was designed in a Cubist style by Duchamp-Villon. Visitors walked through the façade into rooms designed by André Mare. These rooms included Cubist paintings. Also Gleizes's Man on a Balcony and Archipenko's Family Life, which can be seen in "The Cubist Room" at the Armory Show (see figure 1).
Enter Walter Pach—he saw both Parisian exhibitions, knew all the artists involved, and selected all of the works seen in figure 1, including a plaster maquette of the façade of La Maison Cubiste by Duchamp-Villon (figure 6), as well as the paintings and sculptures that were shown at La Section d'Or and the 1912 Salon d'Automne.
I believe that "The Cubist Room" at the Armory Show was a deliberate conflation of these Parisian exhibitions put together by Pach; no one else could have designed this installation.
Pach also wrote a pamphlet for the Armory Show, "A Sculptor's Architecture" in which he discussed Raymond Duchamp-Villon's La Maison Cubiste as exemplary of a new architectural style for the modern era.
I would suggest that change in the floor plan from traditional rectilinear rooms as proposed by Davies to the polygonal galleries was Pach's idea and reflects his understanding of Duchamp-Villon's vision of Cubist architecture.
Furthermore, I believe that the refracted shapes of the polygonal spaces could be read as a modernist floor plan and installation design that, together with the architectural façade, paintings, and sculptures in "The Cubist Room" in particular (figure 1), formed an ensemble showing how Cubist architecture, interior design, and art could be replicated in anyone's home.
Guest blogger Laurette E. McCarthy is an independent scholar and curator. She is an authority on Walter Pach and a leading Armory Show scholar.
Explore more:
1913 Armory Show: the Story in Primary Sources, digital timeline
The Story of the Armory Show, online exhibition on the Archives of American Art's website
A Century After Their Initial Publication, Rediscovered Installation Shots of the 1913 Armory Show Come to Light by Laurette E. McCarthy
The New Spirit: American Art in the Armory Show, 1913, February 17, 2013 – June 16, 2013 at the Montclair Art Museum
The Armory Show at 100, October 11, 2013 – February 23, 2014 at the New York Historical Society