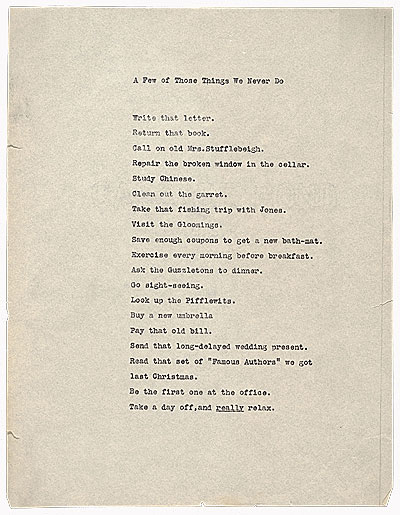 When I was choosing poems to highlight from our collections, Charles Green Shaw's "A Few of Those Things We Never Do" struck me as particularly timeless. Though this undated poem most likely was written in the first half of the twentieth century, how many of these tasks are on our own "To-Do" lists today? Whilst I don't know the Gloomings or Pifflewits, there are friends I want to visit, and books I need to return to the library. I even have a cracked window in my basement that needs fixing.
This is a list of things to which most everyone can relate. It speaks of the daily minutiae that makes up life and shows us that artists are really no different from the rest of us in having to sort it all out and take care of it.
Isabel Fiske Conant's "Death Stays the Hand of the Sculptor," written in 1922 to honor Solon Borglum after his death, is in some ways the exact opposite of the previous poem. Whilst "A Few of Those Things We Never Do" focuses on the mundanities, "Death Stays the Hand of the Sculptor" deals with the sublime.
Isabel Fiske Conant writes about the mystery of how artists take the visions in their minds and turn them into art. It also deals with death which all of us will face eventually. She distills two very abstract notions, Creation and Death, and explains them in a way that makes them a bit less esoteric.
I also find particularly intriguing her vision of the afterlife. In this poem, she interprets it for artists as being a place where their art comes alive. They get to visit the places and meet all the people they created, which strikes me as a particularly interesting concept. Whereas I'd love to wander through Monet's gardens at Giverny, I really don't want to visit Picasso's "Guernica." Luckily, Mr. Borglum sculpted lots of animals and people, so hopefully, his afterlife is more restful than not.
Explore more:
Michelle McDaniel is an archival cataloguer at the Archives of American Art, who, in her spare time is a fiber artist, plays piano, and reads lots of poetry.