Who doesn't love a cat, especially during the winter months? A cat's tender playfulness and relaxed demeanor provide a soothing and calming effect on mind and body, which we can all use during the hustle and bustle of the holiday season. Much like a miniature space heater, a cat provides that extra layer of warmth on those frosty, dark winter days when sleeping in is in order.
But cats do much more than inspire restfulness. Their graceful lines and mysterious eyes make them muses for many artists. As illustrator Peggy Bacon once said about cats, "I drew them constantly. I loved them dearly and enjoyed them as personalities and as models." My colleague Mary Savig recently made the case for canine cards, but I would counter that felines are just as fancied when it comes to handmade holiday cards.
The love of cats and the inspiration artists draw from them during the holiday season is abundantly clear through their personal greetings to friends, family, and loved ones.
(Image, left: C. Bertram Hartman holiday card to unidentified recipient, 1942. Alfred J. Frueh papers, Archives of American Art, Smithsonian Institution.)
A Coy Christmas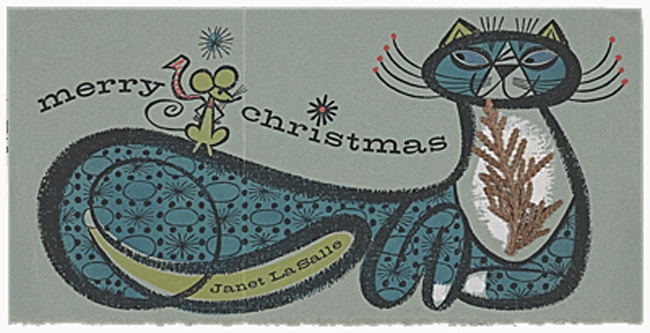 Illustrator Janet LaSalle exchanged Christmas cards with her friends and family that featured cats. In 1984, she and her colleagues began a greeting card company devoted solely to cats and cat themes inspired by her cat Porcha, after which the company was named. In this circa 1950 card to Kathleen Blacksheer, graceful and whimsical lines create the cat's silhouette, and its turned-up whiskers and curious smile suggest a playful mischievousness. A sprig of festive evergreen in honor of the holiday adorns the cat's chest.

Happy Mew Year
Susan and Buddy Rhodes used their cat Rosie, along with a 1990 GAP clothing line advertising campaign, as inspiration for their New Year's card to installation artist David Ireland. The card itself is a collage, featuring a photograph taken by Matt Mondini, of Rosie modeling an X-mas pocket tee, all the rage for cats everywhere that holiday season. The space for the GAP logo below is replaced by NEW, promoting the new year to come.

All in the Family
For most animal lovers, the definition of family is all inclusive, extending to pets. In this 1941 holiday card , painters Fred and Adelaide Gardner sent greetings to their friends from the whole family, from their farm in Jamestown, NY, which included a bull, a goat, a bird, and two cats, Dot and Sloppy Joe. Fred met Adelaide while teaching art in New York. He later worked closely with painter John Sloan at the Arts Students League, and Sloan became good friends with the Gardners. He too was likely to be a recipient of many of their handmade holiday cards like this one.

Wintertime Windowsill Watch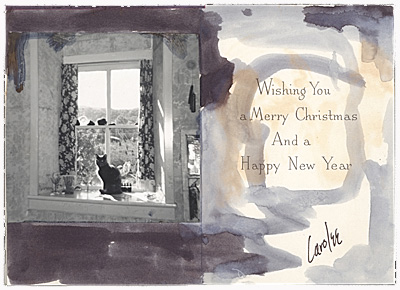 For cat lovers, there is nothing more serene than an image of a cat perched on a window sill. In this circa 1965 holiday greeting to assemblage artist Joseph Cornell, Carolee Schneeman takes an ordinary holiday card, embellishes it with watercolor and glitter and personalizes it by featuring her cat, Kitch, front and center. Cornell and Schneeman were colleagues and correspondents whose works redefined the definition of art in their own right.
Whether you prefer a dog or a cat on your lap when you address your holiday cards, the Archives of American Art wishes you a warm and happy holiday season!

Susan Cary is Registrar and Collections Manager at the Archives of American Art and, more importantly, a cat lover.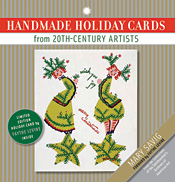 Holiday Happy Hour and book signing with Mary Savig!
Wednesday, December 12, 2012, 5:30 to 8:30 pm
Where:Café Saint-Ex, 1847 14th Street NW, Washington, DC 20009. Books will be available for sale by Politics and Prose.
Details: Open to the general public, free admission. Music provided by DJ Neville C. Cash bar.