Our intrepid collector, Jason Stieber, stops off in Utah to visit Robert Smithson's Spiral Jetty.
Collecting trips keep me pretty busy, but every now and again, I get the opportunity to have an unplanned adventure. On a recent trip to Utah, I had a free day to visit Robert Smithson's masterwork of land art, Spiral Jetty. If you ever decide to visit the site, don' be put off by the Dia Foundation's driving directions warning you to bring an off-road vehicle. The gravel roads to Spiral Jetty are well-maintained and easily passable in a regular passenger vehicle.
The arid landscape is oddly alien, dotted with dark boulders of basalt and parched scrub. Stranger still is the vividly pink water of Gunnison Bay, the northern portion of the Great Salt Lake where Smithson built Spiral Jetty in 1970. The bay was cut off from the fresh water of the surrounding river systems when the Southern Pacific Railroad built a causeway across the lake in 1959, causing its salinity to spike dramatically. A pink, salt-loving algae has thrived in the bay ever since.
The Jetty was partially submerged, but visible during my visit. Smithson was able to build Spiral Jetty with a $9,000 grant from the Virginia Dwan Gallery, which he used to hire a bulldozer, dump trucks, and other equipment operated by a local contractor named Bob Phillips. The ruins of an old oil rig jetty just to the south offer an interesting contrast between the products of industry and those of art, however frequently they share the same tools.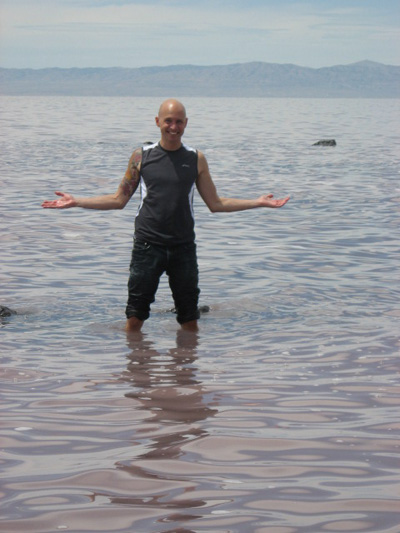 Since its construction, the Jetty has become a landmark of the Land Art movement, inspiring a generation of artists. I highly recommend a visit if you find yourself in Northern Utah. Just don't walk the Jetty in your bare feet like I did. Ouch!
Jason Stieber is one of two Collections Specialists at the Archives of American Art. Jason travels throughout the United States in search of treasures to add to the Smithsonian's collections.
Blogs across the Smithsonian will give an inside look at the Institution's archival collections and practices during a month long blogathon in celebration of October's American Archives Month. See additional posts from our other participating blogs, as well as related events and resources, on the Smithsonian's Archives Month website.